Description
Length: 29-31mm
Flight period: June to August (occasionally May)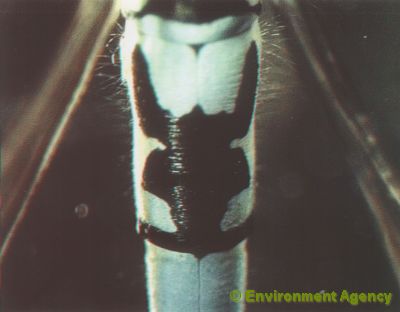 The Southern Damselfly, Coenagrion mercuriale, is one of several members of the genus Coenagrion currently to be found in the British Isles and is a member of the family Coenagrionidae.
Male: distinctive 'mercury' mark on segment 2 of the abdomen (see right – Copyright Environment Agency, 1999). Also use the coenagrion spur on the side of the thorax and a small blue line between the eye spots as additional, but not distinctive, features.
Female: Coenagrion species are very similar making them difficult to identify.
The flight is weak and low; they stay close to the breeding site and do not appear to disperse easily to colonise new areas. Low shrubs and Juncus spp. are used for perching, roosting and feeding forays.
Eggs are laid in submerged tissues of aquatic and emergent vegetation and the plant dwelling larvae usually take two years to mature.
Larvae
The larvae are distinctive in that they have very small, unpatterned caudal lamellae.
Southern Damselfly Management Handbook