If you would like to check out the latest dragonfly sightings in your local area (Vice-county) or nationally, you can do this through the iRecord website. Records in iRecord can be labelled in several ways. 'Accepted' records are those that have been verified as correct by the County Recorder(s). You can exclude 'not accepted' or 'queried' records etc using one of the dropdown menus as you work through the instructions below.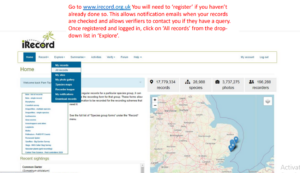 Instructions for viewing Latest Sightings in iRecord
We have also created a short video guide that you can watch below:
If you have seen a dragonfly and want to share your sighting or get help with species identification you can post in the following Facebook group, which is run by Neil Phillips, one of our County Dragonfly Recorders: British Dragonflies and Damselflies Facebook Group
Be assured that your request to join will be accepted promptly as the group is monitored regularly. It is run by experienced dragonfly enthusiasts, so it is a good place to request species identification help too.
Or share your sightings on our own Facebook, Twitter and Instagram accounts, too.
Our Scotland team has its own Twitter account and Facebook group.
There is also a Facebook group that covers our Migrant Dragonflies Project, which is run by project coordinator Adrian Parr and anyone can request to join here.
If you are confident of your identification please also enter it into the BDS database on iRecord. Your records will help us track the distribution of dragonflies across the UK and thereby aid their conservation. Click here.
Title image: Hairy Dragonfly by Dave Smallshire
Cheshire and Wirral
Metallic blue Damselfly?

Skimming a small stream surrounded by woodland. Bright turquoise body with blackish wings. It was a cold frosty morning and the canal and lake were frozen but not the stream. Saw it twice and noticed it because of the vivid colour. [This is a very surprising sighting. From your description this sounds like a male Demoiselle either Beautiful or Banded). Their flight season is usually from April to October. To see this insect at this time of year is unprecedented! – GHM, BDS]
Hampshire
Lateish Common Darter

The warden, Simon King, saw a female Common Darter by the pond at Testwood Lakes Centre on 28.11.20. Still two weeks to go to tie the VC11 record!
Northamptonshire
Late Hawker?

After a sharp overnight frost a Migrant Hawker flying at 11.00 in bright sunshine
Hampshire
New Forest dragonflies

A Southern Hawker was hunting in Dame's Slough Inclosure (west of Lyndhurst) and a male Common Darter sunning itself to to the north east of Burbush carpark (south of Burley). Fairly late dates.
Suffolk
Late Common Darters

23 November 2020 at least two male Common Darters on open access land Walberswick. Seen flying and basking in sunshine early afternoon.
Suffolk
Common darter

Common Darter seen at RSPB Lakenheath on Saturday 21st of November.
Hampshire
Late Southern Hawker

Male Southern Hawker seen in New Forest, Hampshire near Highland Water Inclosure
(SU 252094).
Norfolk
Late common darters

Three common darters in a sheltered spot at Norfolk Wildlife Trust's Upton Fen and Marshes nature reserve. They were doing their usual trick of seeking warmth on fencing.
Somerset
dragonflies still about

Shapwick NNR at least 2 Common Darters and 2 Migrant Hawkers
Somerset
Red-veined Darter Shapwick NNR

Male Red-veined Darter at Decoy Pond Shapwick NNR in sheltered sunny area by hide also present at least 10 Common Darters and 3 Migrant Hawkers
Kent
Female emperor dragonfly

Around my garden pond, dipping its tail in the water and when it rained seeming to shelter in a rock crevice
Wiltshire
Female Emperor

Female Emperor flying around a pond at Ravensroost Woods in Wiltshire.
Yorkshire
Late Show

Nov 13th Hatfield Moor a Southern Hawker
Nov 12th Potteric Carr 2 Migrant Hawkers
good numbers of Common Darters at both sites
Somerset
Common Darters and Migrant Hawker Shapwick NNR

At least 20 Common Darters including some mating and a single Migrant Hawker at Shapwick NNR
Cambridgeshire
Late Dragons

Woops! the report i submitted earlier of 7 Common Darters and 1 Migrant Hawker, left out a sighting of 1 Willow Emerald Damselfly along Wicken Lode whilst canoeing in the area today.
Herefordshire
Sunny november

2 female emperors and a common Carter at my meadow pond, south herefordshire
Somerset
Migrant Hawkers Shapwick NNR

At least 2 Migrant Hawkers at Shapwick NNR
Herefordshire
2 emperors sunning themselves

2 female emperors ovipositing (?) in the sunshine on a log in a garden pond south herefordshire
Cambridgeshire
Delightful Darters.

I was not expecting to see any dragonflies at this time of the year while taking a walk around Wicken Fen. So i was delighted to see 5 Darters on the wing. 3 settled on a fence and were positively identified as Common Darter males. Only obtained flight views of the other two. 1.pm-3.35.pm.
Cheshire and Wirral
Doolittle Dragons

We spent Friday(6/11) and Saturday(7/11)looking for late flying Odonata mainly at Doolittle moss in Delamere forest. On Friday we saw single male and female Southern Hawkers and a total of six Common Darters. On Saturday we had a male Migrant Hawker and 2 Common Darters.
Devon
Vagrant emperor

Found on its back, in mixed broadleaf woodland, held by surface tension to the surface of a wet log. I thought it was dead. I brought it home, glued it by the thorax to a culm of canary grass, and took some photos. I then brought it indoors to take some macro shots, and the animal started, very slowly, to move its legs, and then to flick its wings. I quickly detached the spot of glue (UHU) from the grass, leaving some on the base of the thorax, and put the specimen out in the conservatory to see if it would revive. But, by morning, it was definitly dead. Photo available on request.
Lincolnshire
Dragonflies paired up November 2020

Multiple Dragonflies, some in pairs and appear to be mating. Lincoln, a few miles north of Newark at a fishing lake.outside temperature 11.5 degrees.
Somerset
Lockdown visitor.

Vagrant Emperor
In my garden.
Lancashire
Vagrant

Male vagrant emperor
In my back garden
Live on the Fylde coast near Blackpool
Somerset
November Dragonflies at Westhay SWT reserve

At least 40 Common Darters and 2 Migrant Hawkers at Westhay SWT reserve
Kent
Oak coloured dragonfly

I believe it to be a Common Darter (but I may be wrong!) – landed on an oak log close to where I was gardening. It blended so well with the bark of the oak! I took a photograph on my phone. Time 2 p.m.
Place: My garden
Cambridgeshire
Diminishing Dragons

While walking around Wicken Fen during the early afternoon, i was pleased to see 2 Migrant Hawkers, 1 male and 1 female. Also 2 Common Darters seen. Again 1 male and 1 female. The sun made an all too brief appearance which may have helped, although the female Migrant Hawker and male Common Darter were flying in overcast conditions.
Hampshire
First time in October!

2 Emperors in garden in Petersfield
Highland and Islands
Common Hawker?

On the 18th Fairway Newtonmore Golf Course, Inverness-Shire
Cambridgeshire
What a little gem.

I believe this is a Willow Emerald Damselfly, but your confirmation would be appreciated. Spotted at Woodwalton Fen in Cambridgeshire.
Page of 189