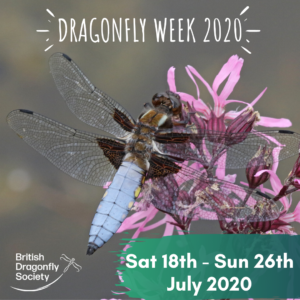 2020 Dragonfly Week: due to the global pandemic our celebrations will be online only this year to keep everyone safe. Keep an eye on our social media pages to get involved with our celebrations during the week and let us know how you are celebrating dragonflies too. Watch this space too as we will upload resources, activity ideas, online learning opportunities and competition details here also. We can't wait!
Our President, Mike Dilger, would like to wish everyone a Happy Dragonfly Week!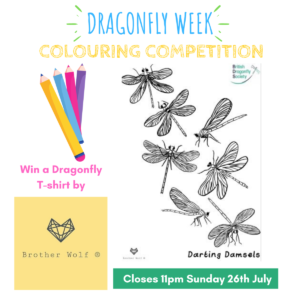 During Dragonfly Week – we have a colouring competition for all ages, with one prize for the winner of each age category, kindly donated by Our Brother Wolf.
How it works:
Download a colouring sheet below
Print out and colour it in
Take a photo of your coloured in sheet
Feel free to share your photos with us on social media too!
We will pick our favourite one entry from each age category and contact the winner on or soon after Sunday 2nd August
The winner will be offered a t-shirt for their age group and it will be posted to them free of charge.
Good luck!
Full terms and conditions below.
Colouring Sheets:
12 years + sheet (adults included too!):
Below 12 years sheets:
British Dragonfly Society Colouring Competition terms and conditions:
The competition:
The colouring competition is open to everyone living in England, Wales and Scotland, of any age group.
To enter the competition entrants should colour in one colouring sheet design available at   https://british-dragonflies.org.uk/what-we-do/outreach-projects/dragonfly-week/
All entries must include the entrant's full name, age and address and the name and contact telephone number/email address of your parent or guardian. We will only use this information in relation to the competition (including checking your eligibility to enter and informing the winner) and will not use it for any other purposes whatsoever. We will not keep this information for longer than is necessary for the operation of the competition.
All entries must be submitted by a parent or guardian on behalf of their child, if the entrant is under 18.
You may submit one entry per person.
We must receive your entry by no later than 11pm on Sunday 26th July 2020. Submissions received after the deadline will not be eligible for entry.
Employees or agents of the British Dragonfly Society and Our Brother Wolf or their family members may not enter the Competition.
Promotion Period: Enter between 00.01 GMT on the 18th July 2020 and 23:00 GMT on the 26th July 2020 inclusive.
The prize – the winner will receive one t-shirt by Our Brother Wolf. The winner must let us know what size they require and they may choose between two dragonfly designs. No alternative is offered.
By entering this Promotion, all entrants will be deemed to have agreed to be bound by these Terms & Conditions.
Picking the winner
There will be one winner in each age category, chosen by a panel of staff at the British Dragonfly Society.
The decision will be made on or before Sunday 2nd August 2020 and winners will be contacted within 7 days after this.
The winner and a selection of other entries may be shared by the British Dragonfly Society and Our Brother Wolf, via their social media channels and websites.
Promoter: The British Dragonfly Society, charity number 1168300.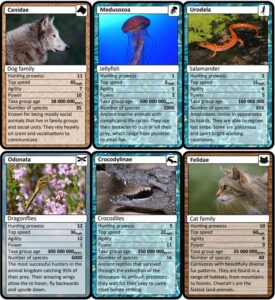 See how dragonflies compare to other species in this fun Top Trumps game! Print out the cards below and challenge your friends and family to a game.
How To Play Predator Top Trumps:
1. Print out on card or thick paper then cut out.
2. Shuffle the cards and deal them out. Players hold their cards so that they can only see
the top card.
3. The player to the dealer's left goes first. Read out a category from the top card (e.g.
top speed, 15mph).
4. The other players then read out the same category from their cards. The player with
the best/highest value wins and collects all the top cards, and moves them to
the bottom of their pile.
5. The winner goes next.
6. Keep playing until one player has all the cards.
Download the printable cards here: Predators Top Trump Cards. Dragonfly Week Game.
Celebrate Dragonflies by making some scrumptious strawberry and white chocolate cupcakes with your favourite insects on!
Alternative cake recipes here:
Toppings can be substituted to suit your dietary needs too. Let us know how you get on by tagging us in on social media!
Dragonfly Stencils Activity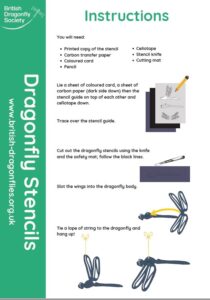 Let's get crafty! Below you will find full instructions and printable stencil outlines that you can print out. Children will need supervision for this activity as it involves using a craft knife.
For this activity you will need:
Printed copy of the stencil
Carbon transfer paper
Coloured card
Pencil
Cellotape
Stencil knife (adult supervision is a must for children)
Cutting mat
Download your stencils here: Stencil
Dragonfly Week is an annual celebration of these iconic insects. It always starts on the third Saturday in July and ends the following weekend, running for 9 days in total.