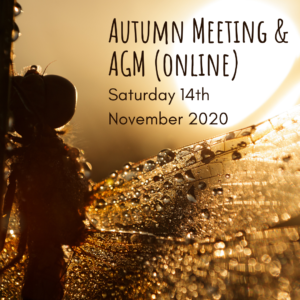 Book your place at our Online Autumn Conference on Saturday 14th November here. Everyone welcome and tickets are free but donations are appreciated to help cover running costs of the meeting. You can donate directly here. Thank you for your support.
Cambridgeshire
Diminishing Dragons
While walking around Wicken Fen during the early afternoon, i was pleased to see 2 Migrant Hawkers, 1 male and 1 female. Also 2 Common Darters seen. Again 1 male...
Hampshire
First time in October!
2 Emperors in garden in Petersfield
Highland and Islands
Common Hawker?
On the 18th Fairway Newtonmore Golf Course, Inverness-Shire
Cornwall with Scilly
Tamar Valley, Cornwall - A pair of Emperors
Two Emporers were spotted foraging around the edges of a flooded pond within the Tamar Valley woodland estate
Cambridgeshire
What a little gem.
I believe this is a Willow Emerald Damselfly, but your confirmation would be appreciated. Spotted at Woodwalton Fen in Cambridgeshire.
Cambridgeshire
Lunch time dragons
I spent a few hours canoeing along the Lodes around Wicken Fen. At midday i took a lunch break in a sunny sheltered area. Delighted to see at least 4...
Somerset
Southern Hawker Glastonbury
Single male Southern Hawker at garden pond with a Common Darter
Cambridgeshire
Brief Encounter
I arrived at Wicken Fen in the pouring rain. Fortunately it stopped shortly after my arrival so my walk was still on. As i walked beside Wicken Lode the sun...
Sussex
Emperor surprise
A single Emperor dragonfly at my Garden pond
Previous
Next
What's Happening Near You
Visit your county page for lots of useful information, including. . .
Details about your local dragonfly group.
Your locally important species.
An interactive map of top sites to visit in the county.
Recent dragonfly-related news from the area.
Exciting sightings reported in the county.
Upcoming events, such as field meetings and training courses.
Click on your county on the map to the right —>>>
Identification help
Need a hand identifying a dragonfly? Find it using our nifty help page.