The White-legged Damselfly (Platycnemis pennipes) is a delicate little insect that can be found fluttering along lushly vegetated margins of rivers, streams, pools and lakes in southern England and Wales. In recent years there have been increasing concerns that this elegant species is disappearing from some parts of the UK. However, our understanding of White-legged Damselfly population trends it limited by a lack of long term data; thus, the British Dragonfly Society has launched the White-legged Damselfly Investigation.
Project Aims
Train volunteer recorders to identify and monitor White-legged Damselfly.
Encourage the recording of White-legged Damselflies in under-recorded areas.
Establish the distribution and population trends of White-legged Damselfly through long term monitoring.
Use collated datasets to assess the need for conservation action, regarding White-legged Damselfly and their habitat
Project so far
We have been working with our County Dragonfly Recorders to identify key areas where White-legged Damselflies are under-recorded or potentially declining, or both. We are asking volunteers to target sites with historic records of White-legged Damselflies and explore sites with suitable habitat. Each year we will give a quick update on how the project's volunteers have been getting on.
Who can volunteer?  
Anyone! This is a great activity for beginners wanting to learn more about dragonflies as you only need to identify one species- although hopefully you'll see lots of other exciting wildlife along the way!
What does it involve?
We want volunteers to revisit areas with historic records for White-legged Damselflies to see if they are still present there, establish whether the species has spread to new areas. We also would like volunteers to visit under-recorded areas. White-legged Damselfly recording needs to take place between May and August when the species is in flight. Familiarise yourself with the species' identification then keep an eye out when you go on wetland walks.
Where are we surveying? 
Surveys can take part anywhere within the species' range.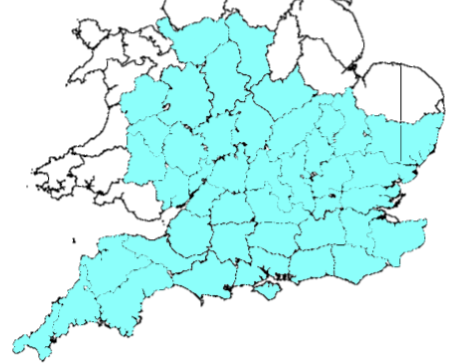 How to take part
Due to the Covid-19 outbreak we are putting surveys on hold for now.
However, we would like you to keep an eye out for White-legged Damselflies when your out and about.
You can then add your sightings to the iRecord database here: REPORT
You will need to report:
the date of your sighting
the location of the sighting
the habitat the damselfly was in
Download the identification guide
Help us promote the project
Clicking a PDF link or picture below may open it in the current or new tab, open it with a reader application or download it, depending on the current settings of your device and web browser.