Monmouthshire dragonfly recording update 6, August 2023
Quite a bit of news to report this time, and we still have three months of the flight season left to go. Let's start with …
The rediscovery of Variable Damselfly on the Gwent Levels
For most dragonfly and damselfly species found in the county, the atlas maps that went online earlier this year showed a good spread of recent records, depicting the current distribution of the species quite well. One exception was Variable Damselfly (Coenagrion pulchellum): on the map for this species, almost all of the records mapped were from before the year 2000 (the only site with records since then was near St Brides, where the species was last recorded in 2011). One of the purposes of putting these maps online was to spark efforts to re-find 'lost' species, and so there's been quite a bit of effort this year to locate Variable Damselfly on the Gwent Levels. The encouraging news is that the species was found this year at three sites, and information about a fourth site where the species was recorded in 2019 has also now been made public. It's likely that there are further sites to be found: finding Variable Damselfly involves sifting through large numbers of the more common and widespread Azure Damselfly (C. puella) so it is easily overlooked. A more detailed article about these rediscoveries will be added to the British Dragonfly Society's website later in the year, but for now here's a photograph by Lee Gregory of a male Variable Damselfly from one of the sites on the western (Wentloog) levels at which the species was present this year.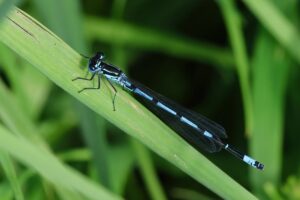 Common Clubtails in 2023
We have a long-established population of Common Clubtail (Gomphus vulgatissimus) on the River Wye in the northeast of the county, which also extends a little way up the Monnow Brook west of Monmouth. The species has never been recorded on the Usk, even though the Usk and the Wye are less than 15 km apart in places, and the habitat on the Usk looks suitable.
So, Alan Underwood's discovery of a Common Clubtail in his garden in Govilon this summer is potentially quite significant, as it's the first record for the Usk valley. Alan's friend Alun Thomas, visiting for the afternoon, took the photo below. Alan's account of his find can be read here. It's possible there is an undetected population on the river, and no doubt many local recorders will be searching next summer.
I found two Common Clubtails on the Monnow at Skenfrith Castle this summer, extending its range on this waterway by several kilometres, so searches on further stretches of the Monnow may well result in further sites.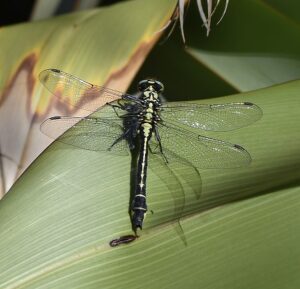 Lesser Emperors
The third piece of significant news is that Lesser Emperor (Anax parthenope) was present again in the county this year, with breeding behaviour exhibited for the first time. Lucy Arnold-Matthews and Ollie Jenkins-Boobyer from Newport City Council's countryside team invited me to accompany them on a visit to Wentwood reservoir in July. Very large numbers of Emperor (Anax imperator) were present and as we started our walk back along the reservoir dam wall, first one then two then three Lesser Emperors appeared: two males and a female, and the female began copulating with one of the males and ovipositing. A more detailed write-up of this occurrence will be on the website soon.
In a previous newsletter I mentioned the Lesser Emperors found by Darryl Spittle in 2018 and 2022 at Ynys y Fro reservoirs. Darryl has written up these finds, and his account can be found here with a photograph of the 2018 individual by Lee Gregory.
Atlas progress
Thanks for all the positive words about the online atlas maps. They've been very useful in helping to target recording effort during this summer, and as a result, the next update to these maps will show a much improved view of the distribution of many of our dragonfly species.
To give just one example, several recorders have surveyed areas on the Gwent Levels for Hairy Dragonfly (Brachytron pratense) this year, and here are the before and after maps (2020-2022 records vs 2020-2023 records). It wasn't clear before this year's recording if this species had declined or expanded but it has now been shown to be still present in many of the areas it was recorded from in the past, on both the western (Wentloog) and eastern (Caldicot) Levels, and in new 1km squares too. It is still very rare away from the Levels, although two records from the Allt yr yn area indicate that urban Newport isn't a barrier for it, and it could be lurking undetected elsewhere.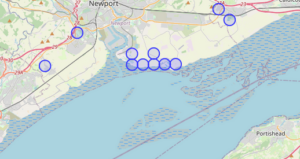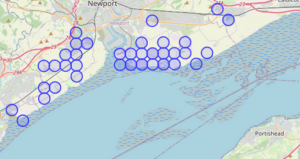 Contributing your records
I'm happy to receive your records via any method which suits you: it's better to receive a record than not to receive it. Some methods are problem-free, others less so: a special mention here for records received via the BTO's BirdTrack system, where almost every record I receive requires some kind of manual intervention to address data quality issues, so if you have a choice of any other method than BirdTrack (even sending me your records via Whatsapp) please do that instead.
The iRecord system is my preferred method. If you'd like to use iRecord, please go to https://irecord.org.uk/ and create an account. I'm more than happy to show you how to use it over a video conference, or in person if you live somewhere within easy reach.
Photographs for the website
Thank you to everyone who's been in touch following my request for dragonfly photographs to use for the website: an excellent response. I'm in the process of adding these to the species pages, and once I've figured out which species I'm missing photos of, I'll be in touch. I'd also like to start adding photos of some of our good dragonfly sites to the website, so I'm keen to hear from you if you have any.
Working with our local records centres
This spring, I met with the teams at both of our local environmental records centres (SeWBReC, which covers most of our recording area, and BIS, which covers the Bannau Brycheiniog National Park), to explore how we can work more closely together. We had some very wide-ranging conversations, covering topics including how we can best share records, how we can encourage more people to get involved in recording, records verification processes, how to handle "whack-a-mole" records (incorrect records which, unless they've been purged from every database they are in, keep re-appearing when data is shared between databases) and much more. The meetings were both very encouraging and we hope to develop closer collaboration in the coming years.
Recognition for the Gwent Levels
And finally, hot off the press, two sites on the Gwent Levels, Newport wetlands and Magor Marsh, are to be recognised as a "Dragonfly Hotspot" by the British Dragonfly Society, only the second in Wales (the other is Llangorse Lake near Brecon). BDS's Dragonfly Hotspots network is made up of sites which have a rich dragonfly fauna and where there are good opportunities for visitors to experience and learn about the species found there. Well done to Chris Harris and Kevin Dupé who were the driving forces behind obtaining this recognition. You can read more about this on the Living Levels website here.
Steve Preddy, Monmouthshire County Dragonfly Recorder, British Dragonfly Society