RSPB Strumpshaw Fen
You'll find Strumpshaw Fen on the River Yare in Norfolk, around six miles east of Norwich. The reserve itself has a full range of broadland habitats and wildlife. Why not visit us and take a pleasant walk round the reedbeds, woodlands and orchid-rich meadows?
Opening times, entry costs, facilities and directions
Things to see
Pond dipping kits are available or hire from the reception hide (April-October), you can potentially look through two different pools, one on the edge of the fen and another on the edge of the wet meadow.
The two pond dipping platforms, wet meadows and fen trail route are very productive for dragonflies (3.5km), alternatively a shorter route encompassing all habitats can be taken by walking up Sandy Wall towards the riverbank and then head back through the wet meadows (1.5km).
Top species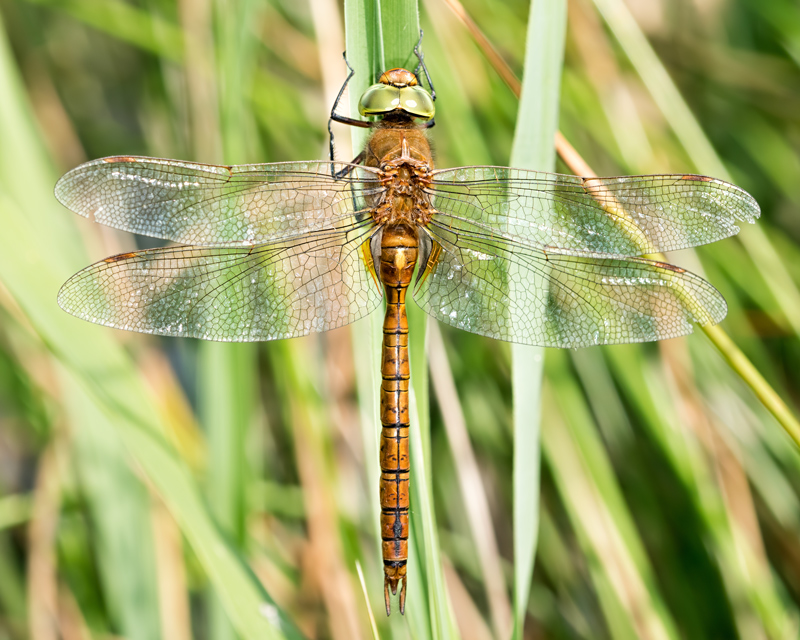 Magnificent green-eyed hawkers.
Flight period is late May to mid July (peak in June).
an be seen patrolling the ditches in the meadows or the edges of the broads, if windy they can also congregate in numbers in the woodland clearings.
Image by Steve Plume
Seasonal Highlights
Strumpshaw Fen is an absolutely fantastic place for all invertebrates and dragonflies can be abundant in the correct weather conditions. At least 22 species are expected to be recorded every year, but the reserve has attracted some rare migrants in the past, such as yellow winged darter so you can never quite be sure what you will see.
In spring you can see the blue damselflies, including Variable in numbers along the trail sides as well as hairy hawkers patrolling the ditch edges. By May you can usually see scarce chasers easily from the riverbank path, where they can be seen freshly emerged. Norfolk Hawkers can be seen across the reserve and can gather in fairly large groups to seek shelter in the woodland clearings, especially in windy conditions. A good spot for photographing Norfolk Hawker is the wet meadows, where you can stand on a bridge and watch them coming towards you and fighting off any potential rivals. Throughout summer, a good mixture of species can be tallied by walking the meadow trail, riverbank and fen trail routes thanks to the variety of habitats on offer. Towards the latter part of summer a recent colonist, the willow emerald damselfly can be observed, this has now spread right across the reserve, but good spots to try to see it are at the meadow trail pond dipping platform and the Lackford Run. As late summer arrives, hundreds of Migrant Hawkers can be observed in swarms, particularly in the woodland clearing at the start of the meadow trail.
Image by Michael Button