Stover Country Park
Stover Country Park contains 114 acres of woodland, heathland, grassland, lake and marsh and a substantial variety of wildlife – as well as a wealth of fascinating geological and historical features, which you can access via its paved footpaths. In addition, the site's aerial walkway and bird hides give you a unique view of the park's flora and fauna.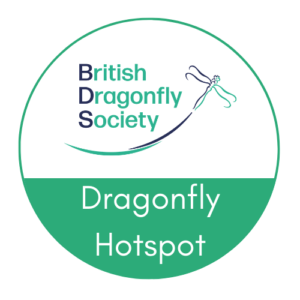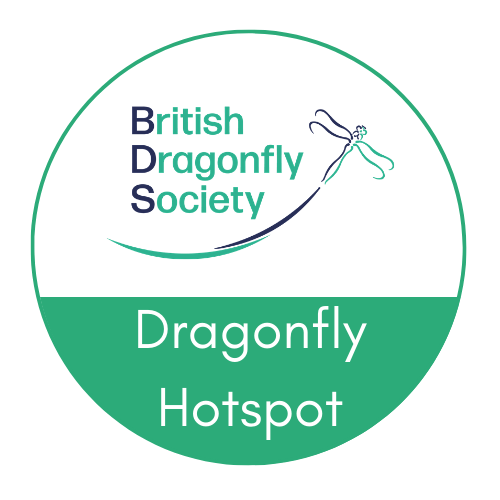 At the entrance of the park, you will find the interpretation centre where you can learn all about the history of the park and its wonderful wildlife.
It is an absolute haven for dragonflies and damselflies in the summer and its mosaic of habitats are perfectly suited to support every life stage of these fantastic insects! We think this site is pretty special and that is why we have designated it as a 'Dragonfly Hotspot'.
Stover Country Park became a Dragonfly Hotspot, and a partner of the British Dragonfly Society, in 2018. To commemorate the start of the project, an interpretation board was installed on site, funded by John Spedan Lewis Foundation, providing information on the Dragonflies of Stover Country Park.
We publicly launched the Dragonfly Hotspot in June 2019 with a big event celebrating Dragonflies. Local County Dragonfly Recorder, Dragonfly Champion and author Dave Smallshire (pictured on the right) unveiled the new interpretation board and led guided walks and pond dipping activities on the day.
Our chairperson Brian Walker was part of the team at the event and said: "Having never visited the site before, I was interested to walk around and enjoy the sunshine while appreciating why Stover had been recommended to be one of our Dragonfly Hotspots.  It was easy to see and photograph a range of dragonfly species as well as enjoy observing a range of other wildlife in a very attractive setting.  Memories of the day include a Hairy Dragonfly laying eggs on a floating log, the first Downy Emerald exuviae I have seen, a Tawny Owl being loudly mobbed by a gang of smaller birds and a Water Stick Insect emerging onto the surface of a pond.  I was also impressed by the clay models and plaques illustrating dragonflies that the younger visitors produced (pictured right)."
Councillor Roger Croad, Devon County Council Cabinet Member with responsibility for the Environment, said:  "We're extremely proud that Stover Country Park is receiving this recognition particularly as this year marks Stover's 40th anniversary. It's a beautiful location and a very important habitat for a range of wildlife, so to be officially declared as one of the UK hotspots for dragonflies in Britain by the British Dragonfly Society is an outstanding achievement. It's acknowledgment of the hard work that's put in by all of the team at Stover and is very well deserved."
Opening times, entry costs, facilities and directions
Events
Volunteer
Dragonfly Monitoring Volunteers: Are you aged 16-25 and live locally to Stover Country Park? You could get involved in monitoring Stover's dragonfly populations and gain invaluable identification skills with free training sessions run by Dragonfly expert Dave Smallshire! Volunteers will receive a welcome pack and travel expenses in addition to training sessions.
If you would like to know more, or are keen to get involved, please contact the team at or phone 01626 835236
Trainers needed: Volunteer teachers are needed to help train groups of young adults on how to identify Dragonflies as part of a project from 2023 onward. Volunteers will also help monitor the site's diverse dragonfly population. If you are experienced in recording, a good communicator and passionate about dragonflies please contact the County Dragonfly Recorder for more information. Contact details can be found here.
Stover Volunteer Group: Come along to our volunteering sessions on the last Sunday of the month, from September to April. The sessions start at 10 am and finish at 4 pm. You can volunteer for any period during the day. People join for different reasons – to keep fit, learn new skills, make friends, gain valuable experience or just for fun. The groups are very relaxed and welcoming – so join us! New volunteers or groups are always welcome! If you are interested, contact the Rangers Office on 01626 835236 or email .