RSPB Old Moor
In the heart of Yorkshire's Dearne Valley lies Old Moor, a family friendly nature reserve just waiting to welcome you. Blessed with a wide range of facilities and teeming with wildlife there is something for everyone to enjoy, from idyllic walks or wildlife watching to pond dipping and an adventure playground.
Opening times, entry costs, facilities and directions
Things to see
From April to the end of October pond dipping kits are available to hire. Discovery backpacks and activity sheets are available to hire every day.
Head left from the visitors centre to the pools and ponds that have pond dipping platforms.
Top species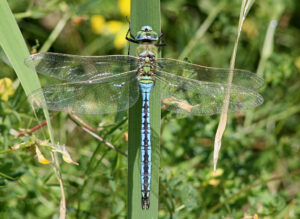 The largest Dragonfly in the UK
Main flight period is June to August.
Watch the territorial males patrol the site's ponds and lakes.
Image by Steve Plume
Seasonal Highlights
Dragonflies can be easily seen on sunny days from the beginning of May. Keep an eye out for Azure Damselflies hiding in the long grass and ditches next to the footpaths.
In mid summer Hawkers can be seen hunting over the larger pools; the unlucky ones become prey themselves to passing Hobbies.
Watch your feet for Common Darters sun bathing on the footpaths in late summer-autumn.