RSPB Loch Garten Nature Centre
Abernethy is ancient, wild and immeasurably special.
Reaching from the River Nethy to the top of Ben Macdui (Britain's second highest mountain), it boasts ancient Caledonian pineforest, sweeping moorland, vital wetland and dramatic mountains. Not to mention the world-famous Loch Garten Osprey Centre.
Opening times, entry costs, facilities and directions
Things to see
You can access the sensitive bogs via the sites boardwalks. Remember to check in at the visitor centre; the site's staff will be able to point you to the best spots to see dragonflies.
Top species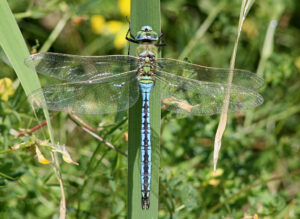 The largest Dragonfly in the UK
Main flight period is June to August.
Watch the territorial males patrol the site's ponds and lakes.
Image by Steve Plume
Seasonal Highlights
Dragonflies can be easily seen on sunny days from the beginning of May. Keep an eye out for Azure Damselflies hiding in the long grass and ditches next to the footpaths.
In mid summer Hawkers can be seen hunting over the larger pools; the unlucky ones become prey themselves to passing Hobbies.
Watch your feet for Common Darters sun bathing on the footpaths in late summer-autumn.
Image by Dave Conner.