Description
Adult
Length: 31mm
Flight Period: June  to July (occasionally May and August)
Both sexes have bright green undersides to the eyes and face and a coenagrion spur.
Male: segment 2 has a rather variable, spear-head shaped spot linked rather like the playing card ♠ "Spades" symbol (see right).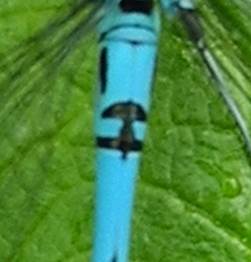 Segment 8 and segment 9 are blue except for 2 small black spots on S9.
Female: clear green from the side but mostly black from above.
Larvae
Length: 14-15mm
Antennae with 6 segments and prominent spotting on the head. Caudal lamellae long and narrow with distinct, dark nodal constriction and dark nodal line.