Morton Lochs, Tentsmuir National Nature Reserve
Morton Lochs, part of Tentsmuir NNR, is one of the new Dragonfly Hotspots established in Scotland in 2014. It is owned and managed by NatureScot. Dragonflies can be seen around the lochs and along the paths close by.
Opening times, entry costs, facilities and directions
Head south from Tayport on the B945 for 1.7 miles then take a sharp left onto a minor road which leads to the car park (total distance = 2.5 miles). The road to the car park is single track, with limited passing places and an aggregate surface. By public transport – the nearest bus stops are in Tayport and Leuchars. Buses will stop by request at the Morton Lochs road end. The nearest station is Leuchars on the Edinburgh – Aberdeen line. By bike – the Falkland to Monifieth via St Andrews section of NCN Route 1 (Edinburgh – Aberdeen) passes Kinshaldy Beach, and a small diversion will take you to Morton Lochs. On foot – the St Andrews to Tay Bridge section of the Fife Coastal Path runs through Tentsmuir NNR and a small diversion, again, will take you to Morton Lochs. Tayport Heath to the north of the Reserve is easily accessed on foot from the village of Tayport.
Things to see
Morton Lochs is made up of three small lochs fringed with reeds, which provide shelter and protection for many birds and animals. The lochs were created in 1906 by the local landowner, who flooded an area of the dune heath for fishing. The lochs quickly became an important freshwater habitat, attracting large numbers of breeding and wintering wildfowl. In 1952 the importance of Morton Lochs was recognised and the area designated a National Nature Reserve, only the second in the UK at the time.
Work is on-going to maintain a balance between open water and vegetation by clearing scrub and reeds to create the important habitats needed to support the rich variety of plants, animals and insects which thrive at Morton Lochs.
There are five wildlife hides around Morton Lochs – all great places to watch wildlife or to just relax in the peace and quiet. Water rail, little grebe, tufted duck, goldeneye, marsh harrier, ospreys, kingfishers, red squirrels and otters are all regularly seen on or around the lochs.
Top species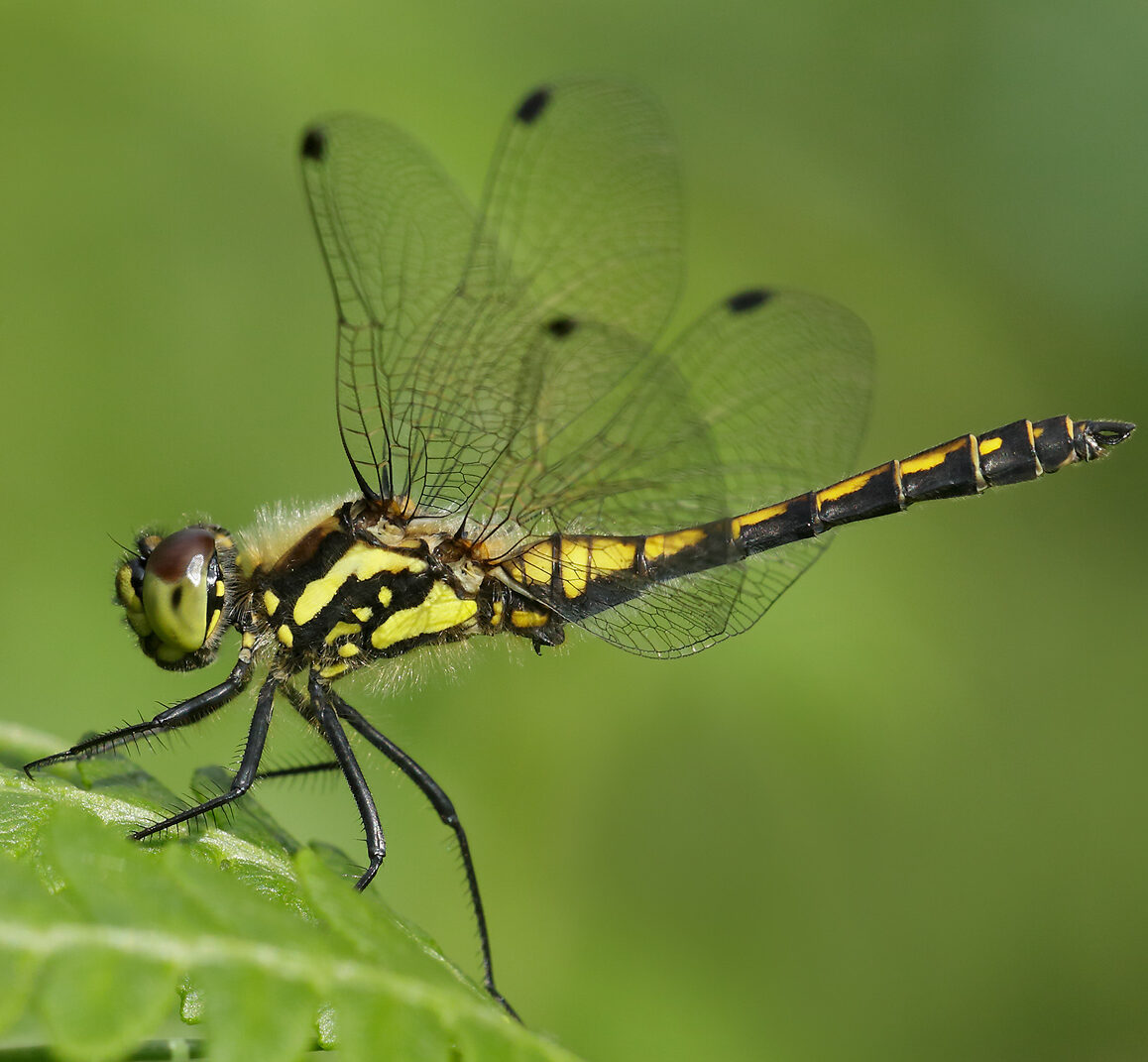 Small dark darter.
Flight period is June to November.
Females are more yellow than the males.
Image by Iain Leach
Seasonal Highlights
The earliest emerging damselflies can be seen from around mid-April onwards. Sunny days in July and August are most likely to result in the highest number of species spotted – Common and Black Darters can be easily spotted along the woodland rides close to the lochs and hunting in the adjoining open areas. Visit during winter to experience the spectacular sights and sounds of hundreds of teal gathering on the lochs.