Riverside Valley Park
Stroll through buttercup-filled meadows alongside the winding River Exe with wonderful views across the city to its cathedral.
Opening times, entry costs, facilities and directions
Things to see
The water meadows adjoining the River Exe are the best areas for dragonfly watching, along with the reserve's two viewing platforms. Exeter Canal between the Double Locks and Turf is the focal point for dragonfly watching.
Top species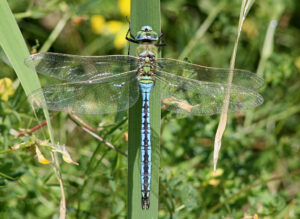 The largest Dragonfly in the UK
Main flight period is June to August.
Watch the territorial males patrol the water's edge.
Image by Steve Plume

Title image by Matt Austin