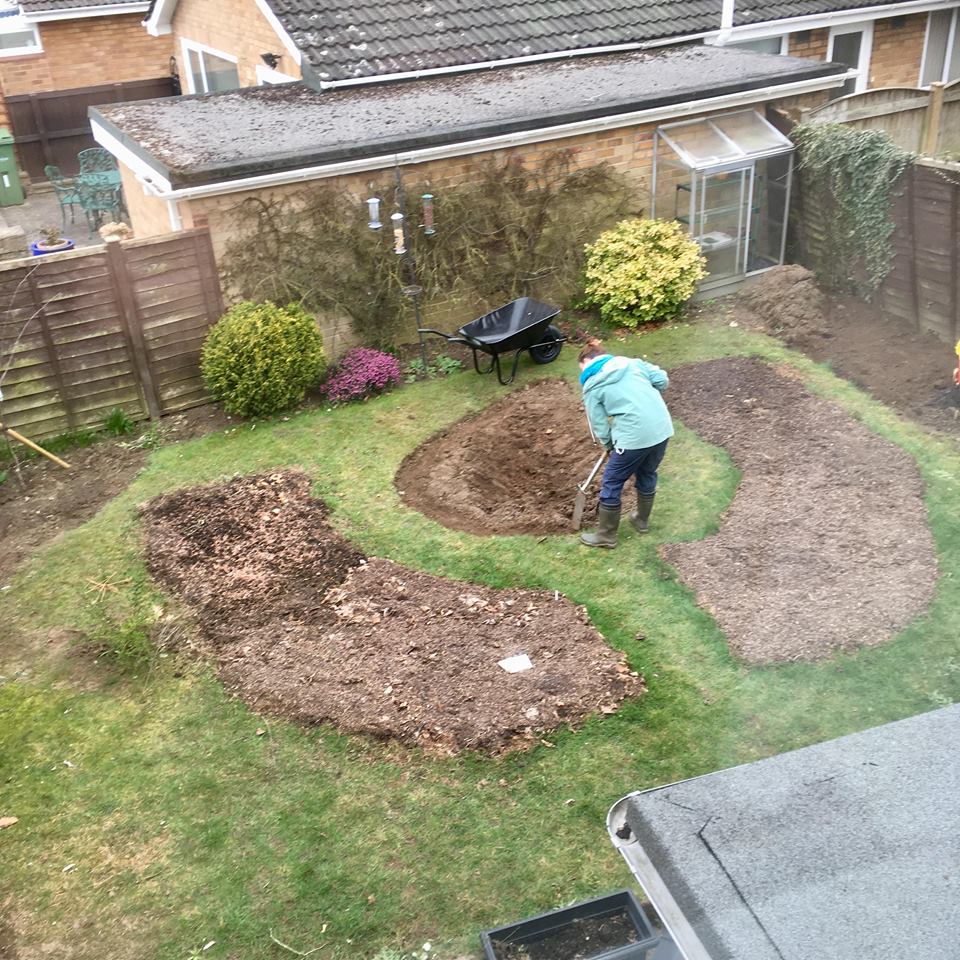 Pond Ponderings – from Avopond, a brand new pond in suburban York
20/04/2019
Welcome along our first Pond Pondering bloggers Mollie and Lawrence from York!
"Beginning a new garden is always exciting and was a brilliant opportunity to create a pond and make it a focal point of my very own mini nature reserve.
With only a small garden, the challenge has been to create a pond substantial enough to hopefully attract dragonflies as well as lots of other wildlife. Without trying, the pond has become shaped like an avocado and is now referred to as 'Avopond'.
Avopond is 2m x 2.5m and reaches 60cm at its deepest which is important for keeping the pond a fairly consistent temperature, especially during hot weather. It has a couple of shelves with the shallowest outer shelf being about 20cm deep, ideal for the marginal plants and a slightly deeper inner shelf of about 4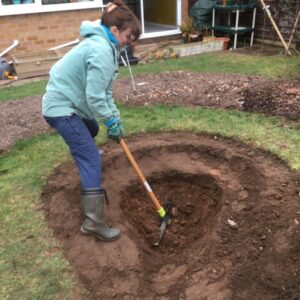 0cm.
Digging the pond was fairly straight forward and with the aid of a pick axe and our helpful friend Fiona it had almost been finished in a day! The next task was to get the liner in, but the Yorkshire weather struck and gale force winds and heavy rain meant that Avopond temporarily filled itself on and off for a couple of weeks. Then the fence came down, so after propping that back up and out of the way of pond proceedings, we went ahead and got stuck in to lining.
We to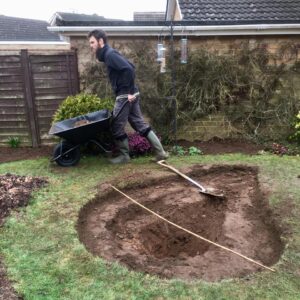 tally over-bought for the liner but I guess it is better to have more than you need. The cheapest way for us to ensure the liner was sat on a smooth surface was to cover the surfaces in sand. We enthusiastically spread our meagre two bags around, realising we should have bought an extra bag but were committed to not going back to the shop. So we just spread it as best we could, removing any stones along the way.
After this, we realised we had forgotten to cut in to the turf surrounding the pond which is where the liner was due to get tucked in. Muddy boots were then forced to trample all over the freshly spread sand in order to cut-in before lining. We live and learn.
The liner had been left sunbathing to help its malleability as instructed by the garden centre man and was now ready to fulfil its purpose. Once the liner was pushed in to all the edges we started filling to help it stay down in windy conditions. I went around attempting to smooth any creases as it filled by pulling the liner taut. We ended up only having a couple of large creases at either end that we figured was a fairly good effort for a Sunday with a bit of a hangover.
Tucking the liner under the turf was a bit of a faff resulting in me taking a knee to the head a couple of times, but we got there, albeit accompanied by a slightly worse hangover. The pond has been filled and a couple of bags of gravel added for the time being to make it more decorative and give any pond life that wishes to move in a better environment to set up camp in.
The next step will be to source some plants and to see what visits Avopond; so far we've had a magpie that likes to lob clumps of mud into it…not exactly what we were hoping for but we will keep our fingers crossed for dragonflies!
Over and out from Avopond."