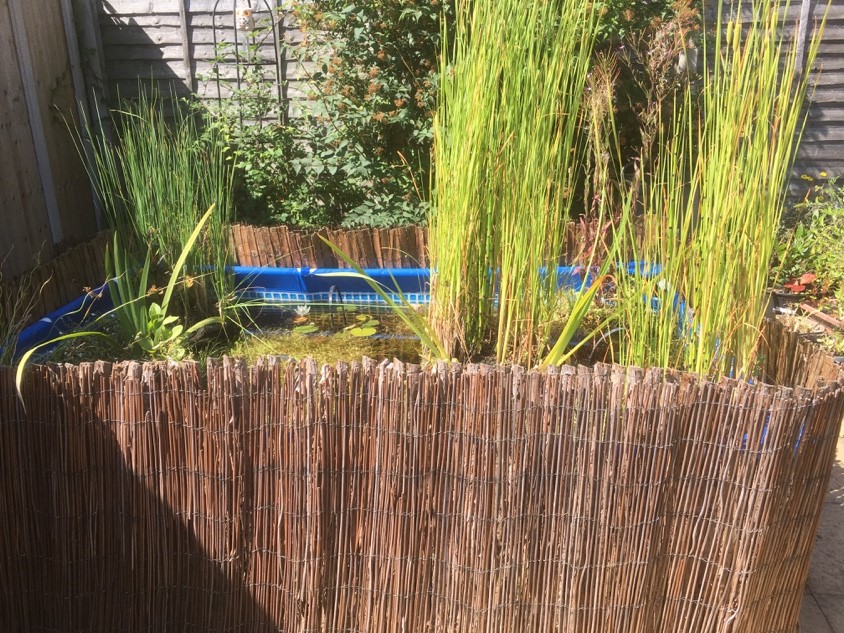 Pond Ponderings: First Summer of a Raised Suburban Pond in Worcestershire
11/08/2020
We are delighted to welcome a new Pond Ponderings writer, Grace Wright from Worcestershire:
A sunny afternoon spent at the RSPB Minsmere Reserve in Suffolk several summers ago first sparked my interest in dragonflies. After a few lazy hours watching these brightly coloured creatures skimming over pond surfaces, my fiancé George and I left armed with various dragonfly books from the gift shop and a new-found passion for all things Odonata.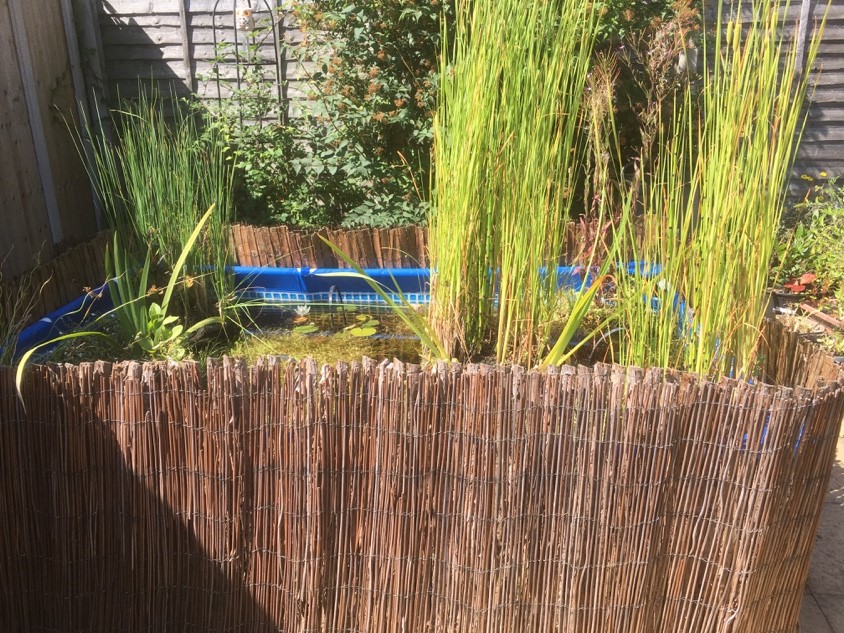 In summer 2019, we were finally in a position to create our longed-for pond after buying our first home together. Our new home came with a typical small rectangular suburban garden. Due to the design of our garden, we decided that building a raised pond would be the best option for us. Our level of gardening experience can best be described as 'enthusiastic', so we turned to the BDS online resources together with the excellent tips contained in The Dragonfly Friendly Gardener by Ruary MacKenzie Dodds.
Given that our pond would be raised, unfortunately, it would not be suitable for frogs and newts and so our primary aim was to try to provide a habitat for dragonflies, damselflies and other insect life. We chose a sunny and sheltered corner of the garden on a flat piece of patio which we thought dragonflies might like and then George bought a steel framed 1,800 litre pool online which he constructed. He covered the exterior of the pond with bark cladding for a more natural and unobtrusive appearance.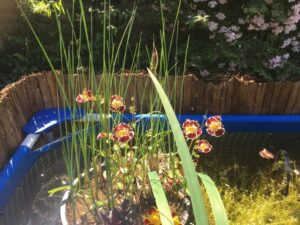 We invested in a range of submerged, floating and emergent plant life from our local garden centre and aquarium shop to bolster the attraction of our new habitat to dragonflies. One of my favourites is our yellow flag iris (iris pseudacorus) which produces beautiful bright yellow flower heads and long sword-like leaves. I also like our white water lilies (nymphaea alba) – we hoped these would provide an eye catching floral focus-point for the pond with the floating lily pads acting as a sun-soaked resting spot for dragonflies as well as a potential ovipositing site. Our new vegetation was planted up in aquatic baskets and interspersed around the pond.
The pond was completed at the tail end of last summer. To our delight, we had regular visits from a Southern Hawker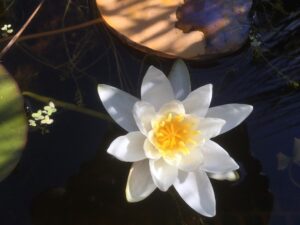 and a Common Darter within a couple of weeks of adding the plants to our pond. We were excited to see if we might have any additional wildlife visitors to our garden this year and sitting quietly by our pond and observing its wildlife during the lockdown months has proved to be a source of great joy.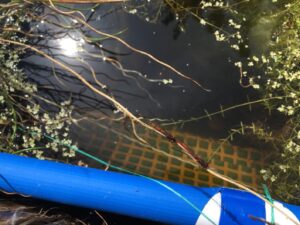 In the spring, we noticed that insect life was starting to thrive with water snails, pond-skaters and diving beetles appearing on the scene for the first time. In May we had our first ever damselfly visitor. The pond has proved a popular spot with the local Large Red Damselflies (pictured lelft) and Azure Damselflies and we have had frequent sightings, including a mating pair of Large Reds who performed their heart-shaped mating wheel leading to the female ovipositing around the floating pond vegetation. We were also delighted to see the flashing wings of the exotic-looking Beautiful Demoiselle on a few occasions.
This weekend proved to be the highlight of our pond experience to date as we noticed the scarlet flash of a Common Darter flitting around our pond. On closer inspection, we found six exuvia on the reeds from newly hatched dragonflies (pictured below). It is exciting to think that the Darters from last summer must have found our pond to their liking for mating purposes only a few weeks after we created it. We look forward to seeing what the rest of the dragonfly season will bring us.