If you would like to check out the latest dragonfly sightings in your local area (Vice-county) or nationally, you can do this through the iRecord website. Records in iRecord can be labelled in several ways. 'Accepted' records are those that have been verified as correct by the County Recorder(s). You can exclude 'not accepted' or 'queried' records etc using one of the dropdown menus as you work through the instructions below.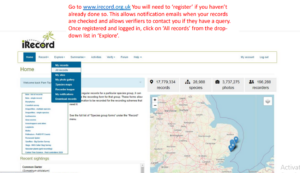 Instructions for viewing Latest Sightings in iRecord
We have also created a short video guide that you can watch below:
If you have seen a dragonfly and want to share your sighting or get help with species identification you can post in the following Facebook group, which is run by Neil Phillips, one of our County Dragonfly Recorders: British Dragonflies and Damselflies Facebook Group
Be assured that your request to join will be accepted promptly as the group is monitored regularly. It is run by experienced dragonfly enthusiasts, so it is a good place to request species identification help too.
Or share your sightings on our own Facebook, Twitter and Instagram accounts, too.
Our Scotland team has its own Twitter account and Facebook group.
There is also a Facebook group that covers our Migrant Dragonflies Project, which is run by project coordinator Adrian Parr and anyone can request to join here.
If you are confident of your identification please also enter it into the BDS database on iRecord. Your records will help us track the distribution of dragonflies across the UK and thereby aid their conservation. Click here.
Title image: Hairy Dragonfly by Dave Smallshire
Somerset
Southern Hawker egg laying

Female Southern Hawker was clearly laying eggs in the new plants we had just put in the rocks around our garden pond.
Nottinghamshire
Notts Willow Emeralds

The wife and I took a walk along the Chesterfield Canal at Gringley and were surprised to see 2 Willow Emeralds on bank-side Figwort. Our first Notts records for this Damselfly.
Wiltshire
Enormous Southern Hawker

This dragonfly visits us every day. She flies in and out of out conservatory – and around the fountain.
Warwickshire, Birmingham, Black Country
Beautiful

Southern Hawker flying around in my conservatory
Beds, Cambs, Northants and Peterborough
They get everywhere now

Willow emerald dragonflies. Two in tandem and one lone one. By the brook that runs past the Botanical Gardens, CB2 1JE.
Nottinghamshire
Dragons in Nottingham

Valley road water meadow many migrant hawkers male and common darters male and female a good afternoon watching them .
Durham
Rock lounging

? Southern hawker flew in and occupied a mossy rock by our garden pond.
Durham
Rock lounging

? Southern hawker flew in and occupied a mossy rock by our garden pond.
Sunderland
Beautiful emperor dragonfly spotted today

Inland at a retirement home garden no water it was flying around the car park and rested on a plant for a while before flying away
East Lothian
New pond visitor

Our pond is less than 2 months old and today we had our first dragonfly visitor and she laid eggs. Southern Hawker, Pencaitland, East Lothian.
Cambridgeshire
Hawkers Galore

I had a lovely two and a half hour afternoon walk along Burwell Lode Wicken Fen 1.30 pm-4.00 pm. Migrant Hawkers very numerous, several pairs copulating. Delighted to see 2 female Brown Hawkers ovipositing only a few inches apart for just over 1 minute. 1 female ovipositing from 1.40 p.m-2.22 pm. 2 Southern Hawkers 1 male and 1 female, a few male and female Ruddy and Common Darters, 3 Willow Emerald Damselflies, including a copulating pair , 1 Blue-tailed Damselfly and flight views of 2 unidentified blue Damselflies.
Newcastle upon Tyne District
Southern Hawker my first ever spot!

In the buses next to the metro line flitting about and very amiable to being photographed.
Durham
Rock lounging

? Southern hawker flew in and occupied a mossy rock by our garden pond.
Kent
A perching darter

A common darter – perched on a sumac tree branch on a sunny and warm September afternoon.

Photographed in my back garden in Leysdown, Kent, a few feet away from a pond.
North Yorkshire
The emperor rules

Spotted a male Emperor on our pond in one of our fields at the end of East Ings Lane Pickering N.Yorks. Today Sept. 13 2020
Lincolnshire
Garden Sighting

Common darter (male). Ironically landed on a garden ornament of a dragonfly!
Devon
Bovey Basin sites

Lovely weather for an end of flight season check at some Bovey Basin sites. Most unusual sighting of 10 species was a male Black Darter at Little Bradley Ponds, the first there since September 1978. Although obviously a wanderer, it looked strangely at home perched above a bed of Crassula, rather than its usual Sphagnum. Beautiful Demoiselles were at 3 sites, 1 Emerald and 9 Small Red-eyed Damselflies at Little Bradley Ponds and a total of 18 Migrant Hawkers (with egg-laying at LBP).
Highland
Northern Emerald male

Northern Emerald, male. By the Badenock Way, NH803003, between Drumguish and Inveruglas (Inveruglass on OS maps). Flew fast NE close by us.
North Yorkshire
Dragonflyby!

We took a walk around Yearsley on the edge of the North Yorkshire Moors and sat at Oulston Reservoir and there were so many buzzing about. We think we saw a common darter, brown hawker and possibly a common hawker? Lots of different colours and sizes. A great place to spot dragonflies
Nottinghamshire
Dragons in Nottingham

Sellers wood nature Reserve a great wonderful day mating common darters on my hand wow another darter on top of my hat defending his airspace from a southern hawker just amazing to watch . also watch 3 males willow emerald damselfly first time i have seem this damselfly here too. 16 odonata from this site.
Cheshire and Wirral
Beautiful Female Southern Hawker in our garden

A wonderful large female Southern Hawker spent a long time in our garden this morning. It was a privilege to see.
Shropshire
Prehistoric southern hawker silhouette

Spotted (we think) a southern hawker, in the conservatory, in the evening. We first saw it as a huge silhouette behind the curtains. Presume it feeds by the ditch along the edge of our garden
Glamorgan
black darter

black darter dragonfly at forest farm nature reserve in Cardiff
Cambridgeshire
Waiting in line for coffee …

A female Common Darter Sympetrum Striolatum
National Trust's Anglesey Abbey
Herefordshire
Southern Hawker – Herefordshire

Seeing daily at the moment around garden pond
Derbyshire
At the pub

Sat in pub garden which has a large pond and an emperor dragonfly was buzzing around
Cambridgeshire
Willow Emerald in the Garden, Again

A Willow Emerald Damselfly perched briefly on a shrub in my garden today. It's not the first, since I saw one here on 9th August, which I reported. I omitted to mention the location last time, but it's Houghton, between St Ives and Huntingdon.
Lincolnshire
Willow Emerald

5 Willow Emerald Damselfly including a mating pair at Baston Fen Nature Reserve
Lincolnshire
Golden Ring dragon

On a path at the Frampton Marsh RSPB reserve on 12th September 2020
Lincolnshire
Just seen a Southern Hawker. Wow!

1:30pm today over my garden pond. Visited for about 5 mins beautiful like green with very dark blue black stripes what a privilege
11 Sep 2020
North Lincolnshire
Page of 189