Share a sighting 
If you have seen a dragonfly and want to share your sighting or get help with species identification you can post in the following Facebook group, which is run by Neil Phillips, one of our County Dragonfly Recorders: British Dragonflies and Damselflies Facebook Group
Be assured that your request to join will be accepted promptly as the group is monitored regularly. It is run by experienced dragonfly enthusiasts, so it is a good place to request species identification help too.
Or share your sightings on our own Facebook, Twitter and Instagram accounts, too.
Our Scotland team have their own Twitter account and Facebook group.
There is also a Facebook group that covers our Migrant Dragonflies Project, which is run by project coordinator Adrian Parr and anyone can request to join here.
Enter a record
If you are confident of your identification please also enter it into the BDS database on iRecord. Your records will help us track the distribution of dragonflies across the UK.
Changes to Latest Sightings, March 2021

Our Latest Sightings feature was set up long before social media existed and was designed to be a space where anyone could tell other dragonfly enthusiasts what they had seen. It was not verified or linked to submitting scientific records at all and resulted in some unusual and unlikely sightings being displayed on our website. The design of the feature did not allow for photos to be displayed or for our British Dragonfly Society team to respond to any questions or requests for identification help. It was not as interactive as the various social media platforms on offer today which many of us have now become accustomed to using.
We feel that it is now time to address these issues and to trial a new approach, so that this part of our website would still be useful and meet the needs of users. This dragonfly season we will be uploading a monthly summary of what species have been seen across the country, along with photos where possible. The summary will be displayed on this page and a short version on the homepage. To share your dragonfly sightings, please head to our British Dragonfly Society social media pages and groups as detailed below; be assured that the groups we recommend are monitored regularly by our own volunteers to ensure a speedy response.
Please give this new approach a go and let us know if you have any constructive feedback to help us shape this feature in the long term. Many thanks from our whole team.
Title image: Hairy Dragonfly by Dave Smallshire
February summary
We found two sightings online during February:
24th February: Vagrant Emperor, Torpoint, Cornwall. Leon Truscott and photographed by Jojo Alexandra Surman.
27th February: Blue-tailed Damselfly, Cotgrave, Nottinghamshire. Jack Perks. This was a very early sighting from a garden pond.
March summary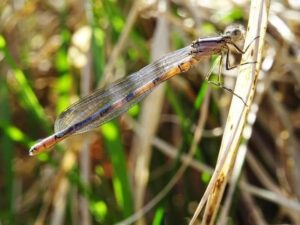 The first sighting of the month came in on the 29th from Cheshire of a Common Blue Damselfly (photo by Jen Stone), this was surprisingly early for this species in this location. The next day two sightings of Large Red Damselfly came in from Cornwall and Dorset.
April summary
The Large Red Damselfly emergence began to spread across the south of England during the first half of April, with one report from North Wales during this period too. The Large Red Damselfly emergence was also underway in Ireland too with a report on the 12th from Ballyheigue, Co. Kerry. The higher temperatures on the weekend of the 17th-18th resulted in a wave of sightings of this species across England as far north as North Lincolnshire and in a few locations in Wales too.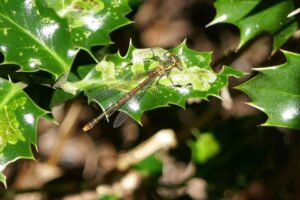 There was a flurry of sightings of Large Red Damselfly during the middle of April too when the temperature rose, with the first sighting in Scotland on the 24th of April from Dumfries (photo right by Laura Bax). The bad weather and lower temperatures at the beginning of May caused a reduction in reports.
The dragonfly season began with the first Broad-bodied Chaser sighting which came in on Twitter from Kent on the 17th (photo below by Marc Heath), followed by a sighting of one in Devon on the 18th. The damselfly season continued with a Banded Demoiselle being spotted in London on the 19th.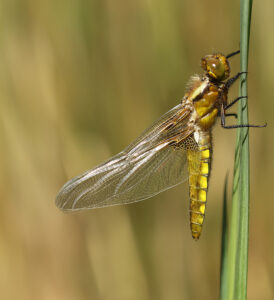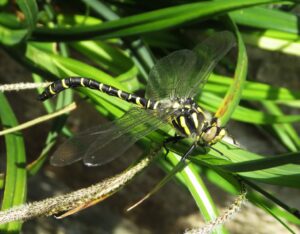 Catherine Beazley tagged us into a Twitter post about a Golden-ringed Dragonfly that she spotted in Penzance, Cornwall on the 22nd of April (pictured right). We have never had a record for this species in April before so this was certainly early.
Other April highlights were: the first Downy Emerald was spotted at Lightwater in Surrey on the 18th of April. On the 19th the first Banded Demoiselle was spotted in London. The first Four-spotted Chaser was seen at Whixall Moss, Shropshire/Wales border area, on the 22nd of April. On the 23rd of April came the first Hairy Dragonfly sighting from the Avalon Marshes in Somerset. The first Azure Damselfly was spotted at Hedge End, Southampton on the 25th of April. Also on the 25th was the first White-faced Darter sighting from Whixall Moss.
Below is the sightings list from the old system which runs to Jan 2021. Please see above for more recent sightings in the Facebook group.
Cheshire and Wirral
Sound Common Migrant Hawkers

Sound Heath, Nantwich, Cheshire. Three male and one female Migrant Hawkers sighted at this SSSI site on our first visit. Also large numbers of Common Darters. Photograph records taken.
Hampshire
Camera teasing southern hawker

New Forest – Dockens water. Watched over a period of an hour, single male patrolling its territory. Quite a few times hovered about a foot from my head but every time I took a picture it darted off – absolutely fascinating. It was on the wing for a long time without catching anything. Wings made a helicopter rotor noise on tight maneuvers.
Herefordshire
Emperor visits

Emperor dragonfly inspecting our newly created wildlife pond has been around for three or four days
Argyll and Bute
Lochside Emperor

Male Emperor hunting across a road between beechwood verge and shoreside rough vegetation.
Somerset
Large numbers of Migrant Hawkers Ham Wall

At least 500 Migrant Hawkers at Ham Wall RSPB reserve in late afternoon sunshine.
Also still a few Brown Hawkers.
Isle of Wight
Southern Hawker (2) laying eggs

2 SHs, laying eggs on reed stems in garden pond. Isle of Wight
Greater London
Suburban garden visitor

Female Southern Hawker dragonfly seen in suburban garden in London.
Pembrokeshire
GARDEN DRAGONFLY

I had just got the mower out of the shed, I looked down and saw a large golden ringed dragonfly on the grass. It was alive and trying to fly but had sustained severe damage to it's abdomen. I was not sure whether it had been in the mower and was damaged when I pulled the mower out or whether damage had been caused elsewhere. I put the dragonfly in a quiet place but it was obviously mortally injured. I was still alive several hours later.
Surrey
Darter on wire

Spotted on wire fence bordering heathland in Surrey. Keen to know if this is Common Darter (seems likely) or other. I think this is female. Pale wing spots confusing. No obvious yellow or red veins in wings, so Common seems likely based on the brilliant (and recently acquired) "Britain's Dragonflies" field guide. My picture is not 100% focus as taken using 300mm telephoto at max zoom (see Instagram link below). Would appreciate an expert view. Lots of dragonflies on the wing – many mating.
Highland and Islands
A Friend

My 'Friend' and I had a hour-long tryst at the head of Loch Hope in lovely hot, bright, sunshine. He was a White-faced Darter. First of all he sat on my bare leg, then arm, finally on the back of my hand, where he stayed for about 30 minutes, apart from quick excursions to catch a small fly. He seemed quite content eating there, and didn't budge when pages were turned (I was sat reading in the sunshine) nor when I sipped tea. We had a wonderful face-to-face encounter. At the site were Blue Darters too, but this little fellow was quite something else. Memorable!
Essex
Ruddy darters on Louth canal

Several along footpath by canal
Cumbria
Seen Hawking around Duddon Mosses

Common Hawker male Duddon Mosses resting on boardwalk
Cumbria
Black Darter in shiny black

Black Darter male, Duddon Mosses
Cumbria
Female Black Darter

Female Black Darter, Duddon Mosses
Sussex
Red veined darter

A red veined darter perched on the pink plastic flower shaped cane topper. He was there for nearly 30 minutes, with occasional circuits of the garden. Not bothered by close up camera. Bright sunshine, breezy.
Norfolk
Late keeled skimmer, Norfolk

At Holt Country Park (Holt Lowes SSSI), a single male keeled skimmer still on the wing – a sighting late in the year. There were also about five (one female, four males) a week ago (10 Sept), same place.

I also photographed a dead keeled skimmer caught by a four-spot orb web spider.
Northamptonshire
Willow Emerald Damselfly

Willow Emerald Damselfly at Barnwell Country Park, Oundle
Leicestershire
Southern Hawker in Loughborough.

We have a large garden pond and the insect spent several minutes flying around it's banks, giving me a splendid show.
Highland
Black Darter – Uath Lochans

At least 3 male Black Darter on boardwalk of white trail at Uath Lochans this afternoon.
Highland
Black Darter – RSPB Loch Insh lookout

At least a dozen Black Darter on the access boards / handrails to the RSPB Loch Insh lookout this afternoon / early evening. About even male vs female. NN775998. Good close views but irritatingly, lousy, un-natural background (board walk / handrails) for photography! Can't have everything! Did see a peregrine.
Wiltshire
Last year and again this week.

Very Large Southern Hawker, ( I think). Comes into house , has a good look round sitting room and leaves.
Staffordshire
Sainsburys Migrant Hawker

Saw at least three individuals at our local site next to Sainsburys supermarket in Leek. This is the first time we have recorded this species at this site. Photo record added to irecord.
Greater London
Red-veined Darter

Seen by new wildlife pond at Walworth Garden.
Northumberland
Stunning Southern Hawkers

Several Male and Female Southern Hawkers in flight and at rest perched on long grasses and high in the tree canopy
Warwickshire, Birmingham, Black Country
Golden Ringed Dragonfly

Onr flew in to the veranda and hovered by the glass window for a short time before flying out
Northamptonshire
backgarden pond

male Southern Hawker+Common Darter 15.9.20 pond in backgarden
North East
Spectacular

15 or so Common Hawkers, mainly males and 3 females coupling .. territorial displays and ariel coupling / wheel. .ovipositing females x2 👌🙏🏼👌
Emerald x3 males
4 Black Darters .. males .. 2 females
2 coupling/ wheel and ovipositing
Derbyshire
Garden visitor

Southern Hawker in rear garden on 2 consecutive days
Somerset
Southern Hawker egg laying

Female Southern Hawker was clearly laying eggs in the new plants we had just put in the rocks around our garden pond.
Nottinghamshire
Notts Willow Emeralds

The wife and I took a walk along the Chesterfield Canal at Gringley and were surprised to see 2 Willow Emeralds on bank-side Figwort. Our first Notts records for this Damselfly.
Page of 189