Share a sighting 
If you have seen a dragonfly and want to share your sighting or get help with species identification you can post in the following Facebook group, which is run by Neil Phillips, one of our County Dragonfly Recorders: British Dragonflies and Damselflies Facebook Group
Be assured that your request to join will be accepted promptly as the group is monitored regularly. It is run by experienced dragonfly enthusiasts, so it is a good place to request species identification help too.
Or share your sightings on our own Facebook, Twitter and Instagram accounts, too.
Our Scotland team have their own Twitter account and Facebook group.
There is also a Facebook group that covers our Migrant Dragonflies Project, which is run by project coordinator Adrian Parr and anyone can request to join here.
Enter a record
If you are confident of your identification please also enter it into the BDS database on iRecord. Your records will help us track the distribution of dragonflies across the UK.
Changes to Latest Sightings, March 2021

Our Latest Sightings feature was set up long before social media existed and was designed to be a space where anyone could tell other dragonfly enthusiasts what they had seen. It was not verified or linked to submitting scientific records at all and resulted in some unusual and unlikely sightings being displayed on our website. The design of the feature did not allow for photos to be displayed or for our British Dragonfly Society team to respond to any questions or requests for identification help. It was not as interactive as the various social media platforms on offer today which many of us have now become accustomed to using.
We feel that it is now time to address these issues and to trial a new approach, so that this part of our website would still be useful and meet the needs of users. This dragonfly season we will be uploading a monthly summary of what species have been seen across the country, along with photos where possible. The summary will be displayed on this page and a short version on the homepage. To share your dragonfly sightings, please head to our British Dragonfly Society social media pages and groups as detailed below; be assured that the groups we recommend are monitored regularly by our own volunteers to ensure a speedy response.
Please give this new approach a go and let us know if you have any constructive feedback to help us shape this feature in the long term. Many thanks from our whole team.
Title image: Hairy Dragonfly by Dave Smallshire
February summary
We found two sightings online during February:
24th February: Vagrant Emperor, Torpoint, Cornwall. Leon Truscott and photographed by Jojo Alexandra Surman.
27th February: Blue-tailed Damselfly, Cotgrave, Nottinghamshire. Jack Perks. This was a very early sighting from a garden pond.
March summary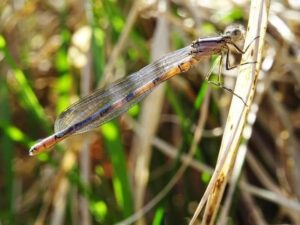 The first sighting of the month came in on the 29th from Cheshire of a Common Blue Damselfly (photo by Jen Stone), this was surprisingly early for this species in this location. The next day two sightings of Large Red Damselfly came in from Cornwall and Dorset.
April summary
The Large Red Damselfly emergence began to spread across the south of England during the first half of April, with one report from North Wales during this period too. The Large Red Damselfly emergence was also underway in Ireland too with a report on the 12th from Ballyheigue, Co. Kerry. The higher temperatures on the weekend of the 17th-18th resulted in a wave of sightings of this species across England as far north as North Lincolnshire and in a few locations in Wales too.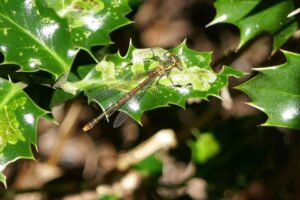 There was a flurry of sightings of Large Red Damselfly during the middle of April too when the temperature rose, with the first sighting in Scotland on the 24th of April from Dumfries (photo right by Laura Bax). The bad weather and lower temperatures at the beginning of May caused a reduction in reports.
The dragonfly season began with the first Broad-bodied Chaser sighting which came in on Twitter from Kent on the 17th (photo below by Marc Heath), followed by a sighting of one in Devon on the 18th. The damselfly season continued with a Banded Demoiselle being spotted in London on the 19th.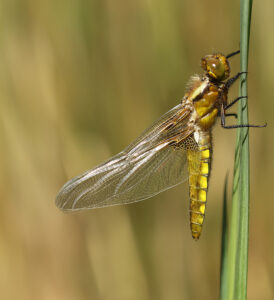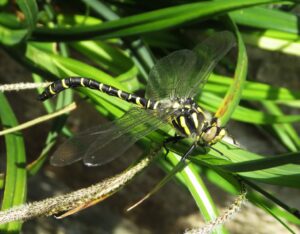 Catherine Beazley tagged us into a Twitter post about a Golden-ringed Dragonfly that she spotted in Penzance, Cornwall on the 22nd of April (pictured right). We have never had a record for this species in April before so this was certainly early.
Other April highlights were: the first Downy Emerald was spotted at Lightwater in Surrey on the 18th of April. On the 19th the first Banded Demoiselle was spotted in London. The first Four-spotted Chaser was seen at Whixall Moss, Shropshire/Wales border area, on the 22nd of April. On the 23rd of April came the first Hairy Dragonfly sighting from the Avalon Marshes in Somerset. The first Azure Damselfly was spotted at Hedge End, Southampton on the 25th of April. Also on the 25th was the first White-faced Darter sighting from Whixall Moss.
Below is the sightings list from the old system which runs to Jan 2021. Please see above for more recent sightings in the Facebook group.
Cornwall with Scilly
Tamar Valley, Cornwall – A pair of Emperors

Two Emporers were spotted foraging around the edges of a flooded pond within the Tamar Valley woodland estate
Cambridgeshire
Lunch time dragons

I spent a few hours canoeing along the Lodes around Wicken Fen. At midday i took a lunch break in a sunny sheltered area. Delighted to see at least 4 Migrant Hawkers, including a pair copulating.6 Common Darters, males and females also seen, again 1 pair copulating. 1 larger dragonfly flew past a couple of times. What i could see of the dragonfly suggested a male Southern Hawker.
Somerset
Southern Hawker Glastonbury

Single male Southern Hawker at garden pond with a Common Darter
Sussex
Emperor surprise

A single Emperor dragonfly at my Garden pond
Cambridgeshire
Brief Encounter

I arrived at Wicken Fen in the pouring rain. Fortunately it stopped shortly after my arrival so my walk was still on. As i walked beside Wicken Lode the sun emerged from the clouds for a few minutes. 2.26pm-2.37pm,during which i saw 2 male Migrant Hawkers hawking insects.
United Kingdom
Beautiful emperor in Burley

A majestic navy blue emperor giving a wonderful display over a lake, unbothered by the rain.
Norfolk
Vagrant Emperor

Male at the western edge of Holkham Pines for at least fifteen minutes. A possible second about 200 yards west on Burnham Overy Dunes, flight views only.
Somerset
Vagrant Emperors Shapwick Heath NNR

Two Vagrant Emperors along the main path near the east end of Noahs Lake at Shapwick Heath NNR.
Also 40+ Common Darters and 20+ Migrant Hawkers in the warm sunshine
Sussex
Southern migrant hawker

Arundel wetland centre sussex
Wiltshire
Southern Hawker

A lone male Southern Hawker was patrolling the southern pond at Ravensroost Meadows this afternoon, despite temperatures of about 12C. The late date isn't completely unexpected – it's only my second latest for the site, but I was surprised due to the cold weather recently.
Dorset
Vagrant Emperor Sherborne Lake

Vagrant Emperor flying around large field on east side of castle above the lake.
Also a few Migrant Hawkers around the lake.
Cambridgeshire
Magic Sun!

I was enjoying an afternoon walk around Wicken Fen despite the cloudy conditions. Turning on to the path leading to West Mere Hide the sun emerged from behind the clouds. As if by magic several dragons emerged. 5 Common Darters-2 males and 3 females, 2 Willow Emerald Damselflies and 1 male Migrant Hawker. Photos taken. 2.22pm-3.03pm.
Dorset
Inquisitive Emperors

I had been to this pond before to watch Dragonflies/Damselflies but this time the Emperor Dragonflies became very tame and kept flying right up to us to check us out, never experienced this before. Even landing on my friends shoe and seemed like it was trying to deposit eggs on her shoe.
Somerset
Common Hawker Ham Wall

Single Common Hawker by VP2 Ham Wall RSPB.
Also a few Common Darters and Migrant Hawkers
Cambridgeshire
Common Darters in the sun

I was very pleased the sun came out whilst i was walking along Harrisons Drove Wicken Fen. It bought out several Common Darters. I counted 7 males and 2 females. Also 2 male Migrant Hawkers and 1 female.1.30pm-2.30pm.
Hampshire
October Egg-laying

Sunday 11th October an ovipositing Aeshna cyanea Southern Hawker on our Hampshire garden pond. Also a Sympetrum striolatum Common Darter on the same pond.No doubts on identification
Norfolk
Sitting on the fence

I saw what appeared to be a Common darter Sitting on the fence in Norfolk.
Somerset
Brown Hawker and other dragonflies at Ham Wall

In the sun at Ham Wall RSPB reserve a single Brown Hawker , 75+ Migrant Hawkers , 250+ Common Darters and a few Ruddy Darters.
Kent
Flying low at Thanet Earth

female Migrant Hawker Aeshna mixta
Derbyshire
Sunshine Visitors

Red Darter (maybe male) sat by the pond in the sun on September 7th in Bolsover.
Two Southern or Common Hawkers zipping round each other in the garden on September 13th, Bolsover.
Glamorgan
southern hawker laying eggs

dyffryn gardens, watched for 30 mins laying eggs
Durham
Female Southern Hawker Laying eggs in pond side moss

Female Southern Hawker at a private fishing pond at Maiden Law Durham
Worcestershire
Golden Ring Dragonfly sighted today

Just caught sight of this beautiful Dragonfly in my garden. WR9 7PE area. Drat, always the way when you have no camera to hand. Came and checked details and as this was easily four inches in length I must assume it was a female Golden Ringed Dragonfly. She swept around skimming the lawn then swooped over the one fence, came back, had another look around the garden then flew off over the other fence. She was spectacular, How lucky to see her. I will now be hoping to spot her again.
Cambridgeshire
The last dragons.

Despite the weather not being very favourable for dragonflies, i was pleased to see 4 Migrant Hawkers, 3 males and 1 female at Wicken Fen this afternoon. Also 1 male Common Darter and 1 Willow Emerald Damselfly.1.oopm-4.00pm.
Greater London
A vision in green and brown

Saw this large Dragonfly laying eggs on dying foliage at the edge of a wildlife pond on the local allotment site at 2pm this afternoon.
I think it's a female Southern Hawker
Highland
Black Isle Dragons

Two Northern Emerald (one female)
One Common Hawker

Kingsley Wood Way in the Millbuie Forest. Near a deep peaty ditch in an area of sparse young coniferous trees with mixed scrub (heather, willow, gorse, broom etc). Sunny and relatively warm (~13 deg C) for the time of year with light breeze (<5 Km/hr).
Norfolk
hickling abundant

common darters hundreds everywhere you looked, migrant hawker 30 plus.
hickling broad norfolk.
Lancashire
Inquisitive and close

Saw a black and green southern hawker dragonfly at my local park Walverden park in nelson
Glamorgan
emperors in south wales

emperors in south wales. 3 this morning. Cardiff. not world shattering news I know. All the best y'all.
Devon
Female Southern Hawker, Teign Gorge

Female Southern Hawker resting on sunny heath high on the south-facing steep slopes of the Teign Gorge below Castle Drogo, Devon.
Page of 189