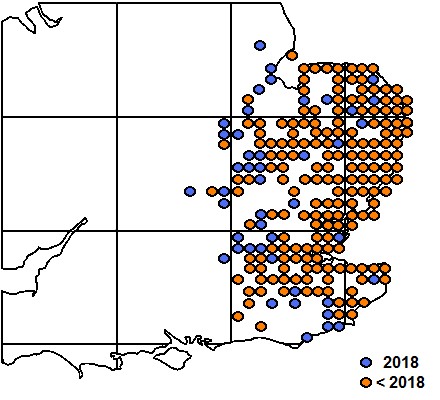 Willow Emerald Watch Update
12/03/2019
Thanks to the efforts of our volunteer dragonfly recorders, we have been able to closely following the spread and colonisation of the Willow Emerald Damselfly since those first mass sightings in 2009.
The 2018 dragonfly season saw many important new records of the Willow Emerald Damselfly, and there was a clear consolidation of populations near the edge of the species' main range. Many new sightings were thus received from Lincolnshire, Northamptonshire, Cambridgeshire, Bedfordshire and the west London area in particular – Willow Emeralds have indeed now even been reported from the gardens of the Natural History Museum in London! Strangely, new sightings in the West Sussex and suburban Surrey area were, however, much less evident. At Woods Mill, W. Sussex, the species has now been present since 2015, but this site remains the only known locality for the species in this general area. Maybe other sites are being overlooked.
In addition to consolidation at the margins of the species' main range, a modest but significant further range expansion was also noted. Individuals were thus reported during September from two new counties, namely East Sussex (several reports from around the county, including sightings at Weir Wood Reservoir, Broadwater Warren and on the River Brede) as well as Berkshire (small numbers being found in Windsor Great Park). In addition to this, new "most southerly", "most northerly" and "most westerly" records for the UK were all set during the year. The most northerly sighting is now from Kirkby-on-Bain, Lincolnshire, while the most westerly is from Stowe Gardens, Buckinghamshire.
It will be of great interest to see what 2019 has in store; perhaps there will soon be another major push westwards, as was seen in e.g. 2016.
To find out more about the Willow Emerald Watch, and to get involved, visit the project web page here.
Map: comparing those Willow Emerald Damselfly records from 2018 only and those from before 2018. (Adrian Parr)