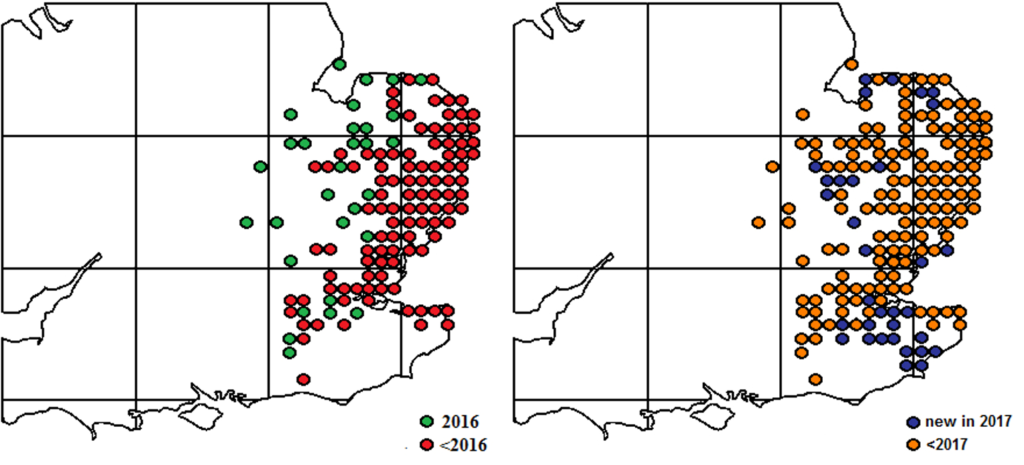 Willow Emerald Watch 2017 Update
20/12/2017
Project Co-ordinator, Adrian Parr, has been busy mapping your Willow Emerald Damselfly sightings for 2017 and the results show an interesting contrast to those of the previous year.
It is believed that Willow Emerald Damselflies began to colonise the UK around 2009, when reported sightings of the species began flooding in from south-east Suffolk and north-east Essex. Since then the species has been rapidly spreading across the south-east of England; thus, the Willow Emerald Watch was established to monitor its range expansion.
Adrian reports "Willow Emeralds were again reported in good numbers from southeast England during 2017, with records not just from their core areas, but also from most of the sites where they first appeared only the year before (e.g. Tattenhoe Park in Milton Keynes, Buckinghamshire, and Gibraltar Point in Lincolnshire). Unlike the situation over much of the previous decade, there was however little sign of significant further range expansion. Few new records were thus received that were more than 10 km from previous sightings. The only real exception to this was in Kent, where numerous records were made along the Royal Military Canal towards the far south of the county. Even here, the numbers of individuals seen and the length of canal involved do, however, rather imply that this area has been colonised for some while, but it is only now that the damselflies have been spotted! The lack of major range expansion did not mean that the species fared poorly though, with significant 'infilling' still being noted in Cambridgeshire. Several diligent observers also managed to fill in apparent gaps elsewhere in the species' range. Quite why findings in 2017 should differ so noticeably from those of the preceding few years currently remains something of a mystery. Perhaps the Willow Emerald's recent range expansion has been so rapid that the species has overstretched itself, and populations in outer-lying areas now need to build up before further expansion can take place. The next couple of years should tell!"
To find out more about the Willow Emerald Watch, its findings, and how you can get involved, check out the Willow Emerald Watch Project page here.
Distribution maps illustrate Willow Emerald Damselfly records for 2016 and 2017, and compare with records from previous years (Adrian Parr).