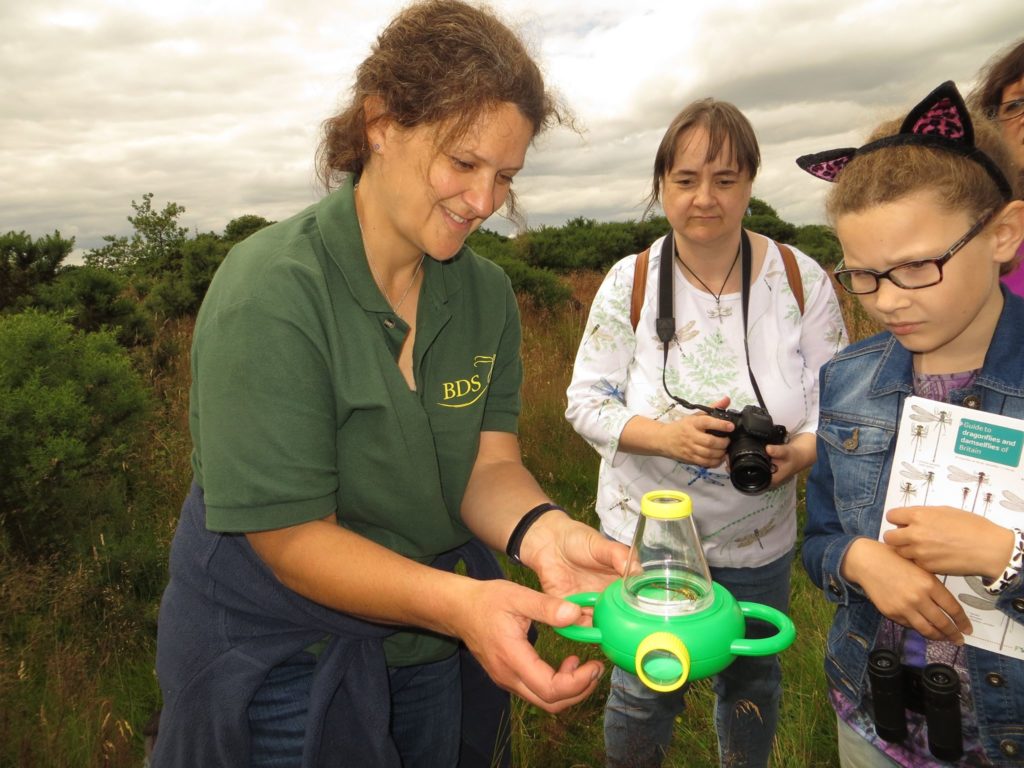 We are Recruiting!
15/09/2017
It is with a heavy heart that we must wave goodbye to our wonderful Scotland Officer, Daniele Muir. Daniele has transformed the work of the BDS in Scotland, bringing in and developing Scottish Hotspots, creating a network of experts and practical conservationists across the country and building a lively community of dragonfly enthusiasts. We wish Daniele the best of luck with the next stage in her career.
Losing Daniele means we are now looking for a new, enthusiastic and energetic member of staff to move forward with the role of Scotland Officer, building on all the brilliant work Daniele has done. Please find details of the post below:
Scotland Officer
Home-based, but with project locations throughout Scotland, particularly in the Central Belt
General description: Continue to develop the role of the BDS in Scotland by engaging with local communities and volunteers to promote dragonfly recording and conservation. A small, dedicated group of BDS volunteers already exists in Scotland, but they are widely dispersed throughout the country. It will be necessary to build from this baseline by introducing dragonflies to a new audience in selected areas. The role will provide opportunities to work with local BDS members, engage with the general public, encourage greater participation in outdoor activities including practical conservation tasks, and offer training in dragonfly identification, ecology and recording. The BDS Scotland Officer will provide a focal point for all dragonfly-related work in Scotland. It may be possible to base some office work in Stirling with one of our conservation partners. Initially an 18 month contract.
Primary tasks
Organise and deliver a programme of BDS walks and talks for BDS members and the general public.
Organise and deliver training events for local groups of potential volunteers, as well as staff and volunteers from other key organisations in Scotland.
Organise and run the Scottish Dragonfly Conference. (One already scheduled for April 2018)
Represent the BDS at events organised by others in Scotland.
Use local knowledge to assist other BDS Officers to identify Key Sites for dragonflies. Work with volunteer BDS Officers to offer habitat management and species conservation advice on Key Sites.
Identify potential Dragonfly Hotspots and develop new projects to engage with local volunteers. Where necessary assist in the preparation of bids for local funding.
Work with other BDS Officers and volunteers to design, create and disseminate environmental education resources that support the Curriculum for Excellence in Scotland.
Engage with landowners to maintain and improve habitat for Azure Hawker and Northern Damselfly.
Use various media to raise awareness of dragonflies and promote the work of the BDS to record, study and conserve these insects and their habitats.
Supplementary tasks
Work with existing BDS volunteers to promote dragonfly recording and increase the number of active volunteers in Scotland.
Liaise with similar conservation organisations in Scotland, for example Buglife and Butterfly Conservation, to develop partnership projects and initiatives.
Promote the monitoring of dragonflies on selected Key Sites and where appropriate survey sites for Key Species.
Answer queries and provide information on dragonflies in Scotland, including responding to consultations in partnership with the Dragonfly Conservation Group.
Identify and develop other projects in Scotland in accordance with the strategy set by BDS Trustees.
Required skills: Good communication skills in all mediums for a wide variety of audiences. Ability to manage projects effectively and meet deadlines. Sound knowledge of invertebrate conservation and/or freshwater habitats. Car driver (a mileage allowance is paid for essential travel).
Desired skills: Good knowledge of UK, and especially Scottish, dragonflies and their habitats. Working knowledge of the Curriculum for Excellence in Scotland and its links to outdoor learning. Experience of fund-raising.
Experience: Work (paid or voluntary) for a similar conservation organisation. Practical experience of habitat management work and/or educational work.
Education: Ideally a degree in one of the natural sciences or an equivalent qualification.
Applying for the post :
Letters of application should be emailed to the Secretary:
There is no application form, so please attach a copy of your current CV.
The closing date for applications is Noon on Thursday 12th October, 2017
Short-listed candidates will be contacted between 16th to 20th October so please provide suitable contact details for that period.
Short-listed candidates should be prepared to attend an interview in Edinburgh on Wednesday 25th October.