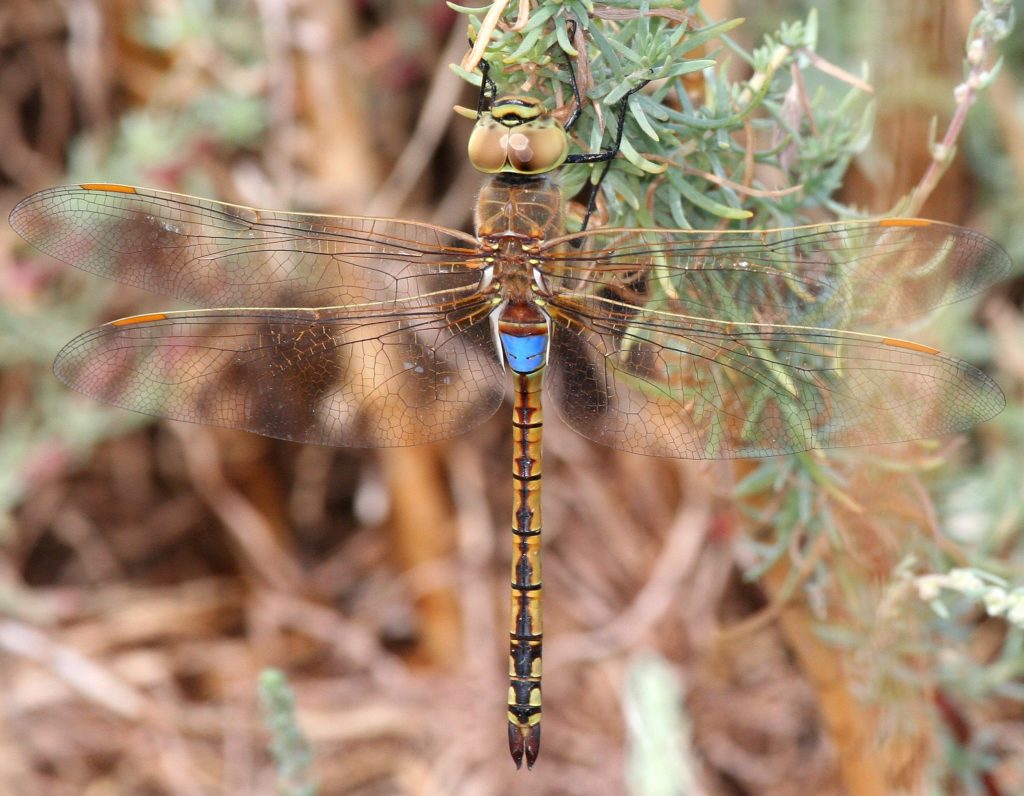 Vagrant Emperors in autumn 2013
05/11/2013
The generally mild autumn weather of 2013, with its good spells of southerly winds, benefited both humans and insects alike. Dragonflies were no exception, with a number of particularly interesting sightings being made. Most spectacular of all were the numerous records of Vagrant Emperor. This species is primarily African or south-west Asian in origin, but is a well-known migrant that quite frequently penetrates into southern Europe. British records are however rare, with many years seeing none at all, or at most just a few individuals. Irish records are rarer still, with just a handful of individuals reported in the past hundred years.
Signs that something special was taking place this autumn were first noticed during the last week of September, when no less than four individuals were discovered in County Cork, Ireland; several of these had actually been attracted to UV moth-traps, and were probably migrating at night. In addition to these individuals, a female was also noted near Zennor, Cornwall, on 25 September. You can read more about the Vagrant Emperors in Ireland on the Dragonfly Ireland Facebook page: https://www.facebook.com/pages/DragonflyIreland/206848686003391 You can also view a map of those records there. Early-mid October continued to produce sightings, but on this occasion with a more widespread nature. Single Vagrant Emperors were thus noticed near Lowestoft, Suffolk, on 6 and 9 October (two different individuals?), and there were to be two further sightings in County Cork. Perhaps the most significant find was however of two or more individuals discovered at Bovey Heath, Devon. First noted on 8 October, the dragonflies clearly found the locality to their liking and lingered in the area until early November at least. Most excitingly, an ovipositing female was seen on at least two occasions, making this only the second-ever site at which breeding behaviour has been observed in the UK (the other being on The Lizard in Cornwall, where oviposition was noted during both spring and autumn 2011; neither breeding attempt being apparently successful).
Despite the weather starting to cool a little and winds pick up, late October/early November then continued to produce new sightings. Single individuals were thus noted in County Wexford, Ireland, and at Newport in South Wales, with others at Shoreham in West Sussex and at Hanham near Bristol. Perhaps there are further sightings yet to come?
Clearly autumn 2013 has been an eventful time for Vagrant Emperors both in Britain and particularly Ireland. There have also been a few records from the near Continent, with for example at least two sightings in The Netherlands during October. These events follow the dramatic spring and autumn influxes of 2011, and it would seem that Vagrant Emperor populations are currently at a high level. Hopefully many further records of this intriguing migrant species are thus to come in future months/years. Being of Afro-tropical origin, Vagrant Emperors can appear in Britain even during the winter months and observers are encouraged to keep vigilant!