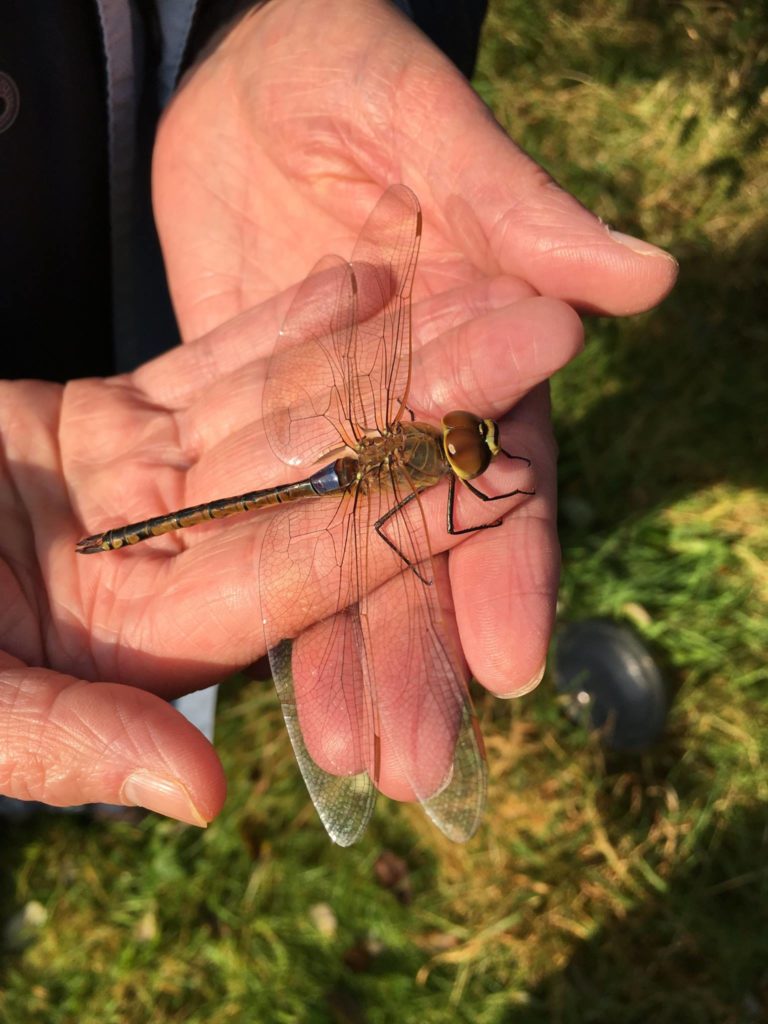 Vagrant Emperor in Britain
18/10/2016
The Vagrant Emperor, an erratic migrant species to the UK from sub-Saharan Africa and the Middle East, has been seen both on the Scilly Isles and Orkney in Autumn 2016.
This species can appear anywhere in Britain and at any time of the year, with the distinctive small blue (male) or violet (female) saddle,overall brown appearance and yellow leading vein on the wing picking it out from our resident species. The Vagrant Emperor usually arrives with warm southerly winds, but the recent find on Orkney arrived with easterly winds, suggesting it either came from the Middle East, rather than Africa, or that it was blown north from Africa earlier in the year before subsequently flying to the UK. This individual, pictured right, was found near death in cold and wet weather, but was rescued by locals who kept him cold until the weather broke, when they warmed him up and successfully released him.
Very little is known about dragonfly migration and the reasons for it, with migrants to Britain made up of both non-resident species, such as the Vagrant Emperor, and resident species, such as the Migrant Hawker, which boosts our own populations with great numbers arriving from Europe in autumn. In particular, recent records have revealed that some migratory species to the UK are becoming much more common, for example the Red-veined Darter, as well as a number of migratory dragonflies now colonising at an unprecedented rate. The Small Red-eyed Damselfly was first recorded in the South-east of England in 1999 and has now spread to colonise as far as Wales and north Yorkshire.
The British Dragonfly Society are keen to find out more about dragonfly migration and its implications for British populations and conservation, leading to the development of the Migrant Dragonfly Project. This citizen science project is asking you to send us your records of any non-resident migrant dragonfly species seen, as well as migratory resident species, usually indicated by obvious directional movements, unusual numbers of individuals, or by the presence of dragonflies in atypical habitats.
To find out more about this project, visit the Migrant Dragonfly Project page.
Photo by Graeme Walker