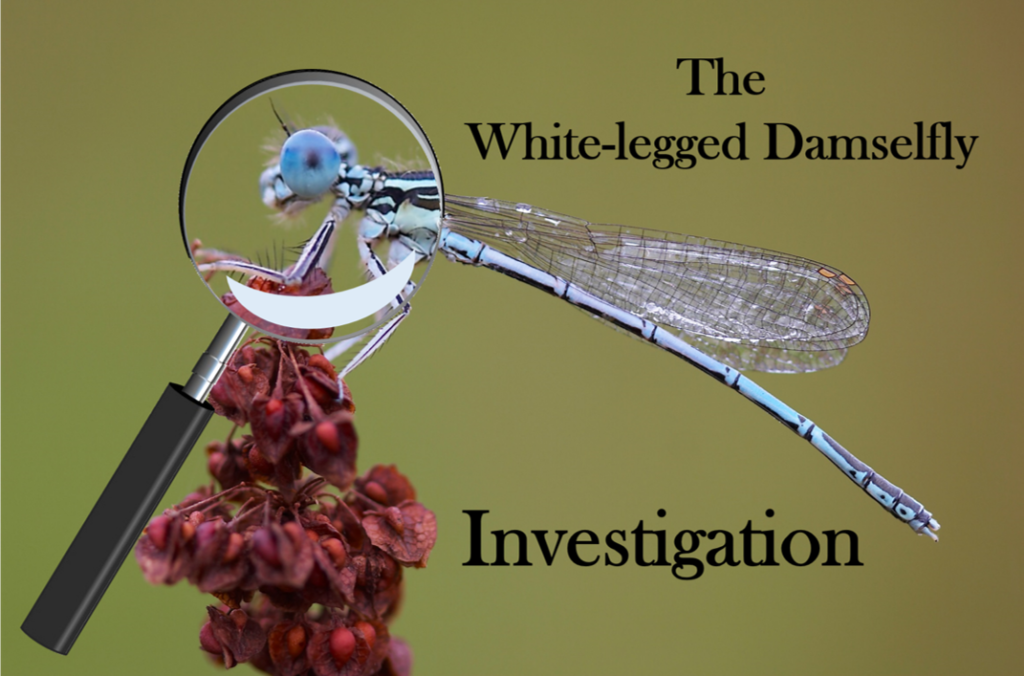 The Case of the Disappearing Damsels
20/04/2018
This month, the British Dragonfly Society (BDS) is launching a brand new citizen science project, the White-legged Damselfly Investigation, and they are looking for volunteers in England and Wales to take part.
Spring is well under way, and like every year at this time, the staff and volunteers of the British Dragonfly Society are obsessively checking social media and online blogs for reports of the first sightings of Dragonfly species. However, there this is one species that is of particular interest to Eleanor Colver, BDS Conservation Officer, this year, and that is the White-legged Damselfly (Platycnemis pennipes).
BDS Conservation Officer Eleanor Colver explains "In recent years we've had numerous reports from our County Dragonfly Recorders that White-legged Damselflies have been disappearing from river systems across England and Wales. Unfortunately, our existing records for this species are limited and without a comprehensive, long term dataset it's difficult to truly assess the scale of the decline. Once we know where the main problem areas are, we can decide what conservation actions are needed".
The BDS White-legged Damselfly Investigation is a new citizen science project taking place across the White-legged Damselfly's range in south and central England, as well as east to mid Wales. The project aims to boost awareness of White-legged Damselflies among biological recorders, as well as members of the public, and encourage the reporting of sightings. There is also the option for more dedicated recorders to adopt sites to survey over the summer months.
White-legged Damselflies (Platycnemis pennipes) are dainty little predators that can be spotted on warm days fluttering along the vegetated margins of slow flowing rivers and pools. They can easily be distinguished from other Damselfly species by their pale appearance. Females are creamy in colouration, with pale eyes, while males are pale blue with striking blue eyes. The most impressive feature, however, is their broad, pale legs, from which their name derives. The males use these to display to the females during courtship.
The main flight period for White-legged Damselflies is from late May through to mid-August, depending on weather conditions. Eleanor Colver continues by saying "The BDS would like to encourage anyone who is planning on visiting their local wetland, on a warm day, to keep an eye out for this beautiful insect. If you regularly visit a wetland site, whether its bird watching or walking your dog, please sign up to survey the site as part of the White-legged Damselfly Investigation."
Visit the White-legged Damselfly Investigation page here!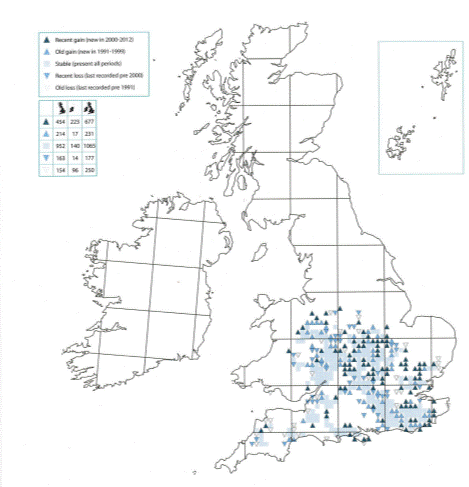 White-legged Damselfly Distribution Map. Source: Atlas of Dragonflies in Britain and Ireland (2014) by S. Cham et al.