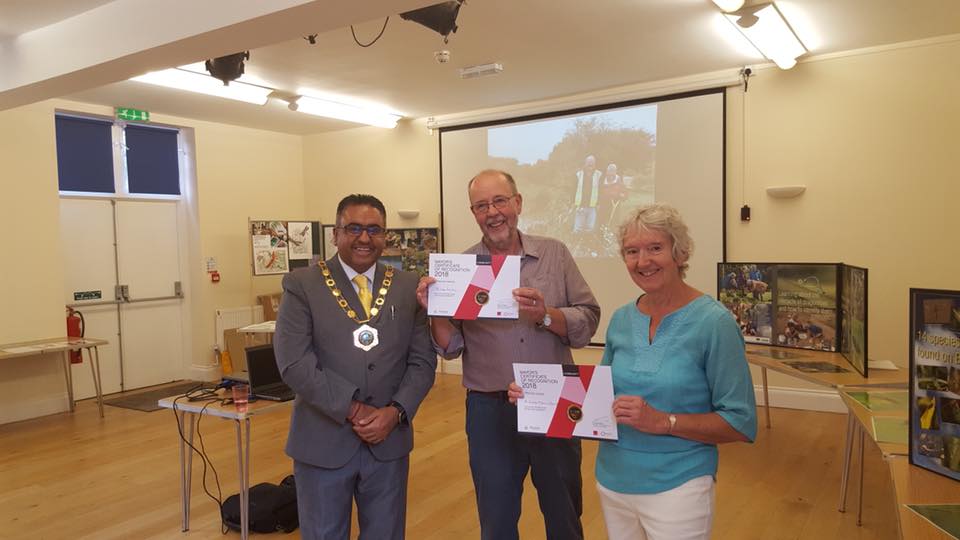 Telford@50 Dragonfly Project completed
28/08/2018
At the beginning of this year the Ironbridge Meadows and Pastures Group, and the Lodge Field Group, embarked on an exciting community Dragonfly Project based at Beeches Field Local Nature Reserve in Telford. With the assistance of the BDS, they successfully applied for Telford@50 grant funding to organise a multitude of workshops, field meetings and events inspired by their Dragonfly pond at Beeches Field. In partnership with the BDS they held a number of free Dragonfly identification and recording courses for local volunteers and members of the public. During these sessions volunteers recorded a whopping 14 different species; not bad for a single pond in Shropshire! In addition, they held a range of family events including a pond dipping session, art workshops and a picnic. In recognition of all their hard work, the Lord Mayor dropped in to their closing event to award certificates to the project organisers. While the project has now come to a close the local groups are eager to continue recording Dragonflies at their local nature reserve and managing the site for our favourite insect. The BDS wishes them the best of luck!
If you would like to run your own Dragonfly Project please contact the BDS for advice.
Photo credit: Lodge Field and Beeches Field LNR Facebook group.