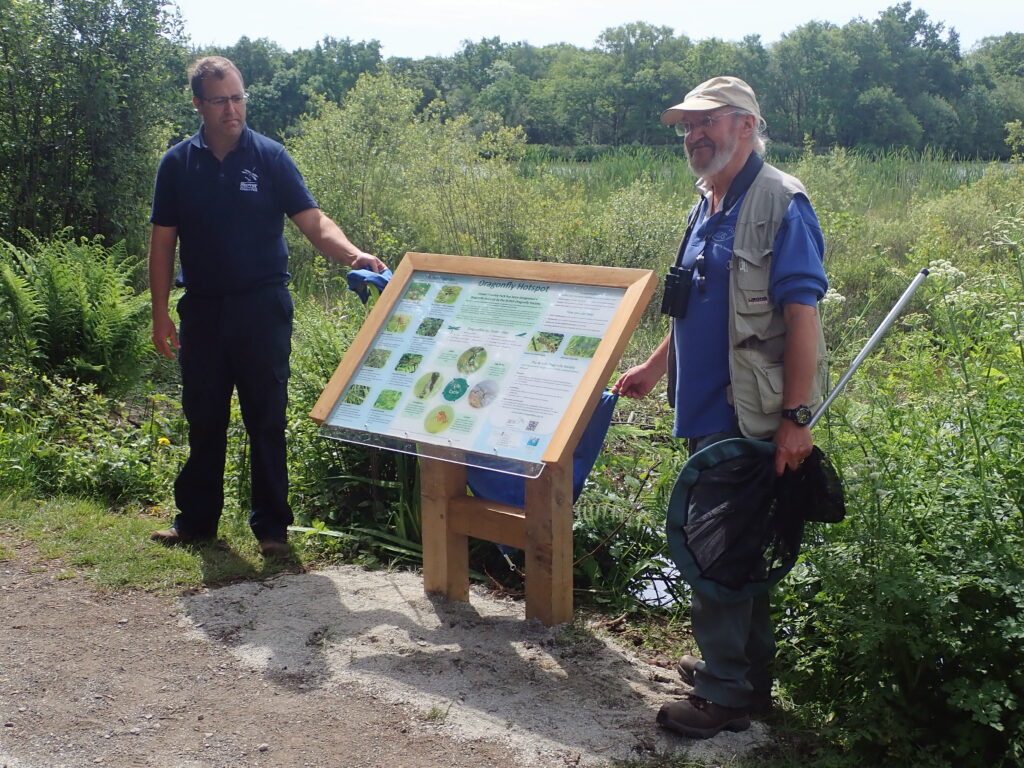 Stover Dragonfly Hotspot Launch Success!
13/06/2019
On Saturday June 1st the weather gods were smiling down on us as we assembled our team of volunteers at the beautiful Stover Country Park in Devon. We were at this special place for a very special reason, to officially launch it as Dragonfly Hotspot! Stover was chosen to receive this special designation because it has a fantastic mosaic of wetland habitats which support an impressive number of dragonfly species ( 22 in fact! ), is managed by a dedicated team and is easily accessible for everyone to enjoy.
Locals of all ages came along on the day to take part in guided walks by local Dragonfly champion Dave Smallshire (pictured on the right below), pond dipping sessions and even made their own clay dragonflies to take home!
Our chairperson Brian Walker was part of the team at the event and said: "Having never visited the site before, I was interested to walk around and enjoy the sunshine while appreciating why Stover had been recommended to be one of our Dragonfly Hotspots.  It was easy to see and photograph a range of dragonfly species as well as enjoy observing a range of other wildlife in a very attractive setting.  Memories of the day include a Hairy Dragonfly laying eggs on a floating log ( pictured above), the first Downy Emerald exuviae I have seen, a Tawny Owl being loudly mobbed by a gang of smaller birds and a Water Stick Insect (pictured below right) emerging onto the surface of a pond.  I was also impressed by the clay models and plaques illustrating dragonflies that the younger visitors produced."
Councillor Roger Croad, Devon County Council Cabinet Member with responsibility for the Environment, said:  "We're extremely proud that Stover Country Park is receiving this recognition particularly as this year marks Stover's 40th anniversary. It's a beautiful location and a very important habitat for a range of wildlife, so to be officially declared as one of only 14 hotspots for dragonflies in Britain by the British Dragonfly Society is an outstanding achievement. It's acknowledgement of the hard work that's put in by all of the team at Stover and is very well deserved."
We highly recommend a visit to this fantastic site if you are in the Devon area this summer. You will not be disappointed! Keep an eye on our events pages for future events at this Dragonfly Hotspot too.