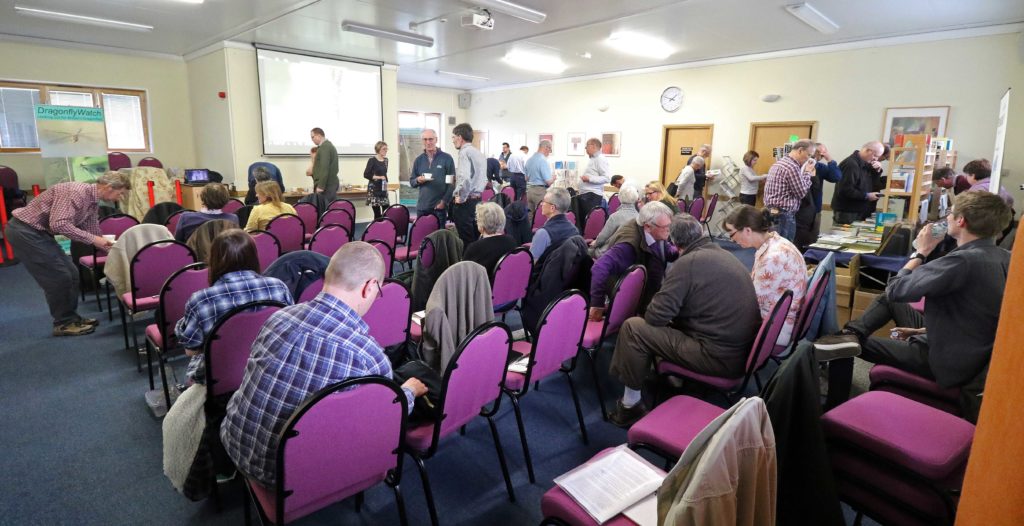 Spring Meeting 2017: report on a successful day
16/03/2017
The BDS Spring Meeting at Green Hammerton Village Hall on Saturday 11 March 2017 was a great success. We welcome around 75 attendees, as well as Pemberley Books, who ran a stand with some brilliant volumes on dragonflies and related subjects, new and old. For those of you who couldn't make it on the day, below is a summary of the talks. The BDS would like to thank all talkers for coming along and taking part in what was a brilliant day.
After a welcome from Gen Dalley, BDS Conservation Officer, Pam Taylor, DCG Chairman, highlighted plans to produce a State of Dragonflies Report in 2020 to present changes that have occurred since the publication of the Atlas. It will need continuing dragonfly recording effort and relies on recorders submitting their records and County Recorders validating them promptly so that they are available to be analysed and the results published in 2020.
Keith Gittens, a County Recorder in Yorkshire, offered a welcome to Yorkshire and gave a talk on the odonata and their habitats found in the county. It is a large county with 1/3 of the total area of National Parks in England and is split into 5 Vice Counties. There are a variety of habitats within its borders with uplands and lowlands and several rivers. There are a lot of gravel pits running down the central valley. There are also a few major conurbation areas, mainly in the south of the county. 35 species of dragonfly have been recorded in the county with 24 of these breeding.
The Pennines divide east and west side of the country and this is particularly noticeable where a number of species which are expanding northwards are doing so on each side with a gap in records coinciding with the Pennines. He gave the examples of Migrant Hawker and Ruddy Darter and showed distribution maps to illustrate this. Yorkshire has a number of records of Lesser Emperor, primarily from gravel pits where ovipositing has been observed on occasions. The Hairy Dragonfly just reaches into Yorkshire as does Variable Damselfly. There are historic sites for the latter where it is no longer found but the evidence for historic occurrences is not always certain. Small Red-eyed damselfly now extends into Yorkshire as far north as Scarborough and just to the north of York. Red-eyed Damselfly has also extended a little further north over recent years. Golden-ringed Dragonfly is absent or scarce in the east side of the country further south but is present in Yorkshire as is the Common Hawker. Keeled Skimmer is present at a few sites, as is Beautiful Demoiselle. Red-veined Darter has been observed on the coast and particularly at Spurn.
Yorkshire has its own group of enthusiasts, now called the Yorkshire Dragonfly Group and has its own website and social media accounts. It produces a newsletter once per year in April. The website generates enquiries, including requests for talks and attendance at events. The group is now cooperating with other conservation groups to carry out practical conservation work and he highlight the work at Strenshall Common. He explained some of the complications of this in response to a question. The work required was to remove birch growth which threatened to shade out ponds, but a rare moth occurs on the site and the caterpillars feed on Creeping Willow so conservation is needed to protect and promote this plant while removing other scrub. It provides a challenge to get the right balance and approach.
David Hepper, BDS Records Officer, provided an update on the dragonfly recording systems and issues around this. He started by explaining that the name Dragonfly Recording Network (DRN) had now been dropped as it was causing confusion and it will now be called BDS Dragonfly Recording Scheme. Also Vice County Recorder as a name will be replaced by County Dragonfly Recorder. The basis for recording will remain Vice Counties. It is just the name that has been changed. We have filled a number of gaps in the coverage of County Dragonfly Recorders but there are still some gaps to fill. In the meantime recorders should input records to iRecord or send them direct to the appropriate County Dragonfly Recorder or to David where there is no County Dragonfly Recorder listed.
iRecord is the recording system we are using. Some problems with it have been resolved and there are temporary work arounds for others. BRC, who manage the system, have limited resources and we want them to work on the most useful upgrades. It is helpful if users report any problems including those found when recording other taxonomic groups so that BRC understand the issues and their importance. At present a large number of recorders are using the basic form on iRecord to input records and we would like to see them move to the full form and record life stages and numbers seen. The full form also allows recorder to indicate whether they are submitting a full list of species seen. We hope that a note will be added to the simple form encouraging recorders to use the full form. BTO are working on an automatic transfer of new dragonfly records submitted to Birdtrack to iRecord but County Recorders were warned that this may produce a large batch of existing records when initiated.
Records go to NBN from iRecord after validation. NBN Gateway, which allows records to be viewed and mapped, is being turned off and replaced by NBN Atlas which is based on a system developed in Australia. The changeover will occur later in March with no overlap between availability of the two systems and there are some concerns that this is not an ideal changeover. Dragonfly records in the Atlas are currently only an RSPB data set up to 2009 but we have been assured that our records will be uploaded shortly. We have agreed that our records are freely available in NBN as have a number of similar organisations. The aim is to encourage use of the data. Sensitive records need thought and the best approach is to put a low accuracy grid reference in. Historic sensitive records have not been sent to NBN. More training in the use of iRecord is planned and David has planned to hold events in the South-west, Wales and North-west.
There was some discussion about environmental DNA (eDNA). This is a technique where a small sample of water is analysed to see if it contains a match to known DNA profiles and can be used to provide an indication of presence or absence of particular species. It is not 100% accurate but tends to be more accurate and much faster than other survey techniques. Sensitivity and therefore accuracy varies with species. It has been used to survey for Great Crested Newts and DNA for all dragonfly species has been determined and are available. Dragonfly larva tend to secrete DNA in the latter stages of their development and are thus more likely to be detected at this stage.
Steve Cham proposed a different approach to larval identification and focused on damselflies, which are generally regarded as more difficult to identify. By a show of hands he confirmed his view that people did not like using identification keys. The problem was that they tended to be long winded because they were based on the assumption that all species were equally likely to be found. In real life the range of species that are likely to be found at a particular site, based on geographic location and habitat type, were limited and hence in most cases it was possible to reduce the number of possibilities to a manageable number. Keys also tend to discourage attempts to identification being made with other than final instar larvae. There are many cases where identification is possible with early instars where only the species potentially present are considered. Steve went through a range of species and explained the identification criteria to use with the larvae, particularly focusing on species that were likely to be found at the same sites and the separation criteria.
Naomi Ewald from the Freshwater Habitats Trust (previously known as Pond Conservation) spoke about the Clean Water for Wildlife Project. The aims of the overall project are to protect freshwater biodiversity. Clean Water for Wildlife is one of three elements to the project. It is a citizen science project where individuals test for nitrates (from farming) and phosphates (from sewage) at freshwater sites using simple analysis kits in which a small water sample is put into a tube with some chemicals which produce a colour if nitrates and/or phosphates are present. The strength of the colour indicates the concentration of the pollutant. The aim is to monitor a wide range of water bodies and not just the large ones that are monitored by the statutory agencies. The results indicate that most water bodies are polluted. In Greater London only 45 of 330 sites checked were rated as clean. The clean sites were distributed across the whole area rather than being concentrated in less developed areas as had been expected. In the New Forest area there were different results with 72% of samples within the forest area rated as clean, but 76% of those on the fringes were polluted. Statutory monitoring is carried out in fringe areas and thus does provides a misleading picture of the overall position and the potential threats. 10,000 monitoring kits have been used to date with another 10,000 to be issued. Coverage has been patchy with high levels of monitoring around London, the New Forest and Oxford. The hope is that wider coverage can be achieved during the remainder of the project.
Pond Net is another element of the overall project and is a volunteer survey of pond quality and the species they support. The aim is to record all species occurring at and around the ponds being monitored. A pond quality network has been established with 150 ponds being surveyed every five years on a rolling programme. All of the records generated will go to NBN and other records from NBN will be utilised in analysis. Flagship Ponds is the third element. These are the top 1% of ponds in terms of their value and the project provides advice and support to help survey and conserve them. There is also support to find volunteers to help in monitoring and to take over where current volunteers approach retirement from their role.
There were some interesting questions with one on whether the pollution checking approach might provide information on why some sites hold Variable Damselfly and other apparently similar sites don't. The response was to the effect that we will only know if we try. The cheap sample kits are not as accurate as laboratory analysis but provide consistent results and are accurate to a level that is adequate for the purpose. While there are seasonal variations in ponds, clean ponds generally remain clean through seasonal or other changes. Factors which might concentrate pollutants such as water evaporation don't have any impact if there is no pollution to concentrate. There is an objective to extend habitat where it is found to be good to reduce risks from the loss of a single good pond. Gravel pits generally are good quality initially because they are fed by ground water. There is a plan to look at gravel pits after restoration to see how their condition might have changed following restoration and to possibly formulate advice on what works and what doesn't. There are issues between what the general public may want to see at a pond (goldfish and ducks) and what conservation needs. Sacrificial ponds to allow dogs to enter are one approach.
Gen Dalley and David Tompkins explained the Clubtail Count 2017 project. Clubtail Dragonfly is classified as Near Threatened on the Red list and County Recorders have expressed concern that it seems to be reducing in a number of areas. It is found on slow flowing lowland rivers with populations on Thames, Severn, Dee, Wye and Arun and a small number of smaller rivers. It is subject to a number of threats including wash from boats and heavy rain that can cause the river to rise (it can emerge in a horizontal position close to the water surface and generally emerges en-mass and hence can be washed away), pollution and the removal of woodland near rivers (adults fly to trees after they have emerged.)
A pilot survey was carried out in Shropshire last year and identified some interesting records including those of other species while surveying for Clubtails. The records received closed a few gaps in the previously recorded distribution. A number of records were obtained from canoes on the river. Larvae are quite distinctive and easy to identify and a lot of records of larvae were received among the total of about 90 records submitted. The approach this year is to try to cover all areas known to hold the species plus adjacent stretches. Volunteers will survey a monad and receive a pack containing instruction and advice including identification tips for adults and larvae. The aim will be to provide feedback to volunteers, including information on when emergence starts. The third week of May is typically the best time to search. Dave showed a map of the river systems showing where it had been found recently and highlighted areas of particular interest.
Steve Brooks from the Natural History Museum presented work that looked at changes in size of dragonflies and other organisms over a historical period, based on museum specimens and particularly on the effect of temperature and other factors on the size of species and individuals, with a view to seeing how and if climate change has had an impact. The climate may affect organisms in three ways – it may affect their distribution, it may affect phenology (the timing of key life stage events) and it may affect their size. Bergmann's Rule says that size will increase with increasing latitude on the basis that increasing volume to surface area reduces heat loss and thus allows organisms to survive colder temperatures. It is generally found that where organisms occur over a range with varying climate conditions, those in the colder areas will be larger. Dragonflies follow this rule, although some butterflies, Orange Tip being an example, tend to be smaller at higher latitudes.
In practice a range of factors may have an impact on size. Competition and food availability may be relevant and there seem to be some unexpected effects. Wall butterfly will have a third generation in a warm summer but the third generation, which overwinters as an adult, may be forced to accelerate its development and emerge as a smaller and weaker adult, less able to survive the winter than a 2nd generation that has had longer to develop. This may partly explain why Wall butterfly is decreasing in southern England as temperatures increase. In Silver-spotted Skippers the female is larger than the male. Wing length in the males increases with increased temperature in June when the caterpillars are feeding. Female wing length also increases but much less and it might be that females are already close to a maximum size whereas males have more scope to increase their size before other factors impose a limit.
The Museum's dragonfly collections date back to the nineteenth century and measurements on specimens have shown that size, as indicated by wing length, has decreased in time at the same latitude and that wing length tends to increase the further north the specimen was collected. The Museum has the specimens collected by Cowley who collected large numbers of specimens and this has allowed individual variation within a population at a single site to be measured. Steve suggested that winter temperatures may have an impact for some species. For example if larvae can continue to feed over the winter then they may reach a larger size before emergence and give rise to larger adults or may be able to emerge earlier in the year. The issues are far from clear and there is more to be studied. A PhD student will be looking at midges and mayflies emerging from artificial ponds maintained at different temperatures as a more controlled experiment.
Alex Berryman, a student at the University of East Anglia (UEA) described some conservation activities at the University campus. UEA was established in 1963 on a site by a bend in the river Yare and has a large lake on the site, the UEA Broad, as well as conservation areas with ponds. In 1987 11 species of dragonfly had been recorded on the site and this has now increased to 23 species. Norfolk Hawker is a key species and was first reported in 2009 although it was unclear where it might be breeding. Larvae were subsequently found in the river which is extremely unusual for this species. It has a small population but appears to be increasing both in numbers and range along the river. One interesting example of the projects carried out by students was observation of a Norfolk Hawker by a team of students positioned around the site. It was tracked over a circuit of 1.8 miles and covered a wide area during this flight. The map showing the flight circuit prompted a lot of interest and comments from the audience. Subsequent attempts to repeat this exercise by students have produced circuits of 0.7 and 0.8 miles.
Alex, as a student, also commented on how we might engage with younger conservationists more effectively. On a show of hands he found that only two of the Trustees and Officers of the Society who were present had a twitter account. He stated that the younger generation are much more active on social media than older people. He noted that the bulk of the audience were of an older generation and suggested that we need to think about how we could engage more with the next generation.
Steve Cham, Pam Taylor and Gen Dalley formed a panel to answer questions in the final slot in the programme. The following topics were raised and discussed.
Studies often finding out much more about dragonflies than the original aims. Steve highlighted the project on Downy Emerald in Epping Forest to try to understand why they had disappeared from a pond after conservation work found that larvae live in the leaf litter which was removed during conservation but also learnt a great deal more about the behaviour and habits of the species.
The number of dragonflies that emerge from a pond are a small fraction of the eggs laid in it. Also dragonflies time share at a water body and marking experiments have shown that the number seen at any one time is only a fraction of the number of adults using the pond.
All records of dragonflies are valuable and we want to encourage people to enter the recording scheme at the level they feel comfortable at. We hope that they will increase the information they record as they gain experience and make frequent visits to a site to record all species seen with numbers and life stages to provide records of the greatest value. A complete list is all the species that were seen on the particular visit. No visit will allow all of the species occurring to be seen. A short visit can still produce a valid list provided that every species seen is noted.
There were queries about validation of records. Generally if a record is consistent with the range, habitat and timing of the specific species it will be accepted. If it looks a little odd then the County Recorder is likely to be in touch to get a little more detail to check it.
It was noted that DCG is encouraging recorders to ask the "Why" question. This is to encourage observers to note and report unusual or interesting dragonfly behaviour to increase our knowledge and/or prompt further research
Top photo by Brian Walker. All other photos have been used with kind permission of the photographer Simon Joseph
| | | |
| --- | --- | --- |
| | | |
| BDS Spring Meeting attendees networking at lunch | The BDS shop at the Spring Meeting | Pemberley Books shop at the Spring Meeting |