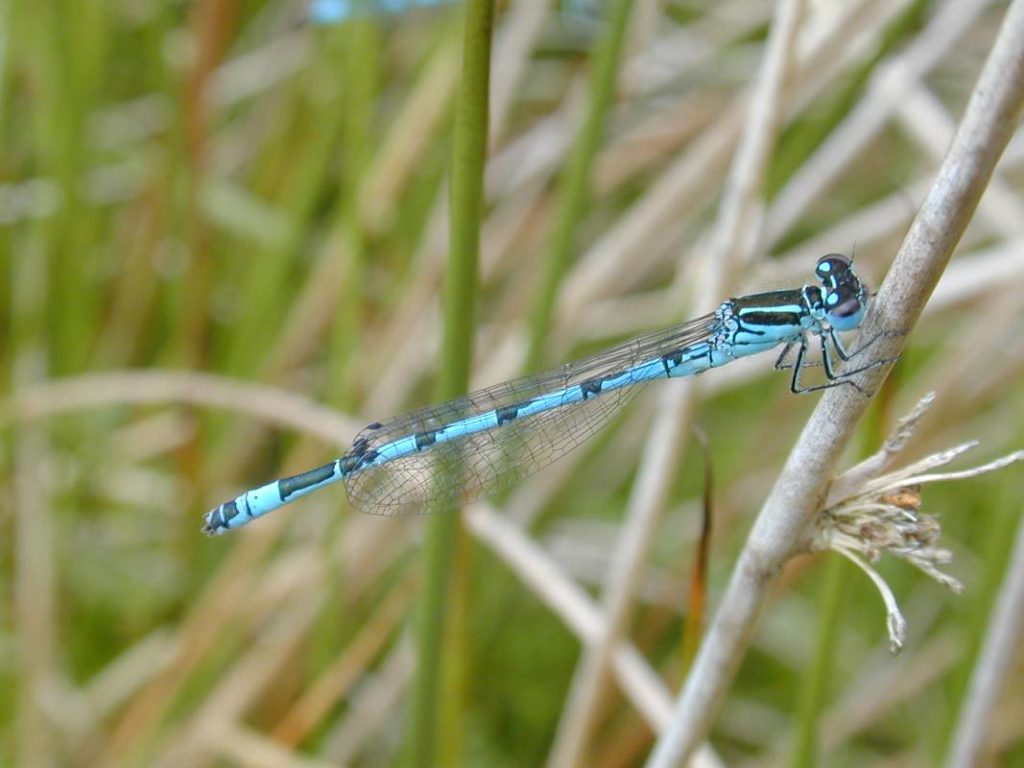 Southern Damselfly Habitat Saved
01/07/2013
An area of habitat for the rare Southern Damselfly has been saved thanks to the combined effort of several conservation organisations, the landowner and local farmers. The endangered Southern Damselfly is at risk of extinction in this part of the Preseli SAC in Pembrokeshire which is one of its traditional strongholds in Europe. Projects like this that maintain its habitat are vital for the species survival in the area.
This partnership project between the British Dragonfly Society (BDS), Natural Resources Wales (NRW) and Pembrokeshire Coast National Park Authority (PCNPA) has safeguarded the specialist habitat at a site known as Pensarn Corner. The project was funded by Environment Wales and was supported by the landowners (the Barony of Cemais) as well as local farmers who graze this extensive area of common land. NRW's Senior Conservation Officer, Jon Hudson explains 'this is an area with several specialist wetland features including streams, bogs, flushes and pools. It is the confluence of several streams and an important access area for livestock, graziers and walkers to the common'. The area was at risk because access to the Common was becoming difficult and the streams were at risk of getting choked up. This essential work has created clear access to the common for walkers and graziers whilst ensuring that the sensitive wetland features are maintained.
This project will ensure that one of the small areas across the common where the endangered Southern Damselfly is found is maintained into the future. This species is rare throughout Europe and protected by law both in the UK and Europe. The BDS Conservation Officer, Claire Install says 'this matchstick-sized blue and black damselfly has very specific habitat requirements and is currently under threat through changes in land management. Projects like this are vital if we want to continue to see this species in Pembrokeshire'. Pensarn Corner is also home to the near-threatened Scarce Blue-tailed Damselfly. This project also means that the disturbed habitat required by Scarce Blue-tailed Damselfly is maintained by directing livestock across an area of wetland favoured by this species. It lives and breeds in muddy areas with little vegetation and shallow water. There are also several other species of dragonfly in this small area known as Pensarn Corner and it is considered to contain one of the most important dragonfly populations in Pembrokeshire.
BDS Conservation Officer, Claire Install warns 'more projects like this are needed to ensure the Southern Damselflies survival in Pembrokeshire, without the hard work by the BDS, PCNPA and NRW, support of Environment Wales with support from the Welsh Government, landowners and local farmers, this would not have been possible'.
Photo by Dave Smallshire