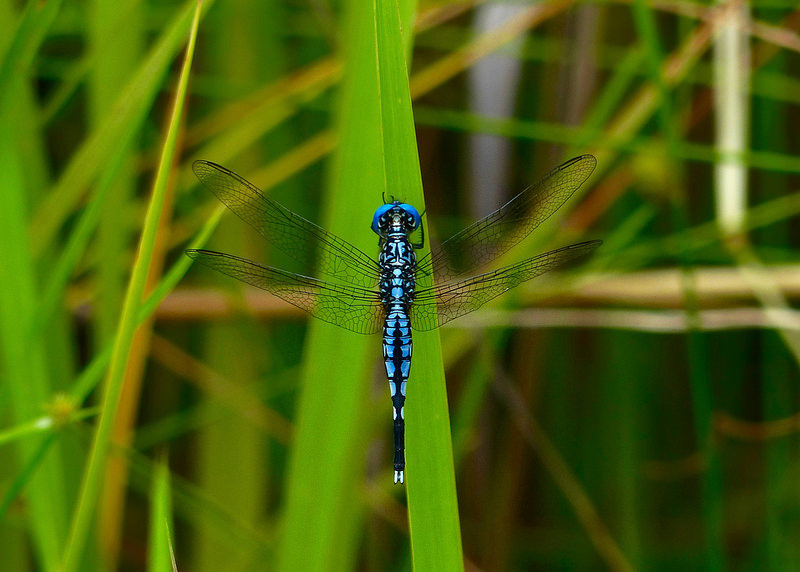 Sir David's Dragonfly!
09/05/2016
A newly discovered dragonfly from Madagascar has been named in honour of BDS Patron Sir David Attenborough on the occasion of his 90th birthday. The species and its scientific name Acisoma attenboroughi were revealed in the BBC programme 'Attenborough at 90' first shown on 8th May.
The species was described and named by Klaas-Douwe B Dijkstra following a trip he led with Phil Benstead of Odonatours to Madagascar in January. Also on the trip were five British members of the BDS, together with eight colleagues from Europe and America. The aim was to search out new species in Madagascar and photograph as many different dragonflies as possible. We achieved that aim! It was a superb photograph of the newly described species by trip member Erland Nielsen that was presented to Sir David during the BBC programme. Our own photograph (right) is by another trip participant and BDS member, Allan Brandon.
The Attenborough dragonfly has been known of for over 170 years, but it took the keen eye of a taxonomist in the field and molecular studies to reveal it as a separate species to those found elsewhere in Africa and Asia.
As well as identifying five new dragonflies, the trip collected photographs of at least ninety different species in preparation for a new booklet about Madagascar's dragonflies. The new guide will serve to introduce the Malagasy people to these wonderful freshwater wonders and thereby help both conservation and eco-tourism in the area. The latter brings much needed money and employment to local communities, so local Malagasy people then value and often lead the ongoing preservation of their environment.
In the show and the associated comment "Restore our sense of species" in the scientific journal Nature, species author Klaas-Douwe B. Dijkstra explains why he named this new species of Attenborough's favourite insect:
'Dragonflies' beauty and sensitivity stand for the state and needs of nature before our own. They do not help feed us like bees and fish, are not feared and persecuted like mosquitoes and snakes, nor studied as proxies of human psyche and society like ants and apes. We admire dragonflies purely for what they are, just as the unconditional love for nature taught by Attenborough.
In few places is the creative force of nature and the destructive force of mankind more apparent than in Madagascar. Fortunately the new species can be seen easily across the island. Although confirmed in the molecular lab, a taxonomic eye in the field and museum first revealed that it had been confused with its African and Asian counterparts for 174 years.
Attenborough received a framed portrait of his dragonfly taken by Erland Nielsen, an engineer whose passion is to photograph all the world's 6000 species. Nielsen joined a tour led by Dijkstra last January to amass images and funds for a booklet on Madagascar's dragonflies. Neglected since European monographs written in the 1950s, this book will finally introduce these freshwater sentinels to the Malagasy.
Dijkstra reflects further on the importance of Attenborough's legacy of knowing the natural world in Nature. Many of the greatest communicators have been naturalists. E.O. Wilson has his ants and Jared Diamond his birds. Oliver Sacks studied ferns as well as brains. The views of these thinkers were opened on, and to, the world by their exploration of the biosphere. It shows that a primary reason to study nature is enlightenment.
Today more than ever we need people like Attenborough to transform society with an awareness of other life. While humans' impact on the natural world is beyond apocalyptic, our conscience of its diversity seems medieval. Most of the unknown, however conspicuous, is simply not being looked for: Dijkstra described sixty new dragonfly species at once last December, adding one to every twelve known in Africa.
Intact biodiversity is the undeniable proof we can inhabit our environment without destroying it, but the position of those exposing the evidence is weak just when we need them most: the greatest justification of naturalists and taxonomists' work lies not in biodiversity's enormous contribution to human wellbeing, but in the moral counterweight they can offer to life's unsustainable exploitation.
Dijkstra argues that the core value of natural history and taxonomy is a consciousness of all species' existence and impact. However, few in society see this 'species sense' as their first responsibility. With nature held hostage by our growing demands, environmental consultancy and conservation have little time left to find out who they work for, but even the science of biology and natural history museums now struggle to preserve and improve species sense.
Saving this sense requires a radical re-appreciation of natural history and taxonomy. This elementary and edifying exploration of life is a human endeavour in its own right: it transcends science and needs its own funding mechanisms under one name. Dijkstra suggests 'bionomy'; 150 years old, but rarely used.
In an era of extinction there are no greater priorities than to accelerate the synthesis of life, salvage knowledge and increase awareness. The biodiversity products needed most today are inventories, field guides, Red Lists, teaching materials and media campaigns. Therefore we must invest in more active experts, whether academic or amateur.
If we can send a probe to search for unlikely life in space, 10 billion dollars in core funding globally is a bargain for a conscience for all life around us. Just as that instant sense of insignificance when we stare into the cosmos, observing nature stretches our horizon on life. Each species is a world parallel to our own, invoking a sense of being among equals. That consciousness is what Attenborough has taught us and that we must expand.
Klaas-Douwe B. Dijkstra at African.Dragonflies on Gmail and Bionomer on Twitter is associated with Stellenbosch University in South Africa and Naturalis Biodiversity Center in The Netherlands.
Dijkstra, K-DB 2016. Restore our sense of species. Nature 533 (7602): 172-174.
Dijkstra K-DB, Mézière N & Kipping J. 2015. Sixty new dragonfly and damselfly species from Africa (Odonata). Odonatologica 44: 447-678.
Mens LP, Schütte K, Stokvis FR & Dijkstra K-DB. 2016. Six, not two, species of Acisoma pintail dragonfly (Odonata, Libellulidae). Zootaxa, in press.'