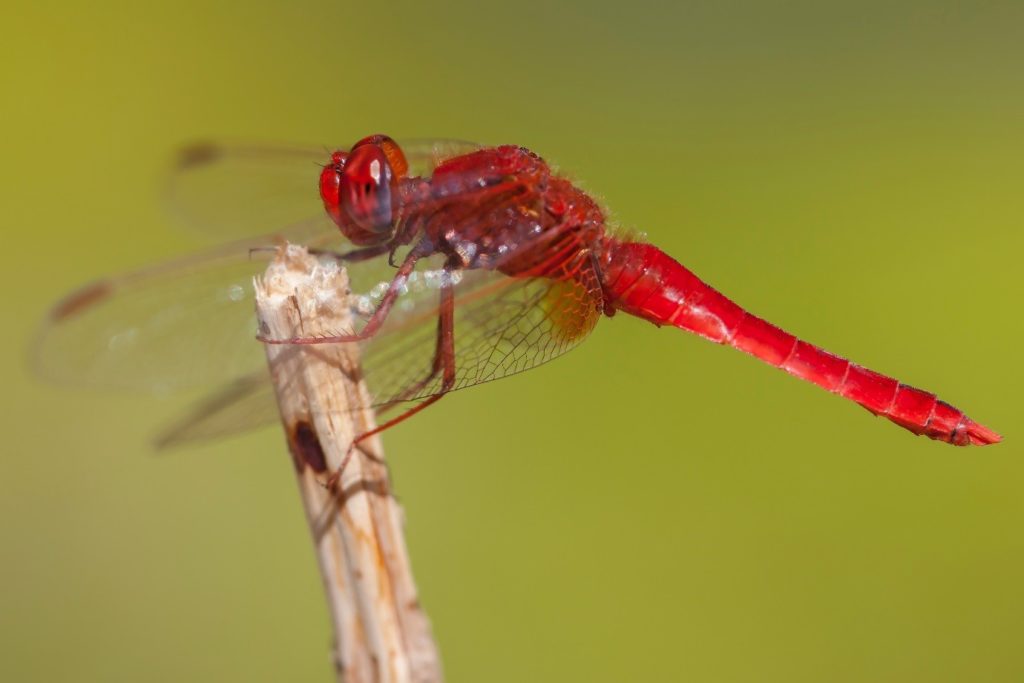 Record Numbers of Migrant Dragonflies Sighted Across Britain
23/11/2017
Throughout 2017, the British Dragonfly Society has been flooded with reports from members of the public, across the county, of migrant dragonfly sightings.
July saw the first confirmed UK recording of a Scarlet Darter Dragonfly for 13 years, at Longham Lakes in Hampshire. This is only the 8th recording of this stunning species in Britain; Scarlet Darters are usually found across central Europe, Africa, the Middle East and Western Asia. It is one of the most generalist Dragonfly species, able to live in a variety of standing-water habitats, ranging from brackish pools to freshwater ditches. Male Scarlet Darters can be easily identified, living up to their name with their uniform vivid red colouration, while females are a more inconspicuous yellowish brown.
This year has also seen the second largest ever immigration of Red-veined Darters into the UK. This species is usually found in the wetlands of southern Europe and Africa, but during 2017 it has been recorded at over 80 sites in Britain, as far north as the Orkney Islands. In addition, there have been multiple influxes of both Vagrant Emperor and Lesser Emperor Dragonflies.
Adrian Parr, Co-ordinator of the Migrant Dragonfly Project, has been compiling the sightings recorded by the British Dragonfly Society's troop of volunteer recorders.
Adrian remarks that "unlike the situation with birds, whose migrations are well-known, our understanding of insect (and particularly Dragonfly) migration is still in its infancy. It is clearly, however, an important phenomenon, and one that tells us a lot about the living world. The Migrant Dragonfly Project aims to co-ordinate the recording of migrant Dragonflies, and so provide an insight into the underlying causes and mechanisms, as well as following changing trends.
It is likely that this year's events result from several interacting factors. Good spells of warm southerly winds during spring/early summer will have helped migrants on their way north. Recent changes in breeding range also mean that many migrants now have less far to travel before they reach the UK. Some species also had a very good breeding year in their homelands, with population levels being high. So everything came together to make for an eventful year."
In the past 20 years Britain has been colonised by no less than 4 new species, including Willow Emerald Damselfly and Small Red-eyed Damselfly, and recolonised by Dainty Damselfly, which had previously gone extinct in 1953. "We are currently seeing major shifts in the range of Dragonfly species on a global scale, not just in the UK", explains Eleanor Colver, Conservation Officer for the British Dragonfly Society. "Dragonflies, like all insects, cannot regulate their body temperature like humans, so are highly sensitive to small changes in environmental temperature. As a result, we believe that some of the changes we are witnessing in our local Dragonflies are their response to the ongoing global warming.
The unusual reports we have received this year illustrates the important role volunteer recorders play in Dragonfly conservation, and we would like to thank all those who have contributed to our dataset" says Eleanor. "Their findings enable the British Dragonfly Society to map the distribution of dragonflies across the country, identifying priority species and sites that require our protection."
If you would like to take part in Dragonfly recording, or find out more about the Migrant Dragonfly Project, click here
Photo: The male Scarlet Darter can be identified by its bright red body, head, legs and wing veins ©Christophe Brochard