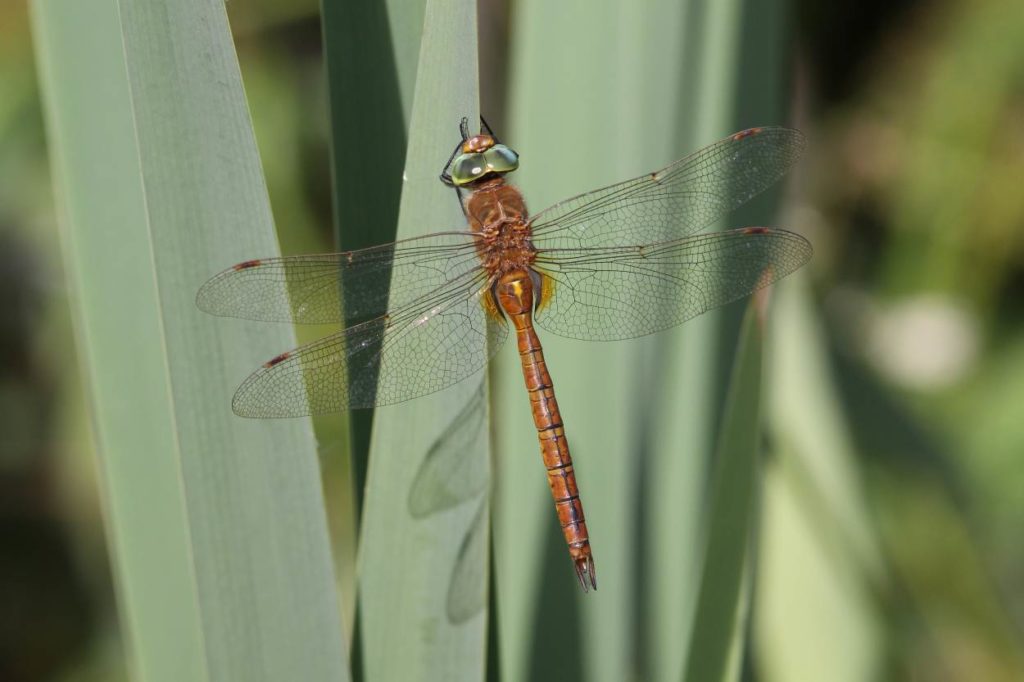 Rare Dragonfly Spreading In the UK
25/06/2014
Norfolk Hawker is a rare and protected species of dragonfly in the UK. As its name implies, it was previously confined to Norfolk and a few sites in neighbouring Suffolk. This year Norfolk Hawkers have been sighted in new locations in Kent, spread across four different 10km squares. The British Dragonfly Society (BDS) first recorded two separate Norfolk Hawkers from Kent in 2011, with a further report in 2012. Last year a female was observed egg- laying in a dyke at Westbere Lakes. This year there have already been sightings of at least 10 individuals at the same site. Norfolk Hawkers spend the first two years of their lives as larvae in the water, so this indicates the species could have been breeding there for the last two years.
In the past Norfolk Hawker was mainly associated with Water Soldier, with females laying their eggs into the plant's stems. Now expanding populations are increasingly using other habitats. The British Dragonfly Society's Conservation Officer, Claire Install says 'this is great news for a rare species that is under threat from sea level rise in its traditional UK strongholds. Hopefully by expanding its range to new areas, the Norfolk Hawker has improved its chances of survival. We are hoping that the species will continue to breed successfully at new sites in both Cambridgeshire and Kent to secure its future in Britain.'
Norfolk Hawkers are large, gingery-brown dragonflies with bright green eyes, clear wings and a small yellow triangle on the abdomen. One other species, Brown Hawker, is similar but is darker, with blue dots down its sides and brown tinted wings.
The recently published 'Atlas of Dragonflies in Britain and Ireland' by the BDS shows how several species, including Norfolk Hawker, have expanded their ranges in recent years. Many have moved northwards and westwards, with many more consolidating their previous ranges. Much of the recent expansion is attributed to climate change, but a few species are also declining in the UK.
Norfolk Hawkers are on the wing until early August, so the BDS is keen to hear of any further sightings. Reports can be made by visiting the 'latest sightings' or 'recording' pages on the BDS website (british-dragonflies.org.uk) or you can contact the BDS via Facebook (British Dragonfly Society) or twitter (@BDSdragonflies).
Photo credit: Marc Heath http://marcheath.blogspot.co.uk/