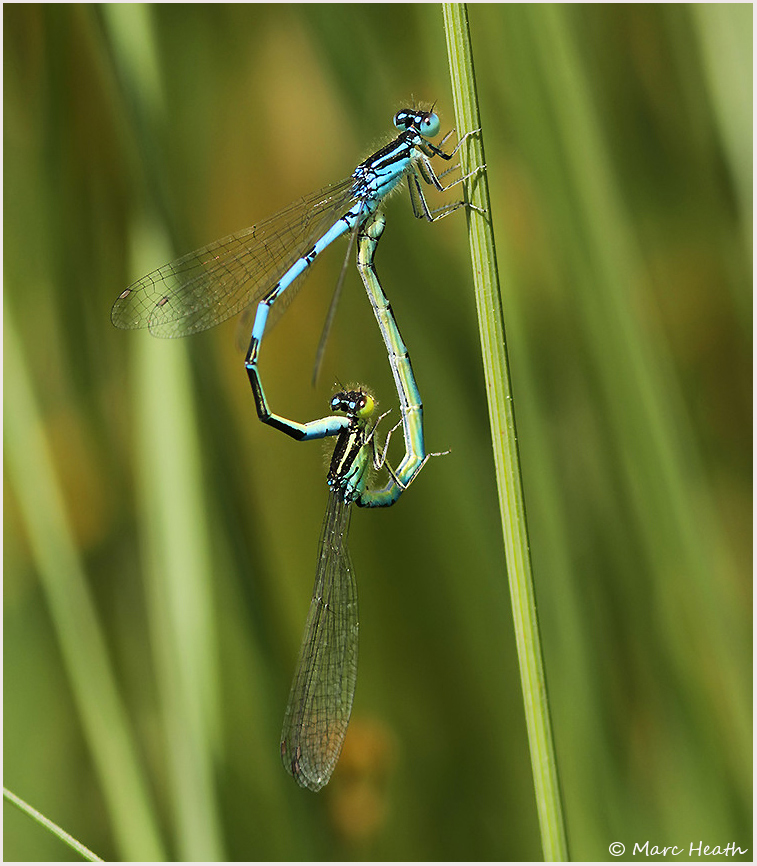 Our Rarest Damselfly Triples its Population !
10/09/2020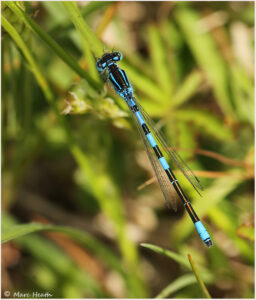 The Dainty Damselfly (Coenagrion scitulum), which for the last ten years has existed only in a small colony on the Isle of Sheppey, has been discovered in large numbers at a private site at the Sandwich Bay Bird Observatory Trust.
Dainty Damselfly is rather local throughout its range, occurring in France, northern Iberia and eastwards to Iran. It is slowly expanding northwards and has colonised Belgium and the Netherlands in recent years. In the UK it existed as a small colony in Essex from 1946 to 1952 but was then lost due to coastal flooding. It was rediscovered in 2010 breeding in northern Kent and has continued to breed in Kent but in small numbers and restricted to only a few small private pools on the Isle of Sheppey.
The new discovery presents a remarkable tale. A group of naturalists visiting the Sandwich Bay Bird Observatory, in preparation for a 'bio-blitz' planned for the 6th July 2019, reviewed species likely to be seen in the area. For the Odonata they included a photograph of Dainty Damselfly which they (mistakenly) thought was common in the area. Consequently, when results of the bio-blitz were reviewed and one of the group reported they had found such an individual it was treated with some surprise if not scepticism. A thorough search of the area was conducted though, and the location traced to a recently established pool on a private site. On the 11th July the County Dragonfly Recorders from the British Dragonfly Society, John and Gill Brook, observed, with the Warden of the Observatory, Steffan Walton, 15 individuals including four ovipositing pairs. Having missed most of the damselflies' flight season though it was decided to keep the news of the colony quiet to allow more time for detailed surveys of the site and other potential habitat nearby.
In May 2020, the Sandwich Bay Warden observed Dainty Damselfly again on the private site. Once Coronavirus restrictions were eased John and Gill Brook, and the new County Dragonfly Recorder Marc Heath, helped survey the site thoroughly. To their amazement, they counted over 180 individuals and numerous exuviae, effectively tripling the known UK population. Marc captured some stunning images of the damselflies too.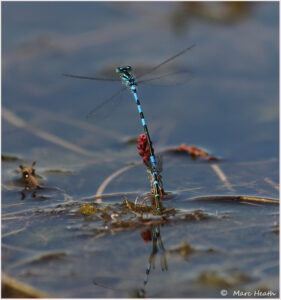 The colony is currently found only on a private site with no general access. The area was already well-monitored by Sandwich Bay Bird Observatory so it is thought most likely that this represents a recent colonisation attempt. Given the location it is unlikely they came from the Sheppey population but the possibility of a hidden reservoir population in Kent is not out of the question. Large influxes of Southern Migrant Hawkers have reached the UK in the last few years and it's possible the Dainty Damselfly also came along with them from mainland Europe, but could have been overlooked by many. It is doubtful this was a one-off event and both the Sandwich Bay Bird Observatory and the British Dragonfly Society will be encouraging people to survey other sites along the south east coast in 2021, with this mind.  Dainty Damselfly is reasonable distinctive, but is one of several blue coloured damselflies which occur in Britain and it does need a good view to identify it.  A photograph is always helpful to confirm identity.
Sandwich Bay warden Steffan says: "This species status in the UK is still rather precarious and we have to take extra care with access arrangements, especially on private sites. The last thing Sandwich Bay Bird Observatory Trust would want is for the site to be damaged or the colony to be adversely affected by too many visitors. However, we may be able to organise restricted access next year, Coronavirus-dependent of course. We'll have to see how things pan out, I'm sure you all understand. In the mean time it's fantastic to know that the UK's rarest Damselfly is doing well in our corner of East Kent."
Further information:
Find out more about Sandwich Bay Bird Observatory Trust here: www.sbbot.org.uk
To find out more about the Dainty Damselfly please head to the British Dragonfly Society's website:
https://british-dragonflies.org.uk/species/dainty-damselfly/
To see more of Marc's photos and for a full account of his encounter with the Dainty Damselflies head to his blog site: http://marcheath.blogspot.com/
–  ENDS   –
Editors Notes:
The Sandwich Bay Bird Observatory Trust is an accredited bird observatory and registered charity. SBBOT is committed to the conservation and recording of the natural environment in the Sandwich Bay area, and in so doing offer opportunities for education, training and research.
SBBOT website: www.sbbot.org.uk
Contact: Steffan Walton, Warden of Sandwich Bay Bird Observatory Trust
The British Dragonfly Society  was founded in 1983 by a small group of dragonfly enthusiasts and scientists. The Society has grown substantially since that time and the current BDS membership of over 1800 is spread the length and breadth of the country, as well as into Europe and beyond. We have three main aims: to carry out and support research on dragonflies, to conserve dragonflies and to engage the public with dragonflies and their wetland habitats.
BDS website: www.british-dragonflies.org.uk
Contact: Fiona McKenna, Conservation Outreach Officer, British Dragonfly Society
Email:
Phone: 07553 848511
Photographs: We request that if using any of the images supplied, a picture credit is provided for the relevant photographer. Images should only be used in conjunction with this press release.