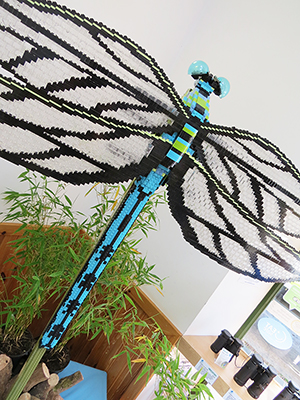 New Scottish Hotspot Designated
21/10/2016
The BDS have teamed up with the Wildfowl and Wetland Trust to add Caerlaverock, in Dumfries and Galloway, to the Scottish Hotspots list, giving us a total of 10 Scottish Hotspots!
The British Dragonfly Society runs the Scottish Hotspots Project with the aim of promoting dragonflies and their wetland habitats across Scotland. Our hotspots are special places, chosen for a combination of a good dragonfly assemblage, easy access for visitors and a thriving local community keen to get involved with dragonfly conservation and events.
WWT Caerlaverock is the latest in a growing list of brilliant dragonfly sites, all of which can be found here. The site celebrated the announcement with the installation of a huge LEGO® dragonfly, christened Emily, over the summer! Brian Morrell, Centre Manager, said: "We are pleased to welcome our new LEGO® brick dragonfly to WWT Caerlaverock for the summer and are excited about working with the British Dragonfly Society to become a Dragonfly Hotspot".
Daniele Muir, BDS Scotland Officer, said: "There are five species of damselfly and 5 species of dragonfly to spot around the reserve, including the Emperor Dragonfly, one of our largest and most brightly coloured species."
To learn more about the Scottish Hotspots Project click here.
image © WWT Caerlaverock