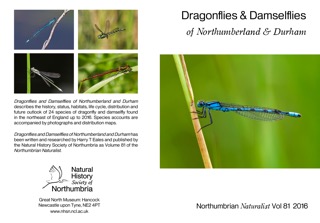 New Local Atlas to the Dragonflies of Northumberland and Durham
06/02/2017
Written and researched by Harry T Eales and published by the Natural History Society of Northumbria as Volume 81 of the Northumbrian Naturalist, this new volume is indispensable to anyone interested in the dragonflies and damselflies of the north-east.
This full-colour 67 page publication features full colour photographs of the 24 species of dragonfly and damselfly found in Durham and Northumberland, along with information on their history, status, habitats, life cycle, distribution and future outlook. This atlas is fully up to date and includes a map for each species clearly demonstrating its distribution.
The Dragonflies and Damselflies of Northumberland and Durham is available from the BDS shop for £6.00 plus £1.50 postage and packaging.