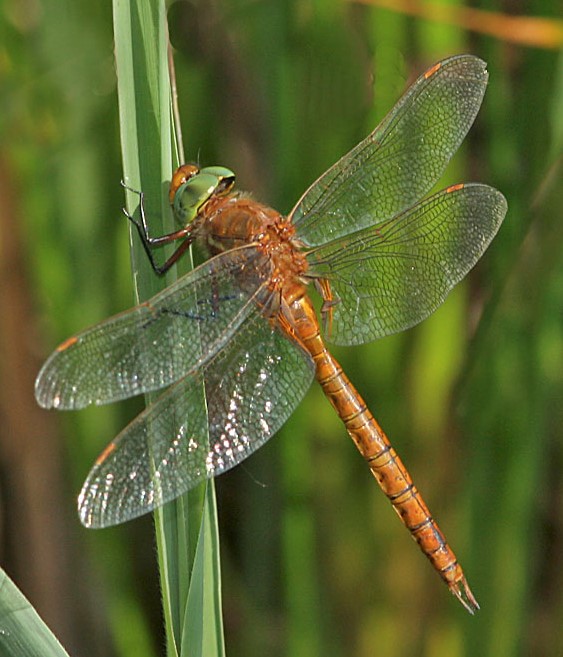 New Breeding Site for Norfolk Hawker confirmed
18/06/2013
The British Dragonfly Society has confirmed that a new breeding population of rare Norfolk Hawker dragonflies has been found at Paxton Pits Nature Reserve, Little Paxton, Cambridgeshire, a reserve managed by Huntingdonshire District Council Countryside Services, supported by the Friends of Paxton Pits Nature Reserve. This is the first breeding site to be discovered outside of the species' Norfolk and Suffolk stronghold since Norfolk Hawkers were lost from the Cambridgeshire fens 120 years ago.
Dr Pam Taylor, President of the British Dragonfly Society, said: "The Norfolk Hawker is an endangered dragonfly protected by law, so the discovery of a totally new population is very exciting indeed. The main threats to the species in its Norfolk Broads and coastal Suffolk habitats are sea level rise and saline intrusion into freshwater dykes and ditches. The discovery of a new inland site, well protected from these threats, could help to preserve the future of Norfolk Hawkers in the UK."
Kirstien Drew, Paxton Pits Ranger, said: "Paxton Pits Nature Reserve is home to many different species of dragonfly, but to find that the Norfolk Hawker is breeding in our lakes is a major discovery and something we will be monitoring very closely."
The first recent sighting of Norfolk Hawker in Cambridgeshire came two years ago when a male was seen holding territory over water soldier plants in Hayling Lake at Paxton Pits Nature Reserve. Last year a female Norfolk Hawker was observed on the neighbouring Rudd Lake. This season the first reported sighting came from Potton Wood, just over the border in Bedfordshire. This prompted a search for the possible source of this dragonfly and a number of exuviae (shed larval cases) were found at Paxton Pits Nature Reserve. Further searches by boat a few days later revealed no fewer than 26 Norfolk Hawkers have already emerged from Hayling Lake. If they return to breed successfully again later this month the future of Norfolk Hawker dragonflies in Cambridgeshire could be secure.