Lesser Emperors at Ynys-y-Fro reservoirs in 2018 and 2022, the second and third county records
by Darryl Spittle (photograph by Lee Gregory)
On 22 July 2018, whilst scanning the far bank of the upper basin at Ynys-y-fro Reservoirs a bright blue 'spot' suddenly zipped through my binoculars. Perhaps understandably, this caught the eye, and a quick scan confirmed the 'spot' was the 'abdominal saddle' of an otherwise dull-looking emperor dragonfly. Having seen Lesser Emperor (Anax parthenope) before, I instantly knew what it was/should be and, once I was confident it wasn't just some 'weird' Emperor (Anax imperator), I put the news out via Twitter. I continued to watch the dragonfly for some time attempting to 'digi-scope' it to obtain photographic proof of the occurrence. It never sat still and evaded all attempts at securing a picture. It did, however, come much closer on several occasions allowing the green eyes to be seen.
Later in the day Matt Broome and Chris Jones failed to refind the Lesser Emperor. I could not relocate it on 23 July but weather conditions were not great (cool and breezy). MB and Lee Gregory also failed to see it on 24 July, again weather conditions may not have been ideal. However, it was subsequently refound by LG on 31 July at which point he managed to photograph it; one of his photos is shown below.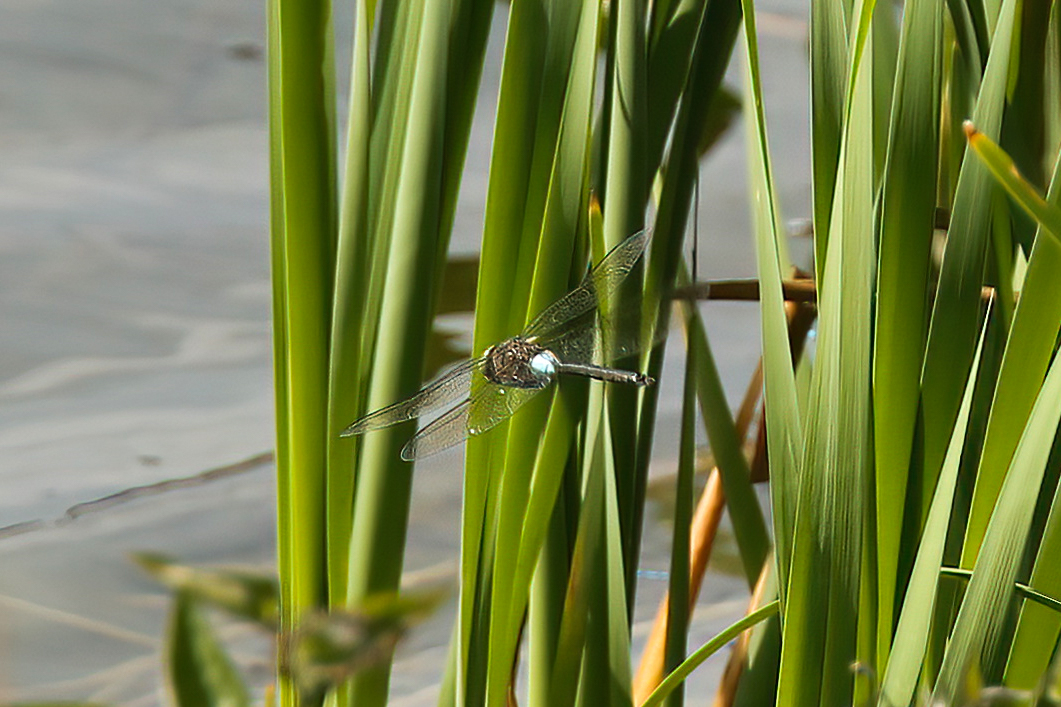 Almost four years later, on 17 July 2022, having parked the car in my usual gateway spot, I wandered onto the causeway and, almost instantly, saw a Lesser Emperor foraging very close along the near bank adjacent to the new outflow. It was more-or-less the first thing I looked at. As ever, the blue 'abdominal saddle' caught the eye but, given how close it was, it was easy to confirm the green eyes and overall dull look to the thorax and abdomen. The dragonfly patrolled the length of the causeway, every now and then getting chased off over the upper basin by an Emperor but returning to forage along the near bank. As per my 2018 sighting, I only had my 'digi-scoping' kit to attempt a photograph and, as per 2018, the animal was never seen to alight, and I failed to obtain an image.
Following my sighting, Steve Preddy had a possible sighting later in the day and Craig Constance and Tim Griffiths saw it on two brief occasions on 19 July. I could not relocate the dragonfly on 24 July in overcast and breezy conditions.
On the same day as the 2018 sighting, another Lesser Emperor was seen 'nearby', further up the Bristol Channel, at Slimbridge WWT, the first record for what must be a very well watched site. I assume there had been a bit of an arrival. Spookily, in a mirror of that occurence, another Lesser Emperor was seen at Slimbridge WWT in 2022, around the same time (18 July). Perhaps they arrive in widely separated pairs?
[These two records follow on from the first, found in 2006 at Lamby Lake, written up by the finder Andy Karran here. Steve Preddy]
Back to rarity accounts index
Back to Monmouthshire main page