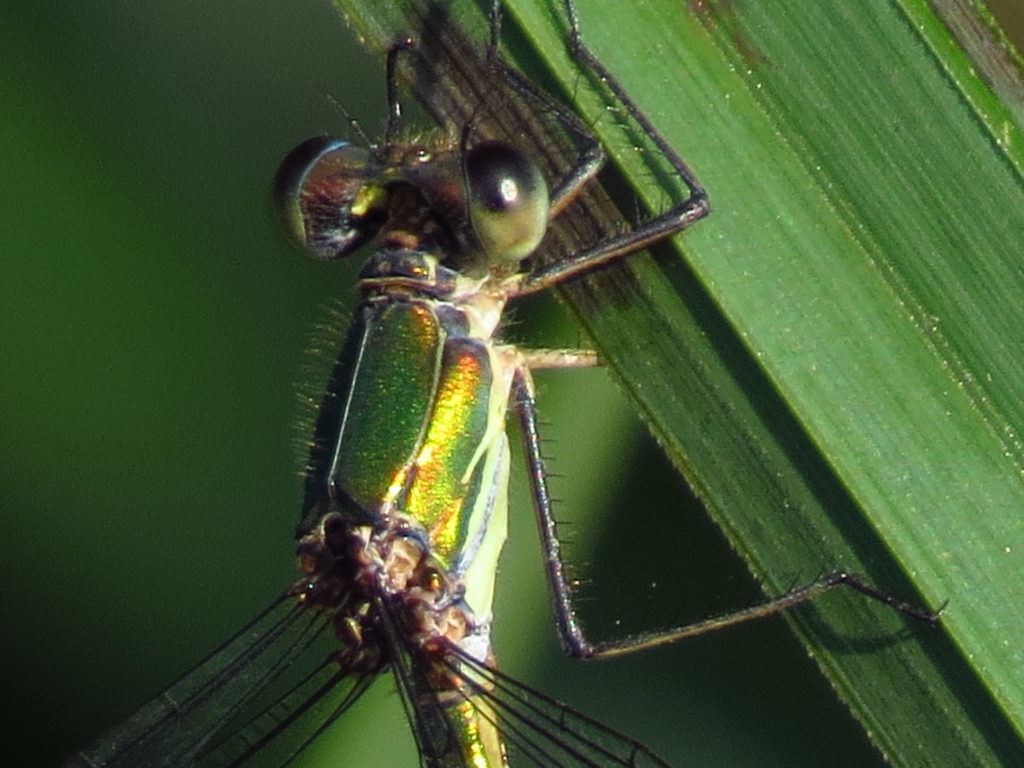 Hertfordshire's First Willow Emerald, 2014
04/09/2014
I've been going to Amwell through the summer months with a recently acquired interest in dragonflies, damselflies and bugs in general. This due to the usual quiet birding months we experience. I've had some good sightings and captured most of the dragons and damsels only missing out on the early year ones due to my timings. We can be thankful of the sighting due to HMWT Amwell warden, Jenny Sherwen keeping the Hollycross lake area open beyond the Sept 1st closure date. I've been visiting Amwell about 3 times a week in afternoons, so have put in plenty of hours, getting to know the area and photographing many different species.
I'd done my usual round of, orchard, viewpoint, tumbling bay, Hollycross, when I sat to review some photos of Migrant Hawkers I'd just taken. As I looked up at another Migrant Hawker a damselfly caught my attention. It was aggressive and chasing off other damsels and even larger Migrant hawkers. It looked to me like an emerald so I fired off plenty of shots. I then went back to the viewpoint to show to my good friend Ron Cousins who immediately thought it was a Willow Emerald; he took screen shots and emailed them to Barry Reed who confirmed our thoughts.
We thought that the warm easterlies we had experienced recently could have pushed them over from Essex. We went back to Hollycross where I had found it in hope of seeing again but the sun had moved away from the spot and with it hope of a viewing.
Without Ron and Barry's confirmation and help I'd have assumed it was an Emerald until I'd got home to upload pictures and review my guidebooks. I emailed Roy Woodward the County recorder as soon as I got home and he again confirmed. Roy confirmed that it was the first confirmed recording since a slightly dubious 1899 specimen was "incorrectly labelled".
See more photos of the Willow Emerald on Darren's blog https://bashwell13.wordpress.com/hertfordshire-first-willow-emerald/
Photo credit Darren Bast.