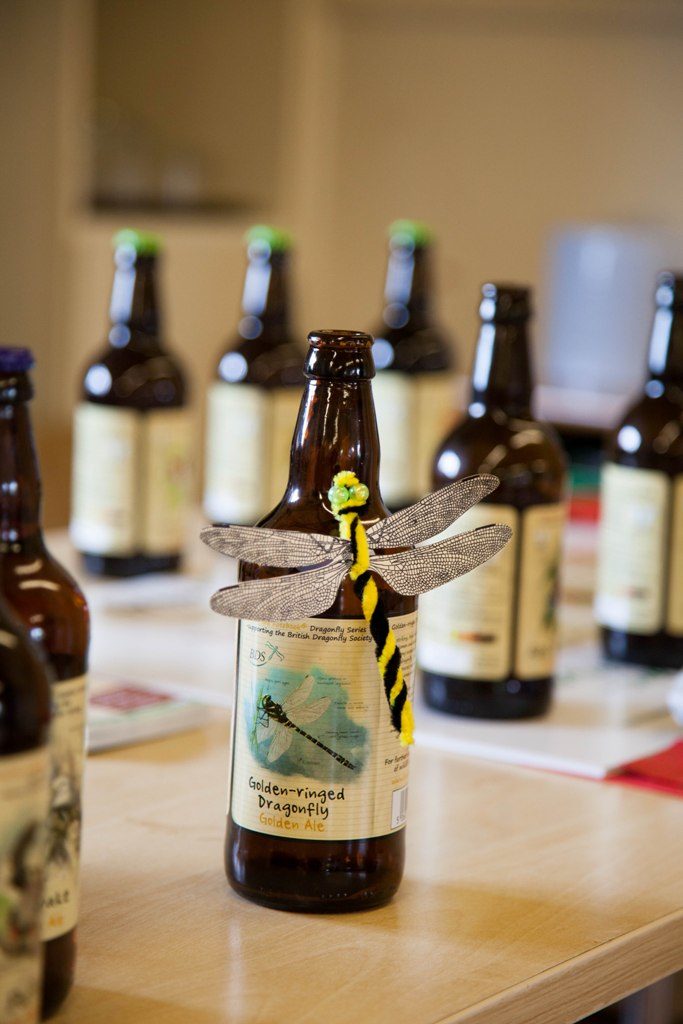 Here's to Helping Dragonflies!
13/08/2014
The British Dragonfly Society (BDS) have teamed up with craft beer design specialists 'From the Notebook Limited' (FTN) to launch their first Dragonfly beer, Golden-ringed Dragonfly Golden Ale, with royalties from sales helping the work of BDS.
Golden-ringed Dragonfly Golden Ale was brewed by Welbeck Abbey Brewery and is a lovely light refreshing lagery ale with a hoppy aftertaste. The ale was launched at Dragonfly Day at Wicken Fen at the start of July and has gone down very well with ale drinkers. Graeme Denton, Managing Director of FTN says 'it has been our fastest selling beer to date. We have already sold more than 60% of our bottle stock since its launch in the first week of June. So it is highly likely that we shall be brewing it again this year, both for bottles and as a cask offering.'
You can purchase Golden-ringed Dragonfly Golden Ale at several outlets including Beers of Europe, Brown and Green and Hops in a Bottle, with more stockists listed on the From The Notebook website (www.fromthenotebook.co.uk).
The BDS's association with FTN started when BDS's Conservation Officer, Claire Install, spotted FTN sharing a stand with the West Midlands Branch of Butterfly Conservation at the 2103 Pershore Plum Festival. Claire says, "FTN were launching their new Brown Hairstreak Ale and I spotted the great butterfly sketches on the bottles and wondered what was going on. I asked Graeme and Colin about their products and tasted a few of their beers. It didn't take long before we all realised that a beer created to raise revenue for the BDS would be a great idea and that lots of the names of Odonata lend themselves quite nicely to potential names of beers!"
East Midlands duo Graeme Denton and Colin Bowler founded FTN in 2012 and create what they describe as "Wildlife-Inspired Idiosyncratic Beers". Major characteristics of the creature the beer is named after are portrayed in the flavour, colour and style of the beer produced. The FTN brand is reflective of a wildlife enthusiast, going out into the field and sketching and annotating what he or she observes, hence the company name "from the notebook".
FTN are providing royalties of 10p per bottle sold to BDS and as such have become Corporate Members of the BDS. So as you enjoy a pint of Golden-ringed Dragonfly Golden Ale, you will also be helping BDS to conserve dragonflies…cheers!
Golden-ringed Dragonfly Golden Ale photo by Christina Chelmick