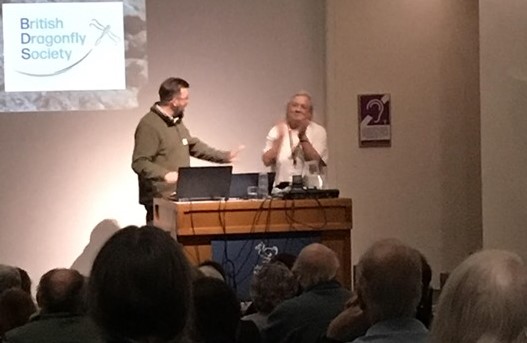 Henry's Last Annual Meeting
12/12/2019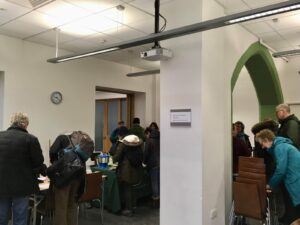 On a chilly November morning Dragonfly enthusiasts from across the country descended on the Oxford Natural History Museum for the BDS Annual Meeting. This was to be the last event organised by Honorary Secretary Henry Curry as he will retire at the end of 2019 after 13 years of excellent service.
The day started with an update from Stephen Burch on how Dragonflies are doing in Oxfordshire. We heard about top sites in the county such as Goring Railway Bridge and Radley Lakes. Keep up to date with Stephen's Dragonfly adventures on his website: https://www.stephenburch.com/dragonflies/OxonDragons.htm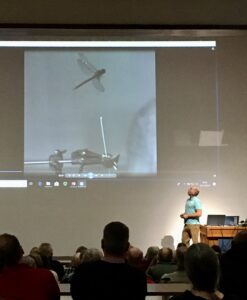 Next we heard from Adrian Thomas about his fascinating work developing state of the art drones based on Dragonfly physiology. As his work will be used by the military we can't share too many details just yet, but we were all left feeling very excited about the direction that drone technology is heading in and would love to harness it for wildlife and habitat surveying in the future!
`
After a short break our Scotland Officers Andrea and Daniele kicked off the second half of the morning session. Their Scotland update was split between their surveying and Dragonfly Hotspot work, led by Daniele, and their People for Ponds, outreach and citizen science work led by Andrea. Everyone was impressed by the work going on North of the border and the dedication of the volunteers in Scotland who work in remote locations and in challenging weather conditions to conserve dragonflies. Find out more about our work in Scotland here: https://british-dragonflies.org.uk/areas/united-kingdom/scotland/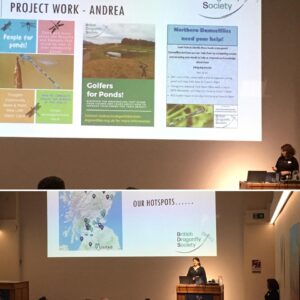 Another Scottish resident was next, our Dragonfly Champion Ruary Mackenzie-Dodds, who brought us an update on his fascinating fieldwork on the New Zealand Bush Giant. The larvae of this species live in water-filled burrows on land rather than in waterbodies or streams. Ruary and partner Kari are determined to find out more about this secretive species, but it is not an easy task! It involved  travelling to America to source the specialist camera equipment needed, spending large amounts of time installing kit in the New Zealand Bush and then trawling through weeks of footage to find useful information – which they then shared with us all, much to the audiences delight. The fascinating story of the New Zealand Bush Giant is finally unfolding thanks to Ruary and Kari, we can't wait for the next instalment.
Chris Hassall from Leeds University finished the morning session. We heard about Chris's research into the impacts on Dragonflies from urban heat islands and polarised light pollution from asphalt roads.  Find out more about Chris's work here: https://biologicalsciences.leeds.ac.uk/school-of-biology/staff/79/dr-christopher-hassall
A short A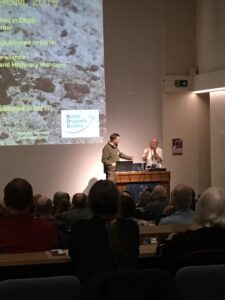 GM was held and the trustees and staff took the opportunity to formally thank Henry Curry for all his hard work over the last 13 years. Dr Pam Taylor presented Henry with a gift to show our appreciation and the audience gave a hearty round of applause. Henry made a short speech and was thankful that he could leave the BDS in the capable hands of Carolyn Cooksey, his successor in the role of Honorary Secretary.
After lunch and chance to hang out with the dinosaurs and curiosities on display at the Natural History Museum, our England based Officers gave an update on their work. Eleanor updated us all on how the survey season had gone this year and shared some preliminary results from the Clubtail Count. Fiona updated us on how the Dragonfly Hotspot project has progressed over the summer, with the launch of three new sites. Our Outreach Volunteer network is growing nicely too but Fiona put a call out for everyone to help spread the word as more help is still needed. The duo finished with their top five favourite weird photos from the year and thanked everyone who had volunteered and engaged with the BDS over the year.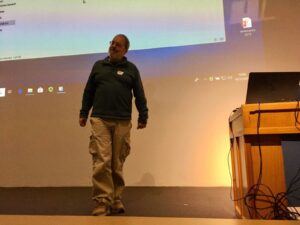 We were then treated to a film premiere (a sneak peek at a section if it) by talented filmmaker and Dragonfly enthusiast Steve Nicholls. The film depicts the dramatic story that is the life of some common species of Damselflies and Dragonflies in England. Narrated by Sir David Attenborough and featuring a short piece on Willow Emeralds presented by our Conservation Outreach Officer Fiona. The film has aired in mainland Europe but not in the UK yet. Steve is happy for it to be screened by local BDS groups and can arrange access to it only for this purpose. Please contact Fiona to arrange this.
Next, international speaker Adolfo Cordero from Universisda de Vigo in Spain, gave a fascinating insight into sexual selection behaviour of Dragonflies. We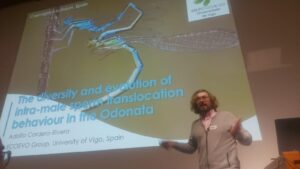 learned about how male Dragonflies translocate sperm to their secondary genitalia before and often after mating. Research into the reasons why they would do this after mating is ongoing as the answers are not yet clear. Find out more about Adolfo's work here: http://ecoevo.uvigo.es/about-us-2/ Follow him on Instagram too: https://www.instagram.com/adolfo__cordero/?hl=en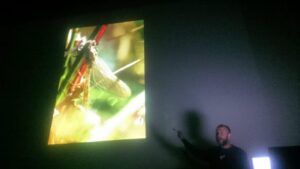 The grand finale was another fantastic film, this time by our very own Somerset based volunteer and filmmaker Steve White. Steve talked us through the trials and tribulations of filming the charismatic White-faced Daters on Chartley Moss, one of England's largest floating bogs. This site is only accessed with permission from Natural England or with a guide as it is rather treacherous terrain. The clips of film we saw were magical and Steve promised us an update next year, we cannot wait!
We'd like to say a huge thank you to everyone who joined us, including all of the speakers, for making it such a memorable day. Henry Curry deserves the final thank you and fond farewell from us all too, such a high note to leave on – he really did himself and the BDS proud with this Annual Meeting. Below are a few highlights from Henry's time with BDS, he has certainly inspired a few generations of Dragonfly Fans over the years!