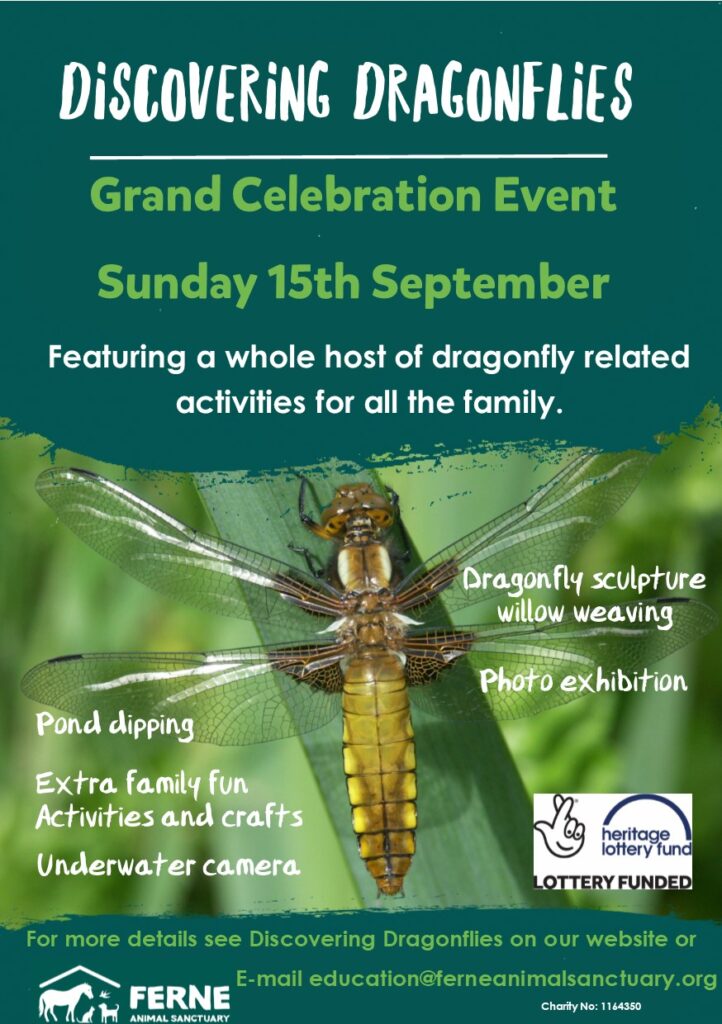 Ferne Animal Sanctuary celebrates its Discovering Dragonfly Project
05/09/2019
Ferne Animal Sanctuary celebrates its Discovering Dragonflies Project with a Grant Celebration Event on Sunday 15 September.
The National Lottery Heritage Fund awarded £8,700 to Ferne Animal Sanctuary for an exciting natural heritage project designed to educate and inspire people about dragonflies. This event celebrates the achievements of the Discovering Dragonflies Project since its launch in July 2018 with a day packed full of dragonfly related activities at Ferne Animal Sanctuary, near Chard.
This project has enabled Ferne to run a variety of events aimed to get people interested in dragonflies and ultimately play a part in helping their conservation. Dragonflies have been around since 50 million years before the first dinosaurs appeared. They are beautiful, inquisitive, incredibly aerobatic, and territorial – basically great to watch.  This is why dragonflies are perfectly suited for generating inspiration for, educating about, and raising awareness of our natural heritage.
The day will feature a selection of project activity highlights including dragonfly sculpture willow weaving; a whole host of extra family dragonfly activities and crafts; discovering the diversity of life underwater via pond dipping, underwater camera and microscope viewing: a special dragonfly trail … and more.
Also visitors can view the dragonfly display boards featuring fascinating insights into the lives of dragonflies, plus there will be an exhibition of dragonfly and other wildlife photographs taken throughout the project.
All the activities are free and most of the activities will be undercover, so it's a great day out for all the family, regardless of weather.
See the event listing here.