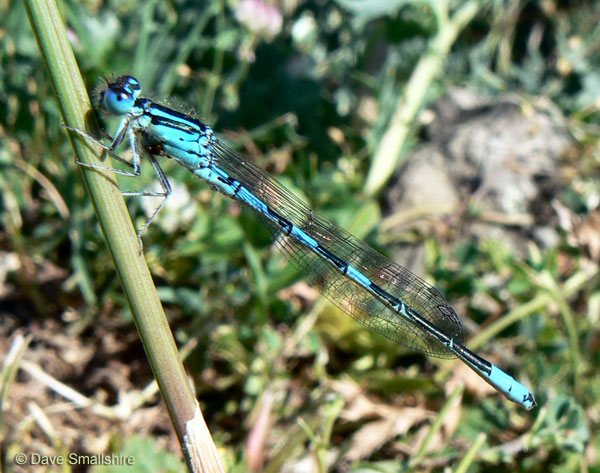 Extinct Damselfly re-discovered in Britain after 57 years
05/10/2010
Dainty Damselflies have been found in Britain after a 57 year absence. This delicate blue damselfly had been declared extinct after floods wiped out the last remaining populations in East Anglia in 1953. The recent sightings of four adults in North Kent were made by Gill and John Brooks. As its name suggests, the Dainty Damselfly is a small and delicate damselfly. Both the males and females have blue and black markings with yellow undersides. Males have a characteristic 'wine goblet' marking just below their wings and females have black 'rocket' shapes up their bodies. They are very similar to other blue damselfly species found in Britain.
The Dainty Damselfly was first found in Britain during 1946 near Benfleet in Essex, and later its stronghold was discovered at a pond a few miles away. A significant population was present here, and the species clearly bred successfully in the Benfleet/Hadleigh area until 1952. However, the breaching of coastal defences and the subsequent great floods that affected East Anglia during the winter of 1952/53 seriously affected the pond, and in the summer of 1953 no Dainty Damselflies could be found. After further blank seasons in following years it was clear that the species had become extinct.
On the Continent, Dainty Damselfly has a predominantly central and southern distribution, though there have been signs of a recent northerly expansion of the species' range. In the last fifteen years the damselflies have recolonised Belgium after a long absence and appeared for the first time ever in The Netherlands; the species also appeared on Jersey in 2009.
The re-appearance of Dainty Damselfly in Britain is highly significant. It follows the establishment of other unusual damselflies in southern England over the last decade or so. The Small Red-eyed Damselfly, now a common breeding species in much of south-east England, first appeared in Britain only as recently as 1999, while the Willow Emerald Damselfly appeared in 2007 and may now be established in Suffolk. These events, which for Britain's dragonfly fauna are pretty much unprecedented, are thought likely to be a consequence of ongoing climate change. Many species with a primarily Mediterranean distribution in Europe are indeed known to now be advancing northwards.
Migrant dragonflies expert Adrian Parr said 'it is to be hoped that the Dainty Damselflies find Kent to their liking, and that a permanent population becomes established.' The discovery of two larval cases suggests that the damselflies have been in Britain undiscovered for at least a year and bred here last year. This population will be closely monitored with the hope that they will re-establish themselves here. The British Dragonfly Society would welcome news of any sightings of unusual damselflies or dragonflies [but please note that there are 6 other very similar species two of which, Common Blue Damselfly and Azure Damselfly, are very common. Please check the species pages on the website to help identify which species has been seen.]