Yorkshire Nature Fair
Date:

Sunday, 3 July 2022

Cost:

Free

Event Category:

Venue Phone:

07500 285677

Venue Website:
Organiser:
Phone:

07500 285677

Email:

Website: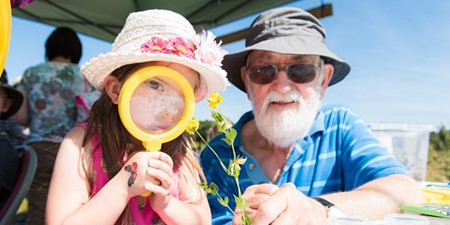 Go wild this summer and join us for an action packed day of nature activities for all the family.
About this event
We are delighted to have teamed up with Butterfly Conservation to bring you the very first Yorkshire Nature Fair.
Go wildlife spotting on one of our pre-bookable meadow safaris (please book tickets on Eventbrite). See and learn all about snakes, lizards, butterflies, moths, bees, dragonflies, pondlife, woodmeadow creation and growing native wildflowers with expert naturalists. See programme below.
Visit nature organisations and try out their challenges: St Nicks, Project Wild CIC, British Dragonfly Society, Yorkshire Mammal Group, Yorkshire Wildlife Trust, Yorkshire Amphibian and Reptile Group, PLACE, North and East Yorkshire Ecological Data Centre, Yorkshire Naturalists Union, Askham Bryan Wildlife Park, Tophill Low Nature Reserve, Lower Ure Conservation Trust, Woodland Trust, RSPB, Yorkshire Rewilding Network, Butterfly Conservation and Woodmeadow Trust.
Listen to great naturalists in our seated marquee and join Professor Sir John Lawton CBE who will be opening the event at. See programme below.
We will have face painting, storytelling (see details below), treasure hunts and bug hunting.
Interactive storytelling with Jeanne Willis from Mud Pie Arts – join Jeanne Willis for an interactive event about a magical pond and a beautiful bog baby. You will never have seen such a rare creature! Suitable for 4 years plus. 20 places available. Book places in advance.
Meadow Safari Programme: (please book tickets in advance on Eventbrite)
Magnificent Moths – join Dr Terry Crawford (Lepidopterist) and find out why moths matter, the role they play in wildlife ecosystems, how you can create crucial habitats for moths at home and have a go at identifying moths.
Brilliant Butterflies – join Butterfly Conservation Yorkshire on a guided butterfly walk and find out why butterflies are an important part of the UK's wildlife. Have a go at butterfly spotting and find out how you can help build crucial wildlife corridors by attracting more butterflies at home.
Bumblebee ID – join Professor Dave Raffaelli (Chair of Woodmeadow Trust, Emeritus Professor of Ecology at the University of York and an acknowledged international researcher in the field of ecosystems and their management) on this exciting bee safari. Learn the basics of recognising bees and how to identify the common eight bumblebee species.
Snakes in the Grass – Join Nick Atherton from Project Wild CIC and learn all about native snakes and lizards. Explore the meadow for snakes and assist Nick with his snake surveys.
Growing Native Wildflowers – join Kara Garnett, Assistant Site Manager at Woodmeadow Trust and volunteers and gain expert hints and tips on how to grow your own native wildflowers and find out their role in creating crucial wildlife ecosystems.
Pond Explorers – join Yorkshire Amphibian and Reptile Group (YARG) and find out about the important role pond life plays in wildlife ecosystems. Explore what lies under the water and is at the waters edge and find out how you can introduce a pond at home.
Woodmeadow Creation – join Dan Carne, Director of UK Woodmeadow Network at Woodmeadow Trust and learn all about the importance of woodmeadow creation in tackling the decline in biodiversity and how you can create your own woodmeadow, no matter how big or small.
Speaker Programme:
10.30 – 11.00 Professor Sir John Lawton CBE FRS, British Ecologist
11.15 – 11.45 Craig Ralston, Senior National Nature Reserve Manager, Natural England
12.00 – 12.30 Professor Alastair Fitter CBE FRS, British Ecologist
13.00 – 13.30 Dan Carne, Director, UK Woodmeadow Network, Woodmeadow Trust
13.45 – 14.15 Simon Warwick MBE, Director, Lower Ure Conservation Trust
14.30 – 15.00 Richard Baines PGdip CIEEM, Director/Ecologist, Wold Ecology
Other
Additional Info

There will be delicious food from Devon's Kitchen as well as a pop up café serving tea, coffee and cake. Free parking.

Contact

07500 285677