Wildlife Gardening Evening Lincoln
Date:

Friday, 12 July 2019

Cost:

FREE

Event Category:

Venue Phone:

07494 344352

Venue Website: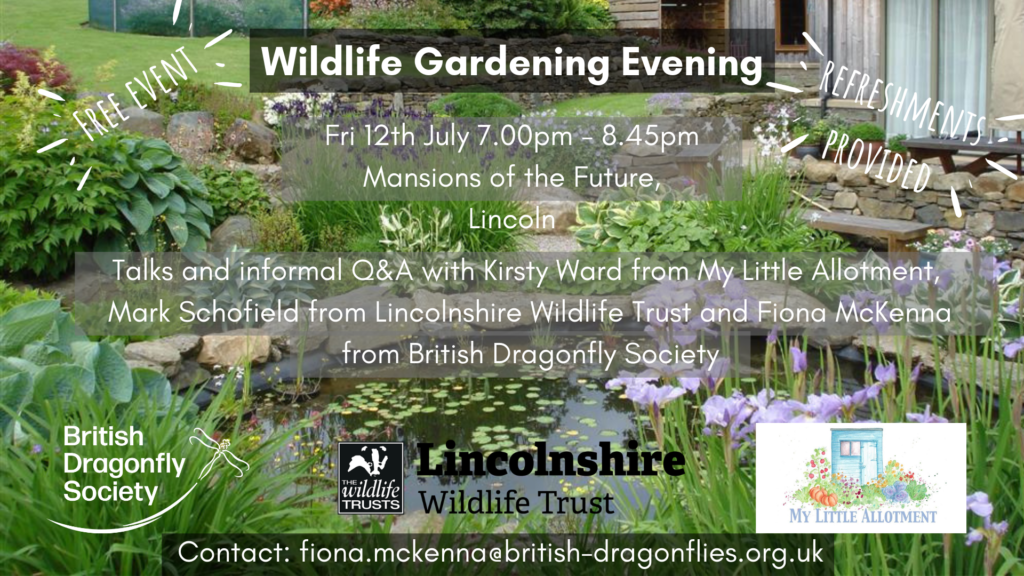 Join us for a FREE evening of informal talks with Q&A time about every aspect of gardening in tune with nature. Kirsty Ward from My little allotment will share her experience on how gardening and being in touch with nature can be hugely positive for our own wellbeing. Mark Schofield from Lincolnshire Wildlife Trust will give us lots of tips on how we can all grow local wildflowers and make room for nature wherever we are. And Fiona from the British Dragonfly Society will give a quick introduction to the world of Dragonflies and how we can all make them happy by creating ponds and feeding areas for them wherever we can.
Refreshments will be provided and there will be plenty of time for informal chat with the speakers, there will also be information stands and leaflets from all three organsiations and other local groups such as Sincil Bank Lincoln RiverCare and Litter Pick Group.
We hope that you can join us for a fun evening of wildlife and gardening chat! As the venue is not huge we do ask that you confirm your attendance in advance through our Facebook event or via email please: ku.gr1571347508o.sei1571347508lfnog1571347508ard-h1571347508sitir1571347508b@ann1571347508ekcm.1571347508anoif1571347508 Thank you 🙂
Other
Requirements

As the venue is not huge please let us know that you are coming, also so that we can organise enough refreshments. Thank you :)

Contact