Scotland Conference (Online)
Date:

Saturday, 17 April 2021

Cost:

Free but donations appreciated to cover running costs please.

Event Category: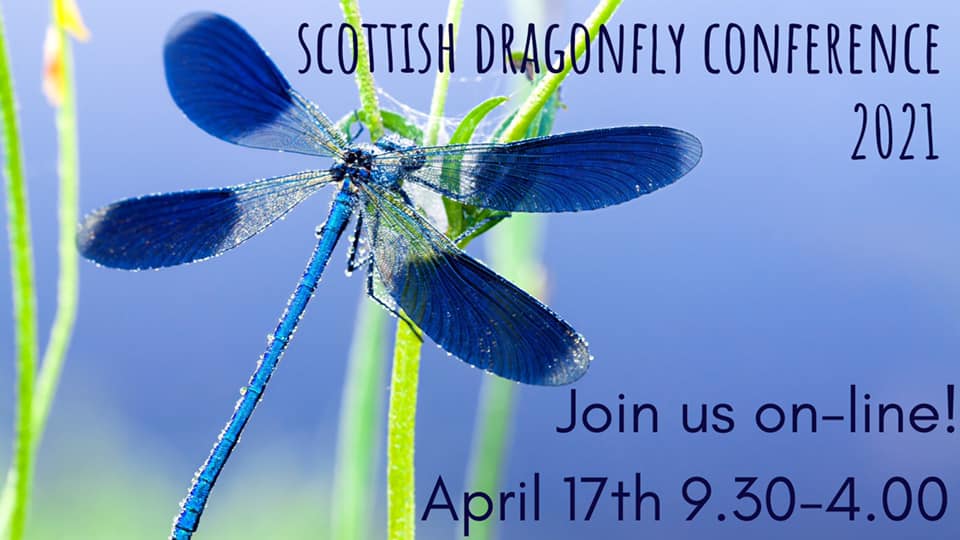 The Scotland Conference will be held online on Saturday 17th April from 9.30am – 4.00pm.
We will hear about all of the great work that has been going on in Scotland from staff and volunteers as well as hearing from our latest Scottish Dragonfly Hotspot.
Bookings are open now via Eventbrite.
Our events are free and we welcome everyone to attend, if you can afford to donate (here) to help cover running costs it would be much appreciated. Many thanks for your support.
AGENDA
09.45-10.00  Log in and troubleshooting
10.00-10.05  Andrea Hudspeth, Scotland Officer (Projects) Introduction and housekeeping
10.05-10.10 Mike Dilger, BDS President Message to attendees
10.10-10.30 Stephen Corcoran, BDS Area Coordinator, Northern Damselfly Survey in Deeside & Strathspey
10.30 – 11.00 Tom Bowser, Argaty Red Kites, Enhancing habitat for Dragonflies on a working farm
11.00 – 11.30 Pat Batty, Scotland Recorder & Daniele Muir, Scotland Officer (Conservation) Azure Hawker surveying
11.30-11.45 Break & networking
11.45-12.00 Ruary McKenzie-Dodds Update on Bush Giant Dragonfly studies in New Zealand
12.00-12.10 Daniele Muir, Scotland Officer (Conservation) Conservation work update
12.10-12.30 Eric McCabe, BDS volunteer recorder Dragonflies of Sweden
12.30-12.45 Questions for the morning speakers
12.45-14.00 Lunch & networking
Break-out rooms with Area Coordinators
14.00-14.10 Andrea Hudspeth, Scotland Officer (Projects) Project work update
14.10-14.30 Toni Watt Northern damselflies at Castle Fraser
14.30-14.50 Jonathan Callis and David McCulloch, BDS volunteer recorders, Experiences of site monitoring as a BDS volunteer
14.50-15.02 Quick break
15.02-15.20 Nicole Digruber, People for Ponds Project participant Creating Dragonfly habitat in the community
15.20-15.30 A message from our Trustees, Tom Cunningham, Organisation update
15.30-15.45 Questions for the afternoon speakers
15.45-16.00 Sum up by Jonathan Willet, Scotland Group Chair and close
*Booking is essential in order for us to send you full joining instructions ahead of the day*
Other
Requirements

Please book your place via Eventbrite so that we can send full joining instructions to you the day before the event.

Contact

Scotland Officers Andrea and Daniele