Online Autumn Meeting and AGM Saturday 14th November 2020
Date:

Saturday, 14 November 2020

Event Category: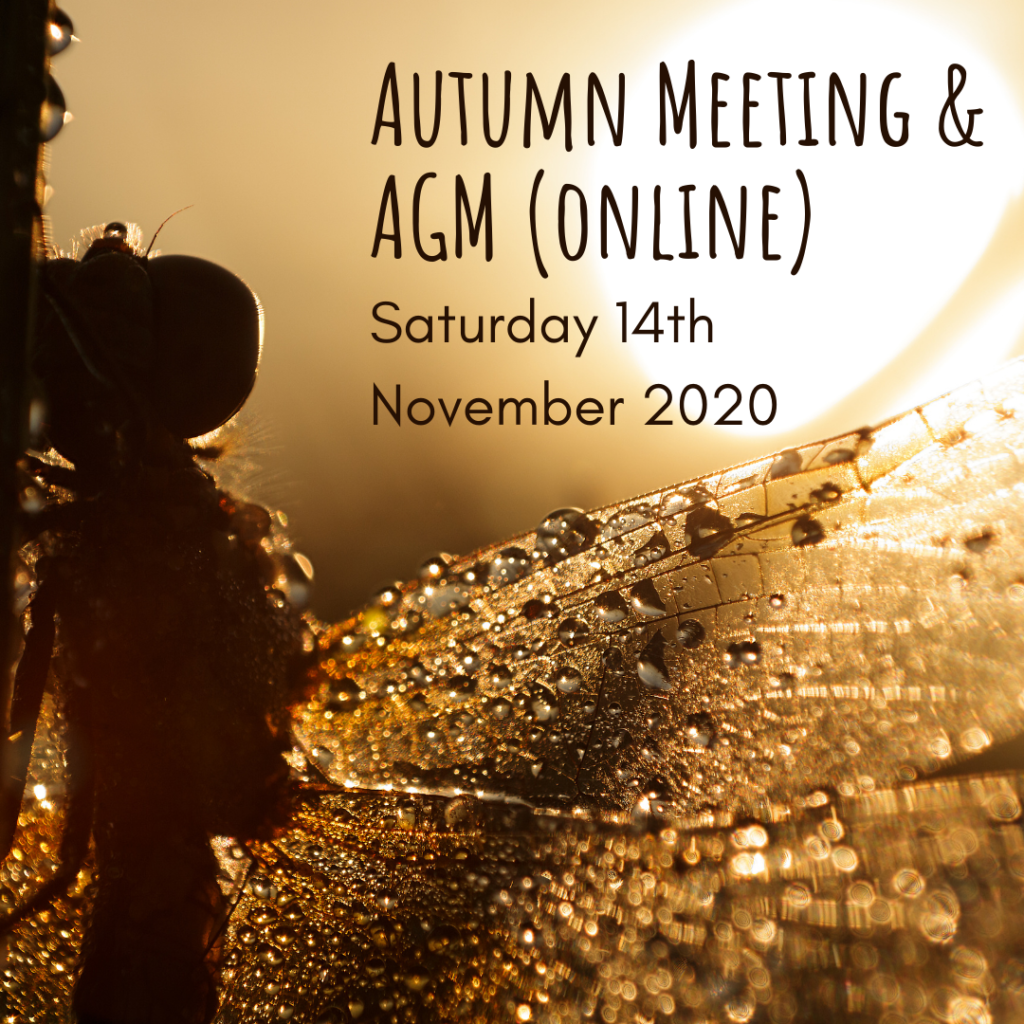 We are delighted to share the agenda for our Autumn Meeting (including our AGM), which will be held online on:
Saturday 14th November from 9.00am – 4.30pm.
Once you have booked a ticket*, via Eventbrite here, we will send you the joining instructions ahead of the day. We aim to send the Zoom link and full joning details to everyone who has registered, via Eventbrite, on Thursday 12th November.
*When booking a ticket please either select 'Member' or 'Non Member', this will help us with the AGM and voting. Many thanks.
As always our meeting is free to join, but we do appreciate donations to help cover the running costs of the meeting please. You can donate via our website here.
Agenda:
09.00 am: Welcome
9.15am: Dave Smallshire – Europe's Dragonflies
9.45am: Steve Thompson – Rewilding the Golf Course
10.15am: Break
10.30am: Will Hawkes – Dragonfly Migration
11.00am: KD Dijkstra – The Vagrant Emperor: 25 Years on the Dragonfly Trail
11.30am: Panel Discussion on Migration and Recording
12.00pm: Break
12.15pm: BDS Update – Eleanor Colver, Fiona McKenna, Daniele Muir, Andrea Hudspeth and Sarah Miller.
(12.45pm Lunch break start for non-members)
12.45pm – 1.15pm: AGM with online voting – members only required to attend this part.
2.00pm: Laura Turner – Wildlife Garden Project
2.30pm: Jack Perks – Underwater Filmmaker
3.00pm: Break
3.15pm: Lucy Lapwing – BDS Outreach Volunteer and Science Communicator
3.45pm: Panel Discussion on the Importance of Effective Communications in Conservation
4.15pm: Thank you and Summary
4.30pm Close Meeting
If you have any questions please contact event organiser Fiona via email.