Learn to Love Dragonflies and Damselflies
Date:

Wednesday, 11 May 2022

Cost:

£10

Event Category:

Event Website:

Venue Phone:

01905 754919
Organiser:
Phone:

01743 852100

Email: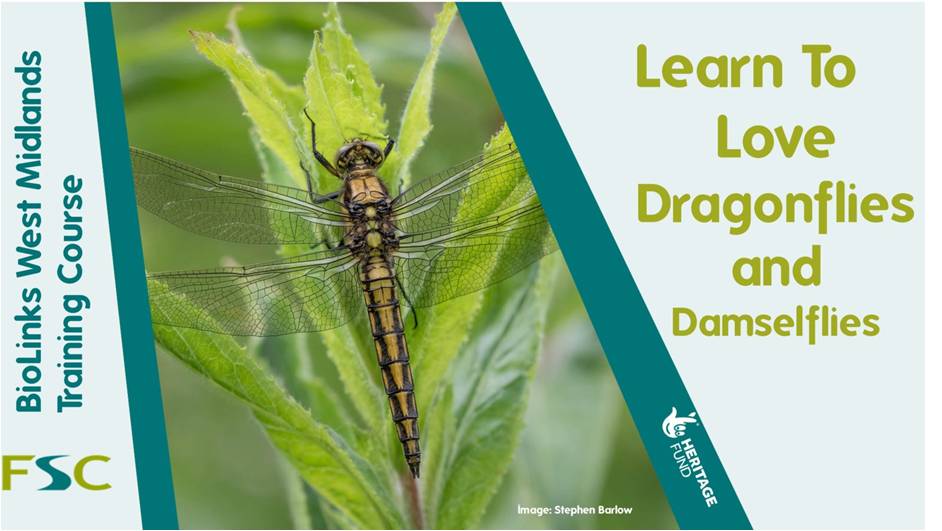 If you're interested in finding out more about dragonflies and damselflies but don't feel ready for a beginner's ID workshop, then this is the course for you. Learn To Love Dragonflies and Damselflies is a very gentle introduction to one of our planet's most spectacular insect groups, introducing aspects of their biology, ecology and behaviour.
Led by one of our dragonflies tutors this course combines classroom and outside learning opportunities to give individuals the opportunity to learn and understand more about the lifecycle and ecological roles of dragonflies and damselflies.
Certificate upon course completion.
Please note that this course is NOT a species identification course.
This course is aimed at adults only and course attendees must be at least 18 years old in order to attend.
What will be covered during this course?
Understanding where dragon and damselflies are placed in the animal kingdom
Introduction to dragon and damselflies and understanding the differences between them
A detailed description of the lifecycle of dragon and damselflies underlining their ecological roles as both predators and prey
An overview of the species diversity of dragonflies and damselflies in the UK
How to go about finding dragonflies and damselflies in different habitats.
Weather permitting, close up observation of individuals in the field.
NB. For those who wish, the tutor will have the latest 'Field Guide to the damselflies and dragonflies of Britain and Ireland' by D. Smallshire & A. Swash available for purchase at £17.95 (NB. correct cash/cheque only please).
See the 'Example Timetable', 'What's Included' and 'Before You Attend' sections below for more information about this course.
Course Fees
Regular Price: £75   For professionals and residents outside of the UK.  Select 'Attendee: In Person' Sold Out
Subsidised Price: £10   Subsidised by the FSC BioLinks project for non-professionals eg. volunteers, biological recorders, wildlife gardeners, amateur naturalists and students.Available to UK residents only.  Select 'Attendee Subsidised: In Person'
Tutor: Sue Rees-Evans
Sue Rees Evans is the Shropshire County recorder for Dragonflies and the Odonata Tsar for the Shropshire Ecological Data Network. Sue has also written and manages the Shropshire Dragonflies website which serves as an online atlas and hosts the Shropshire Dragonfly Watch flight season blog. With a real enthusiasm for hands on teaching, Sue has taught numerous courses on Dragonfly and Damselfly identification over the last 10 years for the FSC, various Wildlife Trusts, the National Trust and numerous projects such as Biolinks, Invertebrate Challenge and Cold-blooded and Spineless.
Other
Requirements

Booking essential

Contact