Land of Oak and Iron Dragonfly Identification Talk and Walk
Date:

Sunday, 2 June 2019

Event Category:

Event Website:

Venue Phone:

01207 524883

Venue Website:
Organiser:
Phone:

0191 584 3112

Email:

Website: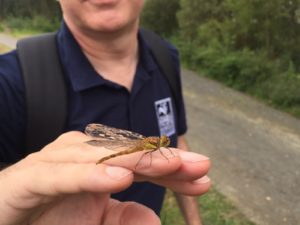 If while walking at a DWT reserve you have seen a tiny green, red or blue blur whiz by you – it was either a dragon or damselfly.  They have been flying around like that since prehistoric times but like so many species in the UK, they are declining and need our help.  Each year, volunteers from the DWT survey a range of sites looking for evidence of their breeding (they leave behind an exoskeleton called an exuvia).  As Summer approaches, these wonderful creatures will be emerging, so it is time to start to start looking out for them and if possible, to record any sightings.
At this workshop, DWT Trustee Michael Coates will take you through:
The difference between dragonflies and damselflies
The basics of how to identify them
What you are likely to spot in the North East
Best free apps and guide books (you will be given a basic ID sheet)
How to spot exuvia
How to get the best photographs
Their mating techniques (coupling) how to spot and record
What to look out for when they first emerge
And for those of you who would like to participate in this year's survey – How to record sightings online and how we will keep in touch.
There will be a one hour indoor training, followed by (weather permitting) a tour of  local ponds to hopefully spot a good selection of dragon and damselflies. So, whether you just want to learn more about these colourful and inquisitive creatures or you would like to help gather scientific data for the Trust, this workshop is ideal.
This course is part of the Geology & Wildlife Surveyors Project delivered through the Land of Oak & Iron, funded by Heritage Lottery Fund.
Other
Meet

Start: 10:45 Finish: 12:30

Contact