Introduction to Habitat Management for Invertebrates (Conservation Skills Webinar)
Date:

Wednesday, 22 September 2021

Cost:

£10 – £20

Event Category:

Event Website:
Organiser:
Phone:

01743 852100

Email: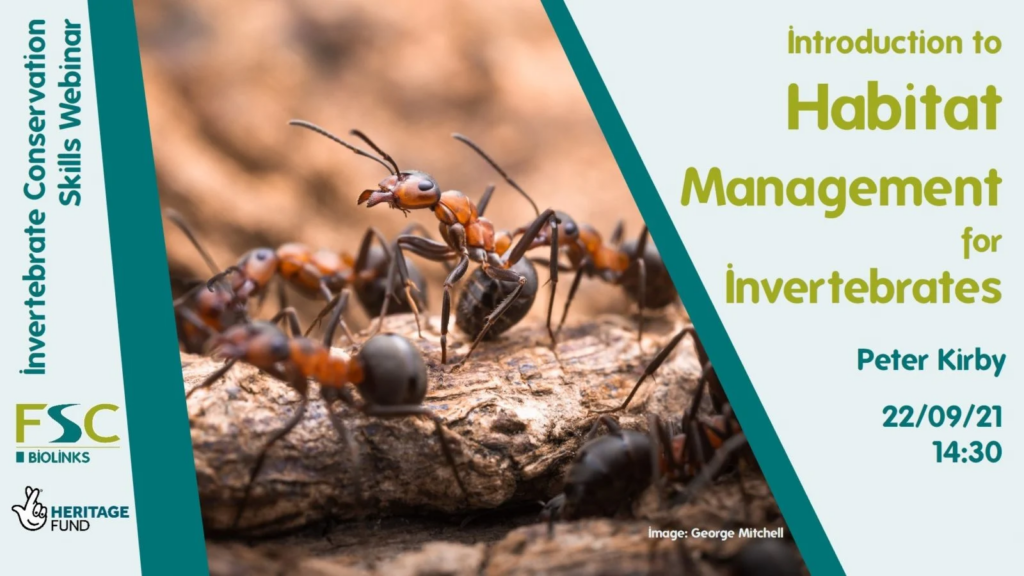 On most conservation sites, invertebrates are the most numerous and diverse group. It is increasingly recognised that they are important and that many are threatened. They are often nowadays taken into consideration in management plans and site assessments. But it is easy to adopt simple general-purpose or species-specific policies and to miss opportunities. Making best use of a site is easier with a good understanding of the needs of invertebrates. These are complex and varied, but some elements recur, and some principles are widely applicable.
This session will cover:
a brief consideration of those characteristics of invertebrates and of their life histories and lifestyles which affect their habitat requirements;
broad habitat structures, mosaics, transitions, and complexity;
specific niches, small habitat features and very specific requirements;
continuity and catastrophe;
examples of opportunities and niches provided by people, machinery, livestock and chance.
Invertebrate Conservation Skills Webinars are online training events which are comprised of a 60 minute presentation from an sector professional, followed by a 30 minute live question and answer session. FSC will host them on Zoom and will send out joining instructions on the day of the event. Each webinar will be accompanied by an online article summarising important links to resources and further information, as well as hosting a recording of the presentation.
Other
Requirements

Booking required.

Contact