Field Identification of Damselflies
Date:

Thursday, 30 June 2022

Cost:

£10

Event Category:

Event Website:

Location:

Bishops Wood Centre

Crossway Green




Stourport-on-Severn

,

Worcestershire

DY13 9SE

United Kingdom

Venue Phone:

01299 250513
Organiser:
Phone:

01743 852100

Email: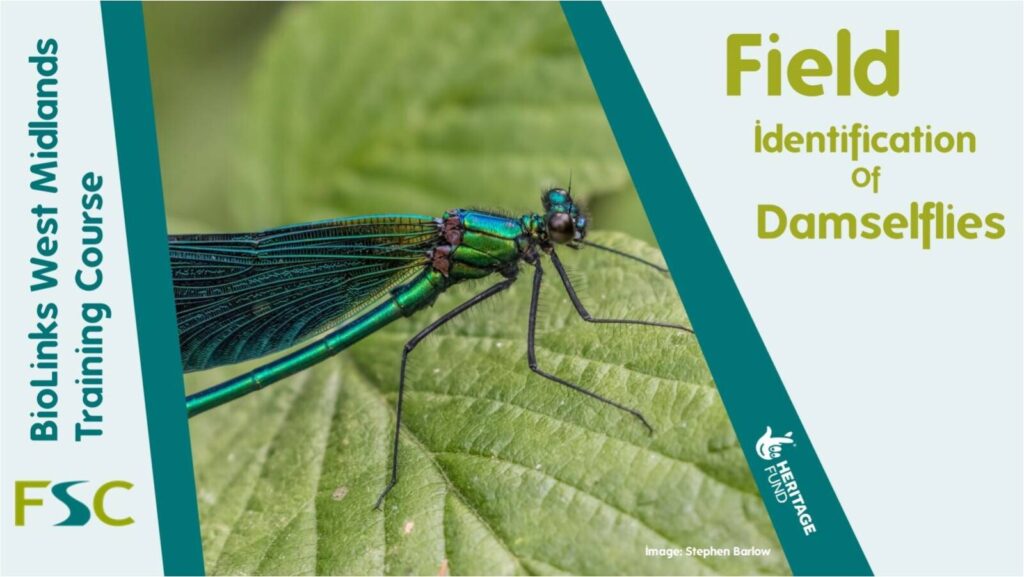 There are around 20 species of damselfly found in the UK. Due to the small numbers of species present in the UK, and the fantastic identification resources available, damselflies are a popular group among entomologists and are often considered one of the entry-level groups for new recorders. Join our expert tutor to learn more about these fascinating insects, and gain the skills needed to identify them to species level in the field.
This course marries together the use of classroom-led learning and outside learning opportunities led by an expert tutor to give learners the skills to be able to identify damselflies in the field.
This course is aimed at adults only and course attendees must be at least 18 years old in order to attend.
What will be covered during this course?
An introduction to damselflies and how to tell them apart from dragonflies.
An introduction to damselfly external anatomy and terminology.
A workshop to develop identification skills to species level using field characters.
Instruction on how to safely net, identify and release individuals in the field.
Support from an expert tutor when practicing field identification techniques.
Guidance on how to submit damselfly records.
NB. For those who wish, the tutor will have the latest 'Field Guide to the damselflies and dragonflies of Britain and Ireland' by D. Smallshire & A. Swash available for purchase at £17.95 (NB. correct cash/cheque only please).
See the 'Example Timetable', 'What's Included' and 'Before You Attend' sections below for more information about this course.
Course Fees
Regular Price: £75   For professionals and residents outside of the UK.  Select 'Attendee: In Person' Sold Out
Subsidised Price: £10   Subsidised by the FSC BioLinks project for non-professionals eg. volunteers, biological recorders, wildlife gardeners, amateur naturalists and students.Available to UK residents only.   Select 'Attendee Subsidised: In Person'
Tutor: Sue Rees-Evans
Sue Rees Evans is the Shropshire County recorder for Dragonflies and the Odonata Tsar for the Shropshire Ecological Data Network. Sue has also written and manages the Shropshire Dragonflies website which serves as an online atlas and hosts the Shropshire Dragonfly Watch flight season blog. With a real enthusiasm for hands on teaching, Sue has taught numerous courses on Dragonfly and Damselfly identification over the last 10 years for the FSC, various Wildlife Trusts, the National Trust and numerous projects such as Biolinks, Invertebrate Challenge and Cold-blooded and Spineless. .
Other
Requirements

Booking essential.

Contact