Durham Wildlife Trust Dragonfly Walk and ID Skills
Date:

Sunday, 15 September 2019

Cost:

FREE

Event Category:

Event Website:
Organiser:
Phone:

0191 584 3112

Email:

Website: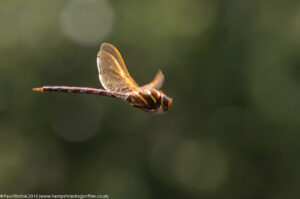 Whether you are new to spotting and identifying dragonflies or if you are already helping out with our annual survey, this walk is ideal.
Durham Wildlife Trust trustee and dragon spotter, Michael Coates, will take you around the dragonfly hot spots of Low Barns Nature Reserve and help you to identify some of the 12 species spotted so far this year. In particular, you will be on the lookout for Brown Hawkers (pictured left, by Paul Ritchie) and Black-tailed Skimmers. If you have no idea what they look like, then come along and find out. The walk is timed for when the sun is high, so that hopefully the dragons will be on the wing. If it is raining hard, then Michael will do a short talk in the visitor centre and point out where at Rainton you should go, once the rain stops.
In the meantime, if you would like to see more information about the dragonflies spotted in the Durham Wildlife Trust region this Summer, take a look at Michael's latest newsletter. https://durham-wildlife-dragons.ourlatest.news/issue-2-1
Low Barns has good accessibility however, it can be boggy and to walk around the whole reserve is about 1km (but you will be stopping at every pond, so it's quite leisurely). Bring binoculars.
The event is free but booking via Durham Wildlife Trust website is essential – click on the green 'register' button on their page to book your space. There is also a similar event on at Rainton Meadows on Sept 1st.
Other
Requirements

Book your free place direct via the Durham Wildlife Trust website, link above.